Do You Think You Have a Hernia? Steward Medical Group is offering free hernia screenings.
About this event
Do you experience any of the following symptoms?
- Swelling, a bulge or pain in the abdomen, pelvis or groin area?
- Pain or discomfort, especially when bending over, coughing or lifting?
- Weakness, pressure or a feeling of heaviness in your abdomen?
- Acid reflux or difficulty swallowing?
If you suffer from any of these symptoms you may have a hernia. Join our board-certified General and Robotic Surgeons, Mboutidem Etokakpan, MD, and Penelope Mashburn, DO, for a free hernia screening event the week of April 26th. Screenings will be scheduled throughout the week, call 330-841-7130 to schedule your free screening today!
Week of April 26, 2021
Steward Specialty Care, Trumbull
1353 E. Market Street, Suite 302 in Warren
and
Steward Multispecialty Care, Austintown
1440 S. Canfield-Niles Road in Austintown
To schedule your free screening, call 330-841-7130.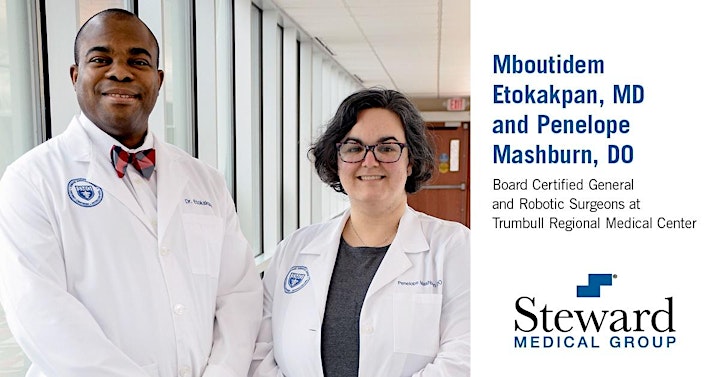 Mboutidem Etokakpan, MD, earned his medical degree from Albany Medical College in Albany, NY, and completed a General Surgery residency at Lincoln Mental and Medical Center in the Bronx, NY. Dr. Etokakpan then completed another General Surgery residency at Geisinger Medical Center in Danville, PA.
He is board certified in General Surgery and his clinical interests include complex abdominal hernia reconstruction and robotic surgery.
Penelope Mashburn, DO, earned her medical degree from Nova Southeastern College of Osteopathic Medicine in Ft. Lauderdale, Florida. Dr. Mashburn then completed residencies in general surgery at NYU Langone in Brooklyn, New York and Hackensack-Palisades Medical Center in North Bergen, New Jersey.
She is board certified in General surgery and her clinical interests include minimally invasive hernia repair, colon and bladder surgery and breast surgeries.