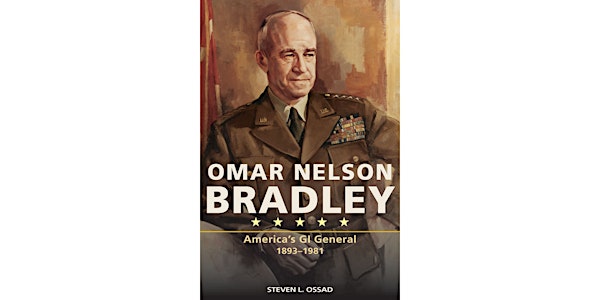 Steven Ossad – Omar Nelson Bradley: America's GI General
Event Information
Location
National Museum of American Jewish Military History (NMAJMH)
1811 R Street Northwest
Washington, DC 20009
Description
Author Steven Ossad joins us to discuss the remarkable career of Omar Bradley including his interactions with famed Jewish officers Maurice Rose and Mickey Marcus.
Omar Bradley rose to the pinnacle of the American military establishment and was the last of the major World War II military leaders to pass from the scene. Usually included as the last and youngest of the "five stars," he had the most combat experience of the three American Army Group commanders in Europe during World War II and was our most important ground commander. Bradley's postwar career ensures his legacy as one of the architects of U.S. Cold War global strategy. These latter contributions, as much as Bradley's demonstrable World War II leadership, shaped U.S. history and culture in decisive, dramatic, and previously unexamined ways.
Steven L. Ossad is an independent historian and retired Wall Street technology analyst focused on leadership, command, and adapting military technology for executive management training.
He is the author (with Don R. Marsh) of Major General Maurice Rose: World War II's Greatest Forgotten Commander. In 2014, he received a General and Mrs. Matthew Ridgway Research Award from the Army War College for his work on Omar Bradley. In 2003 he was presented an Army Historical Foundation Distinguished Writing Award. His article "Out of the Shadow and into the Light: Col. David 'Mickey' Marcus and U.S. Civil Affairs in World War II," published in Army History, was a runner up for that same award in 2016.
Date and time
Location
National Museum of American Jewish Military History (NMAJMH)
1811 R Street Northwest
Washington, DC 20009