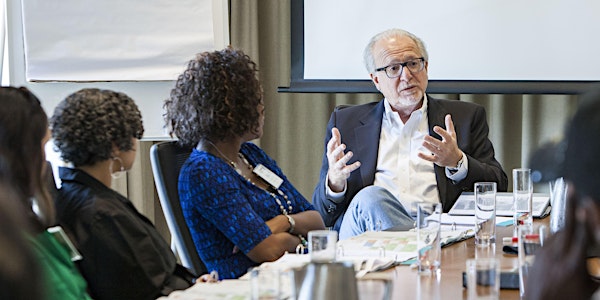 Steven J. Diner Ethical Leadership Award
When and where
Location
Rutgers-Newark 15 Washington Street, 2nd Floor Newark, NJ 07102
Description
Steven J. Diner Ethical Leadership Award
Rutgers Institute for Ethical Leadership honors the 7th annual Steven J. Diner Ethical Leadership Award recipient.
Mr. James Abruzzo, Retiring Co-Founder, Rutgers Institute for Ethical Leadership
The award reception, including a formal presentation and refreshments, will take place on Tuesday, January 23, 2018 at Rutgers-Newark from 5:30 PM – 8:00 PM.
About the Award
This annual award is in honor of a dear friend and champion of the Institute for Ethical Leadership, Steven J. Diner, former Rutgers-Newark Chancellor. The Steven J. Diner Ethical Leadership Award is given annually to an individual who demonstrates a long-term commitment to strengthening civil society through ethical leadership. In addition, the annual awardee names a nonprofit organization in Newark that receives a monetary prize. This year, James Abruzzo has chosen Gallery Aferro to receive the monetary prize in his honor. The mission of Gallery Aferro is to bring cultural education and aesthetic engagement with contemporary issues to all people equally, and to create an environment where artists can gather and share physical and intellectual resources
Support the IEL in honor of James' legacy today
Please consider making a contribution in support of the Steven J. Diner Ethical Leadership Award, in honor of James Abruzzo and his commitment to community engagement in the City of Newark. A check to the Steven J. Diner Ethical Leadership Award may be sent to:
Rutgers Institute for Ethical Leadership
Steven J. Diner Ethical Leadership Award
1 Washington Park, 10th Floor
Newark, NJ 07102
You can also make your contribution when you click the green "Register" button above.
We thank you in advance for your support. All donations are tax-deductible to the full extent of the law.
For information about Event Sponsorship Opportunities, Program Ads, General Inquiries, or Questions please email vfernandez@business.rutgers.edu .
About James
James Abruzzo has dedicated his working life to strengthening civil society by training, mentoring, recruiting, and coaching leaders of nonprofit organizations. As Global Head, Nonprofit Practice of DHR International, he leads a team within this retained executive search firm whose clients include NGOs, cultural organizations, foundations, social service and educational institutions. James opened and managed the first, retained executive search office in the City of Newark and recruited the CEOs for NJPAC, NJSO, the Newark Museum, and many other nonprofit organizations.
In 2004, recognizing the growing gap in leadership in the nonprofit sector, James and Alex Plinio, with the encouragement of then-Chancellor Steve Diner, created the Institute for Ethical Leadership at Rutgers Business School. Together, James and Alex, with a dedicated staff, created leadership programs that today influence well over 1,000 leaders, many in the greater Newark Area. James, in addition to leading the Institute until his retirement December 2017, was a member of the Rutgers Business School faculty and enjoyed long-term teaching relationships with the graduate arts management programs at the University of Bologna and the Institute for Culture and Media Management at the Free University in Berlin. Through those associations and through mentoring, James has influenced a generation of students and managers, many who are now leading nonprofit organizations. He has devoted special attention to identifying, training, mentoring and promoting arts leaders from underrepresented communities and, at the IEL, created the Cultural and Ethnic Arts Leadership Program.
Trained as a classical pianist, James has had a special interest in the arts – he served a long tenure on the board of the Alvin Ailey American Dance Theater Foundation, was chairman of Dieu Donne Paper Mill and President of the Staten Island Museum of Arts and Sciences, and today serves on the boards of the Saul Steinberg Foundation and the American Friends of Netherlands Dance Theater. James will continue to influence the nonprofit sector through his leadership at DHR and through his compensation consulting to boards and presidents of nonprofit organizations. In his free time, James continues to practice the piano and, with his wife Lorraine, spends time with his two children and four granddaughters in the Berkshires, surrounded by the lake and gardens, frequenting the region's cultural organizations.