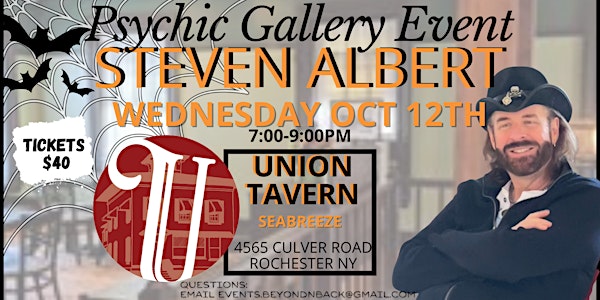 Steven Albert: Psychic Gallery Event - Union Tavern Seabreeze
Steven Albert: Psychic Gallery Event hosted by Union Tavern Seabreeze
When and where
Location
The Union Tavern 4565 Culver Road Rochester, NY 14622
Refund Policy
Contact the organizer to request a refund.
Eventbrite's fee is nonrefundable.
About this event
Known for his AMAZING ' Channeling ' from loved ones (alive and passed!) ...
Like Tyler Henry, John Edwards and The Long Island Medium?? Then come hear Psychic Medium Steven Albert ! Known as the Medium that CHANNELS messages directly from LOVED ones ! His passion is bringing forth what needs to be said to help with healing of the people left behind.
Steven will walk through the audience and channel messages from the other side using his psychic and mediumship skills. This group event is reading intensive with amazing validation.
Steven's abilities were triggered when he faced a near death experience in 1995, and he has chosen to follow this new path ever since. He has helped many people hear from those who have passed, as well as receive information about the living, also hear about medical issues, relationships, work issues and future events.
Steven is based in Western New York, and welcomes you to review his story at http://www.stevealbert.net/
Tickets $40
--------Testimonials---------
"You took my breath away. I never had such an experience in my whole life. The gift you have is incredible. Thank You Steve. Stay Safe and God Bless You Always" ~Lisa
"We cannot thank you enough for the messages from our Dad's. The fact that they came through together to talk to us validated that they are still the best of friends. A night we will never forget." ~Michelle
"This reading was such a wonderful gift you gave to Michelle and I!!! Thank you so much!!!!
We were hoping one of our dads would get your attention and come through to us, not only did they both come through but they waited for you to end the night with them.
Thank you for bringing us peace and joy!" ~Julie
"Thank you Steven for an amazing nite and the gift of my husband coming through at Vanity Nail Solon a few weeks ago… I thank you from the bottom of my heart!!! My husband died suddenly.. so many things were left unsaid and he sure had a lot to say Again thank you.. you have a special gift for sure.. God Bless " ~Lillian
"I waited 19 years for the closure you gave me tonight. I am now a firm believer, as I was somewhat skeptical. I am forever grateful. I actually had a photo of my friend in my pocket with a small piece of paper that said "do you forgive me or blame me?" I went tonight to get closure I so greatly needed. Thank you for giving that to me." ~ Kathleen
"This by far was THEE most amazing thing I ever experienced!!!!!! " ~Ryan
"It was the most amazing thing for me "~Harold
"Last night was thee most amazing thing ever!" ~Ashley
"Not a dry eye in the place..." ~Beverly
"This was so unbelievable. channeling my brother was pretty intense but I am so thankful. Thank you so much." ~Tracy
"Thank u so very much for the impactful reading! I will be booking a private reading!" ~Micah
"Thank you so much. My grandfather and I were very close,when he came through to you it was very emotional for me as I know you could see this. I am still very emotional since the reading. My wife and I would like to set up a private reading in the near future. Thank you again �" Daniel
"I was very moved by the whole night, so many things hit home with me but a little overwhelmed! ~Michelle
----------------------------------
Doors open at 5:45
You can also get tickets through Venmo and PayPal just email (Kim @ events.beyondnback@gmail.com) with date, venue and number of tickets you want. See less