Description
Join us at Startup Basecamp for the launch of Steve Hoffman's new book Make Elephants Fly: The Process of Radical Innovation!
Everyone thinks it's easy to get rich in Silicon Valley. You just have to buy a plane ticket to California and come up with the next flashy idea. Sadly, over 95% of entrepreneurs landing in the Valley walk away with nothing but failure. Getting a startup off the ground is harder than trying to make an elephant fly.
Steve Hoffman knows this. As an entrepreneur, he had many successes and many failures. Innovating is hard. Really hard. That's why he wrote Make Elephants Fly. After working with hundreds of startups in Silicon Valley, he shows exactly how some entrepreneurs innovate their way to fame and fortune, while others never get their ideas off the ground.
Through his own experience and dozens of case studies, Hoffman explains the process of radical innovation, showing step-by-step what it takes to innovate in the most competitive market on earth. His insights are invaluable, not only for entrepreneurs, but anyone who needs to innovate on their job.
---
Agenda:
6:00 - 6:30 PM: Registration & Networking
6:30 - 7:30 PM: Steve Hoffman presents Make Elephants Fly
7:30 - 8:00 PM: Book Signing & Networking
Seating tickets are limited and will not be sold at the door, reserve yours early! Books will be available for purchase at the event.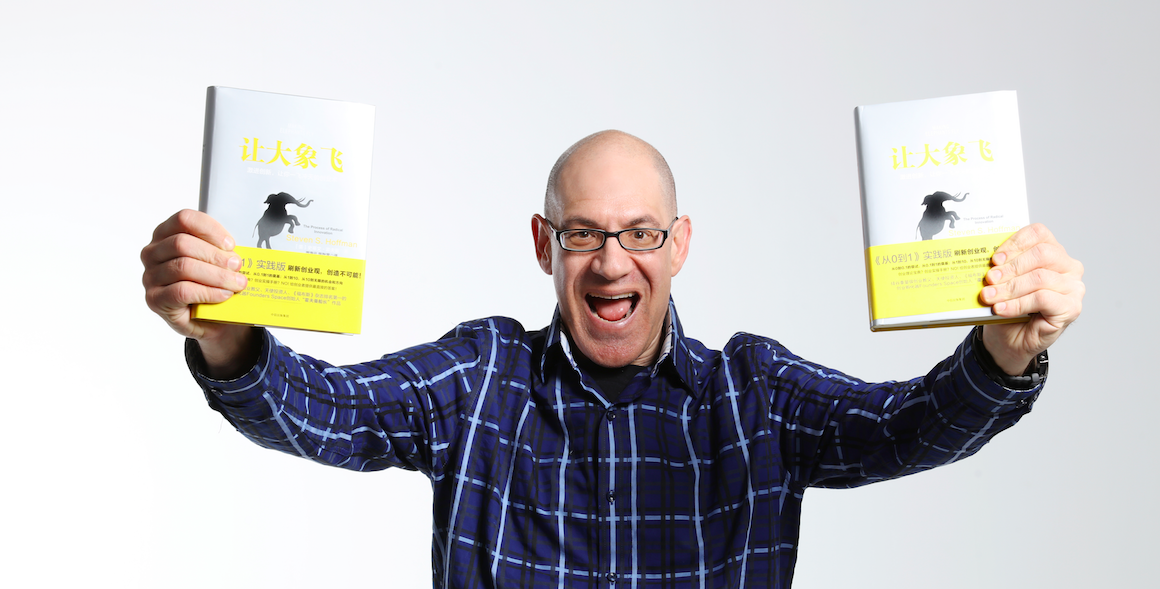 ---
About Steve Hoffman:
Steve Hoffman (Captain Hoff) is an angel investor, LP in August Capital, serial entrepreneur, and author of the book Make Elephants Fly. Hoffman is also the Captain & CEO of Founders Space, one of the world's leading incubators and accelerators, with over 50 partners in 22 countries. Always innovating on his life, Captain Hoff has tried more professions than cats have lives, including serial entrepreneur, venture capitalist, angel investor, studio head, computer engineer, filmmaker, Hollywood TV exec, published author, coder, game designer, manga rewriter, animator and voice actor. Hoffman was the Founder and Chairman of the Producers Guild Silicon Valley Chapter, Board of Governors of the New Media Council, and founding member of the Academy of Television's Interactive Media Group. In Silicon Valley, Hoffman founded three venture-backed startups in the areas of games and entertainment. Hoffman went on to launch Founders Space, with the mission to educate and accelerate entrepreneurs. Founders Space has become one of the top startup accelerators in the world. Hoffman has trained hundreds of startup founders and corporate executives in the art of innovation and routinely works with the world's largest global corporations and venture funds.
---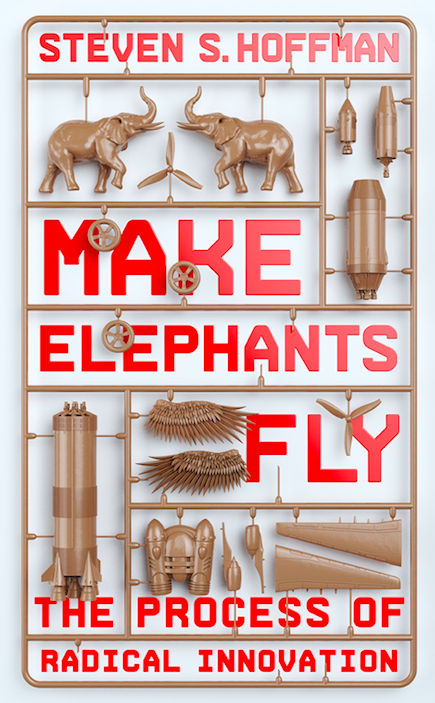 What's this Book Really About?
Make Elephants Fly reveals the process of radical innovation. Drawing on case studies from the most innovative startups in Silicon Valley, this step-by-step guide shows you how to develop, validate and launch your next huge idea.
Why Is It Important?
In today's world, everyone will need to innovate to stay competitive. It doesn't matter if you're a startup founder, corporate executive, small business owner, freelancer or professional, there's a technology out there that's going to upend your industry. And if you aren't able to harness it to your advantage, someone else will. Innovation is no longer an option–-it's the price of admission into the business world.
What Will You Learn?
The book is designed to help you implement the same innovation methodologies and processes as Silicon Valley startups. It will teach you exactly how startups come up with breakthrough products and services. What are the methods entrepreneurs use to innovate? How do you structure innovation teams? What are the best ways to identify and vet new ideas? What does it take to foster a culture of innovation? And how can you put in place a process of innovation throughout your organization?
---
What People Say:
Make Elephants Fly is unusual in that it became a huge hit in China six months before the US launch. How did this happen? A year ago, practically no one knew Captain Hoff in China. Now his book is a best-seller.
"This is a must read for anyone who wants to imagine what it is like to have all the brains in Hoffman's enterprise innovating while they work." — Tim Draper, Founder of DFJ, Forbes Midas List of Top Venture Capitalists
"As an experienced entrepreneur and coach of many startups, Hoffman provides a roadmap and set of tools that can help both entrepreneurs and executives master the art of innovation." — Gil Penchina, Partner at IDG Ventures, Investor in Linkedin, Paypal & Indiegogo
"With so much going against you as an entrepreneur, prep for the adventure by first reading Hoffman's Make Elephants Fly to gain key insights and increase your chances of success." — Howard Hartenbaum, Partner at August Capital, Forbes Midas List of Top Venture Capitalists, founding investor in Skype
"Finally a no-bullshit book. Hoffman's Silicon Valley experience will give you all the necessary tools to successfully grasp the innovation mindset required to launch your startup and make it fly."
— Guillaume de Dorlodot, Cofounder of Startup Basecamp and Nomad Pass