Sales Have Ended
Registrations are closed
FREE reservations for this concert are now closed as we have limited capacity this year. If you are interested in purchasing a private VIP picnic table, please visit this URL: https://sterngrove.liveimpact.org/li/8239/sevent/evt/home/167249/69 Please note: there will be no live stream of this concert. ***If you have made a reservation and your plans change, please cancel as soon as possible to ensure other parties have a chance to attend. Thank you.***
Sales Have Ended
Registrations are closed
FREE reservations for this concert are now closed as we have limited capacity this year. If you are interested in purchasing a private VIP picnic table, please visit this URL: https://sterngrove.liveimpact.org/li/8239/sevent/evt/home/167249/69 Please note: there will be no live stream of this concert. ***If you have made a reservation and your plans change, please cancel as soon as possible to ensure other parties have a chance to attend. Thank you.***
The San Francisco Symphony returns for its annual summer performance, with Edwin Outwater conducting a special Fourth of July concert.
About this event
Entrances open at 12 NOON. Concert begins at 2PM.
For more information on getting to the Grove, policies, and our VIP picnic tables (for qualifying donations) visit www.sterngrove.org.
Advance reservations are required for all concerts.
Reservations for this show open on June 22 at 2pm.
When reserving on Eventbrite, select the total number of guests in your party.
Free General Admission reservations may be made for up to four people.
Free ADA/Senior section reservations may be made for up to two people for spaces that are specifically set aside for ADA/Seniors. Check-In is required prior to entry, at 19th & Sloat.
If you are ADA/Senior and need assistance, you may call us at 415.252.6252, ext.112 (this is ONLY for ADA/Seniors)
Reservation hotline hours are Tues-Fri 12noon-5pm
Children 2 years and up require a reservation
No admittance until 12 noon.
Mask requirements are subject to the current San Francisco Department of Public Health order.
All members of your group must enter at the same time.
Reservation holder must be prepared to present a current photo ID to enter.
You may bring your own food and beverages.
No Re-admittance (no ins/outs).
Festival Entrances:
Enter through designated entrances only:
#1. 19th & Sloat (separate Seniors/ADA and GA entrances)
#2. Vale Ave
#3. 23rd & Wawona (GA ONLY)
COVID Health & Safety:
Please visit www.sterngrove.org/covid for more information.
About the Artists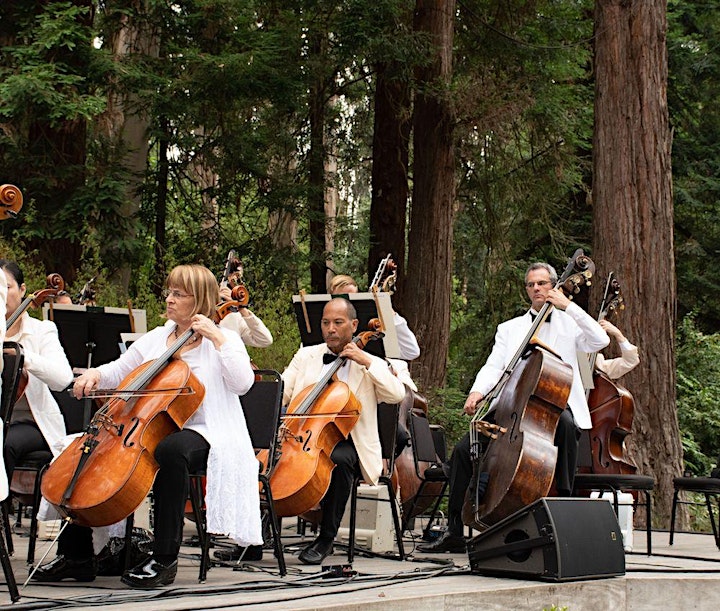 San Francisco Symphony
The San Francisco Symphony returns for its annual summer performance at Stern Grove Festival, with Edwin Outwater conducting a special Fourth of July concert featuring pianist Aaron Diehl.
Program:
John Williams - Olympic Fanfare and Theme
Gould - Pavanne from American Symphonette No. 2
Jennifer Higdon - Cathedrals from All Things Majestic
Copland - Saturday Night Waltz and Hoedown from Rodeo
Quinn Mason - Reflections on a Memorial
Carlos Simon - The Block
Gershwin - Rhapsody in Blue
Sousa - Stars and Stripes Forever
*Please note: this performance will not be live streamed
About Stern Grove Festival
Stern Grove Festival is a beloved annual San Francisco summer tradition spanning 84 years and counting. Every summer, the Festival presents 10 free concerts featuring top headliners, Rock & Roll Hall of Famers, rising stars and Grammy-winners; including The Isley Brothers, Smokey Robinson, The Doobie Brothers, Kool & the Gang, Toots & the Maytals, Mavis Staples, The Psychedelic Furs, Mitski, Pink Martini, Ziggy Marley, Ozomatli, Digable Planets, Carlos Santana, Sheila E., and many more!
Stern Grove Festival also presents over 30 admission-free arts education programs for youth and young adults in San Francisco each year, fulfilling its mission to make live musical experiences accessible to all.

New This Year! Mixhalo: the app for immersive, in-ear audio
Stern Grove Festival is proud to partner with our friends at Mixhalo, a free app that lets you listen to crystal-clear, in-ear audio - just like the artists on stage! Using Mixhalo is easy: 1. Download Mixhalo, 2. Bring headphones,* 3. Hit Play to experience live sound like never before!
*Pro tip: use high-quality, wired earbuds or headphones. Available on Festival grounds only.
Organizer of Stern Grove Festival featuring the San Francisco Symphony