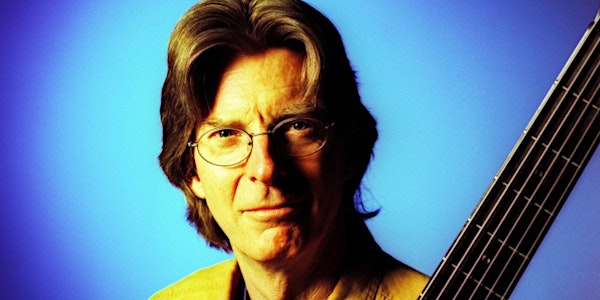 Stern Grove Festival featuring Phil Lesh & Friends
Stern Grove Festival celebrates our 85th Season of free concerts June 12 - August 14th, 2022.
When and where
Location
Rhoda Goldman Concert Meadow @ Sigmund Stern Grove Recreation Area 19th Ave and Sloat Blvd San Francisco, CA 94132
About this event
Phil Lesh and Friends
Famed for his three-decade stint as the bassist with the Grateful Dead, Phil Lesh can trace the long, strange trip of his life to Berkeley, where he was born in 1940. Rooted in jazz and classical performance, Lesh also studied avant-garde composition and electronic music before joining his friend Jerry Garcia's band, the Warlocks, in 1965, Soon rechristened the Grateful Dead, Lesh remained with the group for the remainder of its existence, becoming a fan favorite as much for his distinctive bass playing as for his single-minded devotion to the Dead's music and fanbase. After Garcia's death in 1995, Lesh reunited with bandmates Bob Weir and Mickey Hart as the Other Ones. He has also since toured as Phil Lesh & Friends: a group that gives new life to the Grateful Dead's material by bringing in new styles and innovations, while, at the same time, still remaining loyal to the original music and, of course, the fans.
About Stern Grove Festival
Stern Grove Festival is an annual San Francisco summer tradition spanning 85 years and counting. This 10-part free concert series is presented by Stern Grove Festival Association, a non-profit organization whose mission is to make live musical experiences accessible to all. All shows take place at Sigmund Stern Grove, a beautiful outdoor amphitheater located at 19th Avenue and Sloat Boulevard.
_
Reservations to Stern Grove Festival are free and non-transferable. If you cannot attend, please cancel your reservation, so others can attend. We prohibit the sale of reservations, and these will not be honored at check in.
For ADA/Senior reservations please call us at 415.252.6252, ext.112 at 2PM when reservations are available. (this is ONLY for ADA/Seniors) You must speak to a person. Please do not leave a voicemail.
For more information on getting to the Grove, policies, and our VIP picnic tables (for qualifying donations) visit www.sterngrove.org.
Make a general donation here, and help keep Stern Grove Festival admission-free for all.
_
Unlock Mixhalo—the app for immersive, premium audio
Stern Grove Festival is proud to partner with our friends at Mixhalo, a free app that lets you listen to crystal-clear, in-ear audio—just like the artists on stage! Using Mixhalo is easy: 1. Download Mixhalo, 2. Bring headphones,* 3. Hit Play to experience live sound like never before!