Join us on Nov. 13 to gain insights from lenders, financial planners and nonprofit professionals on financial literacy for your clients.
About this event
Overview:
The STEPS Toward Homeownership full-day program provides financial literacy resources for REALTORS® to educate renters, prospective first-time homebuyers, clients who have had a prior foreclosure or short sale, and Baby Boomers interested in helping their children or grandchildren become responsible homeowners. Experts will share philosophies on:
Strategies for Financial Health
Trends in the Economic Environment
Engaging in the Process
Products for Success
Support from Beginning to End
What's in it for me?:
Attendees will acquire financial literacy knowledge and strategies to bolster your referral pipelines in the local community and help prospective buyers with financing expectations, Down Payment Assistance options, and FHA vs. Conventional loan programs.
Topics:
Current Market Environment & Forecast
Financial Planning
Leveraging Down Payment Assistance (DPA)
Ensuring Your Clients are Buyer Ready with Lending - Homeownership Prep
Accessory Dwelling Units (ADUs) and Renovation Lending
Schedule:
9:30 – 10:30 AM
Continental Breakfast, Networking and Registration
10:30 – 11:00 AM
Why STEPS Toward Homeownership Matters
11:00 – 11:45 AM
STEPPIN' Toward Financial Planning
11:45 AM – 12:45 PM
Networking in Foyer and Lunch
12:45 – 2:00 PM
STEPPIN' Toward Financing
2:00 – 2:45 PM
STEPPIN' Toward Down Payment Assistance (DPA)
2:45 – 3:05 PM
Break: Networking in Foyer
3:05 – 3:50 PM
STEPPIN' Toward Accessory Dwelling Units (ADUs) and Renovation Lending
3:50 – 4:00 PM
Next STEPS
Featured Speakers: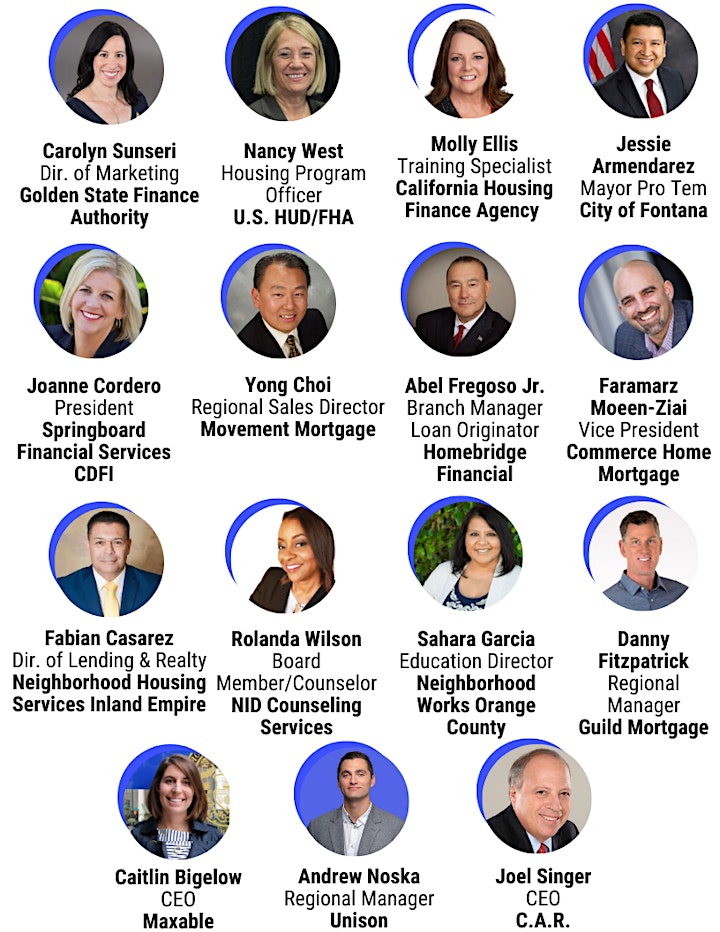 Organizer of STEPS Toward Homeownership Conference
The purpose of the CALIFORNIA ASSOCIATION OF REALTORS® is to serve its membership in developing and promoting programs and services that will enhance the members' freedom and ability to conduct their individual businesses successfully with integrity and competency, and through collective action, to promote real property ownership and the preservation of real property rights.