Steps to Recovery - Theory of Change for those serving diverse communities
Articulating your impact is fundamental for growth, sustainability, learning and accountability.
About this event
This series of workshops is aimed at groups serving refugees, asylum seekers, and ethnically diverse communities.
Theory of Change is a process which translates the complexity of social change into a model that captures what you do, why you do it and what your roadmap to social change looks like - in a way that makes sense to you and your stakeholders, including funders and beneficiaries. It provides a foundation for monitoring, strategic planning, shared learning and fundraising - key processes for social change leadership.
We are offering leaders whose work supports refugees, asylum seekers & those serving ethnically diverse communities tailored support to develop a Theory of Change. This course is an opportunity to build your capacity through:
7 workshops to develop your Theory of Change over 14 weeks (via zoom in small groups of up to 10 leaders)*
7 half hour 1-to-1 sessions
3 hours pro-bono design for your Theory of Change
Feedback and insights from leading funders (National Lottery, Tudor Trust and London Community Foundation)
Certificate of Achievement
The workshops commence on Thursday 20th January 2022 (13.00 to 14.30) and run on a bi-weekly basis on Thursdays until 14th April 2022.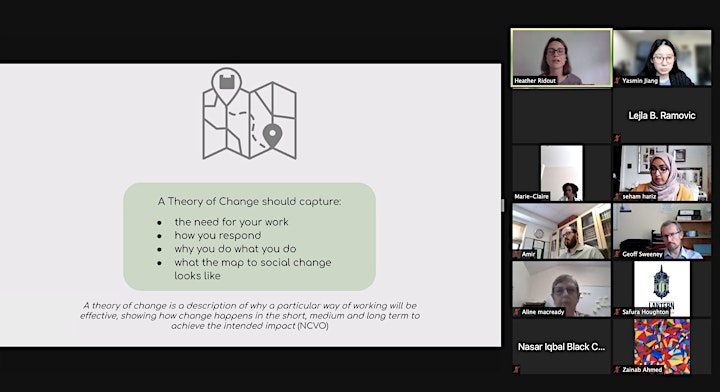 The course will be delivered by Heather Ridout. Heather has worked with impact driven initiatives for over fifteen years, including nearly ten yearsof consultancy for social change organisations, leaders, funders and movements. The focus of herwork is building capacity to develop, deliver, manage and evaluate social impact strategies. She has led Theory of Change workshops for organisations around the world including in Brazil, Canada, USA and across Europe. Her work has covered themes including gender, migration,socio-economic inclusion, youth justice empowerment and community development.
Organizer of Steps to Recovery - Theory of Change for those serving diverse communities
Civil Society Consulting is a not-for-profit social enterprise based in Southwark, Suffolk and Manchester, and has a wealth of experience working with faith, voluntary and community sector organisations. As a Community Interest Company we started our organisational life back in 2011 as Big Society Funding CIC, changing name in early 2020.
The CIC is committed to supporting smaller 'grassroots' community-based organisations. We enable them to flourish and to tackle the problems that exist in the local communities they know and love. Recently, the team have worked extensively with faith and civil society organisations in: throughout London including Barking & Dagenham, Bromley, Southwark, Tower Hamlets & Waltham Forest; Blackpool, Coventry, Derby, Ipswich, Leicester, Liverpool, Manchester, Middlesbrough, Peterborough, Redcar, Rochdale and across the West Midlands and East Anglia.