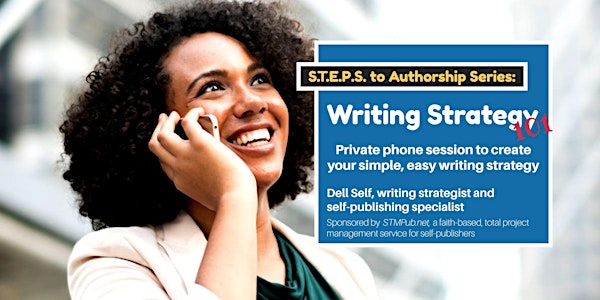 S.T.E.P.S. to Authorship Series: Writing Strategies 101
Description
Conquer the frustration of having a book idea stuck in your head. It can be agonizing! Day after day, this nagging feeling that God has given you a message, but you can't figure out how to make sense of it and get it on paper.
Help is right here! Speak Through Me Communications offers an affordable and private writing strategy session designed to help you
make your message clear and easy for the reader to digest,

help the reader get the most from your book,

take the stress out of the writing process,

create a simple and easy method to minimize setbacks and keep you moving forward on the road to authorship,

and finally, do what you know you've been called to do.
---
We're offering these one-on-one phone sessions at special pricing on a first-come-first-serve basis. A limited number of time slots are available. Check for additional listings and time slots.
Call-in information will be in your confirmation email to the address used for registration. (You may need to check your spam folder as well.) Scroll down toward the bottom of the confirmation email for instructions.
Let's talk soon.
Dell Self,

writing strategist / self-publishing specialist