Description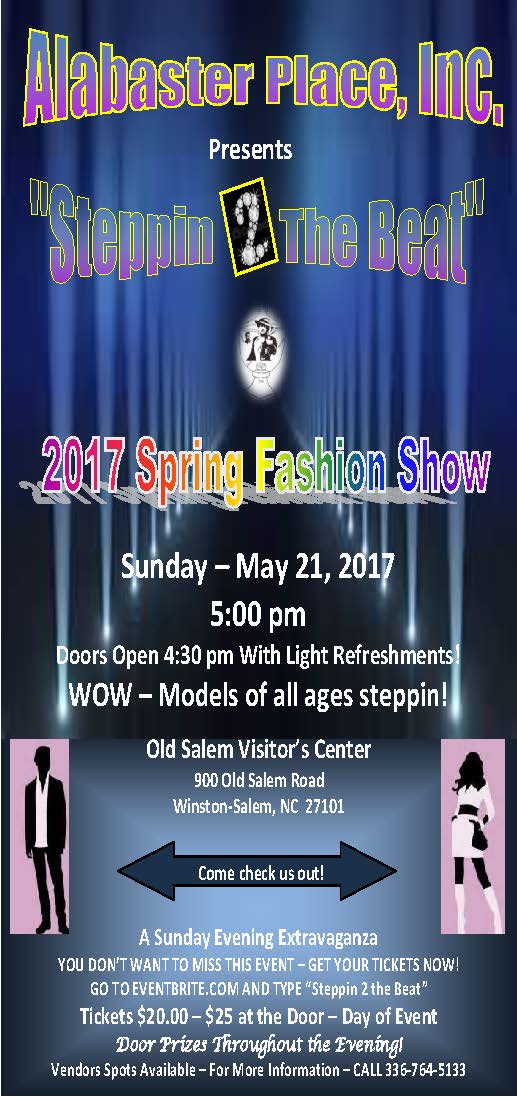 Alabaster Place, Inc. (API) , a faith-based non-profit establishment focuses on training and life empowerment for individuals.
If you missed our 2016 Spring & Fall Fashion Shows, then you don't want to miss our 2017 Spring Show. Oh Yes, Alabaster Place, Inc. is hosting it's 2017 Sring Fashion Show entitled, "Steppin to the Beat" on Sunday, May 21, 2017 at 5:00 pm at the Old Salem Visitor's Center, 900 Old Salem Road, Winston-Salem, NC 27101. Come see a show that's exciting, phenomenal and full of expectation. When you hear the beat, you'll want to get out of your seat. Every model has proven that they've got pep in their step and glide in their stride. The SHOW STOPPER speaks for itself and it will literally blow your mind. There will be door prizes galore so don't miss this great, grand and glorious event. The doors will open at 4:30pm with a few refreshments to kick off the evening. Be sure to enjoy the vendors before, during and after the show. Please tell a friend, share with your socia media contacts and get your tickets NOW!
REMEMBER - Our mission is to bring awareness and education to individuals about the epidemic of domestic violence. Our goal is to help eradicate the issues relating to abuse and other life challenges by offering educational seminars. Proceeds will be used as a vehicle to aid us in the continuance of bringing DV awareness to individual, companies, businesses, churches, organizations, schools, universities, etc, not only in our community but also throughout the Piedmont Triad and surrounding areas. Thank you in advance for your support.