Stephen Siller Tunnel to Towers 10th Annual Bravest BBQ
Description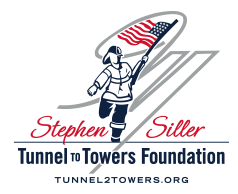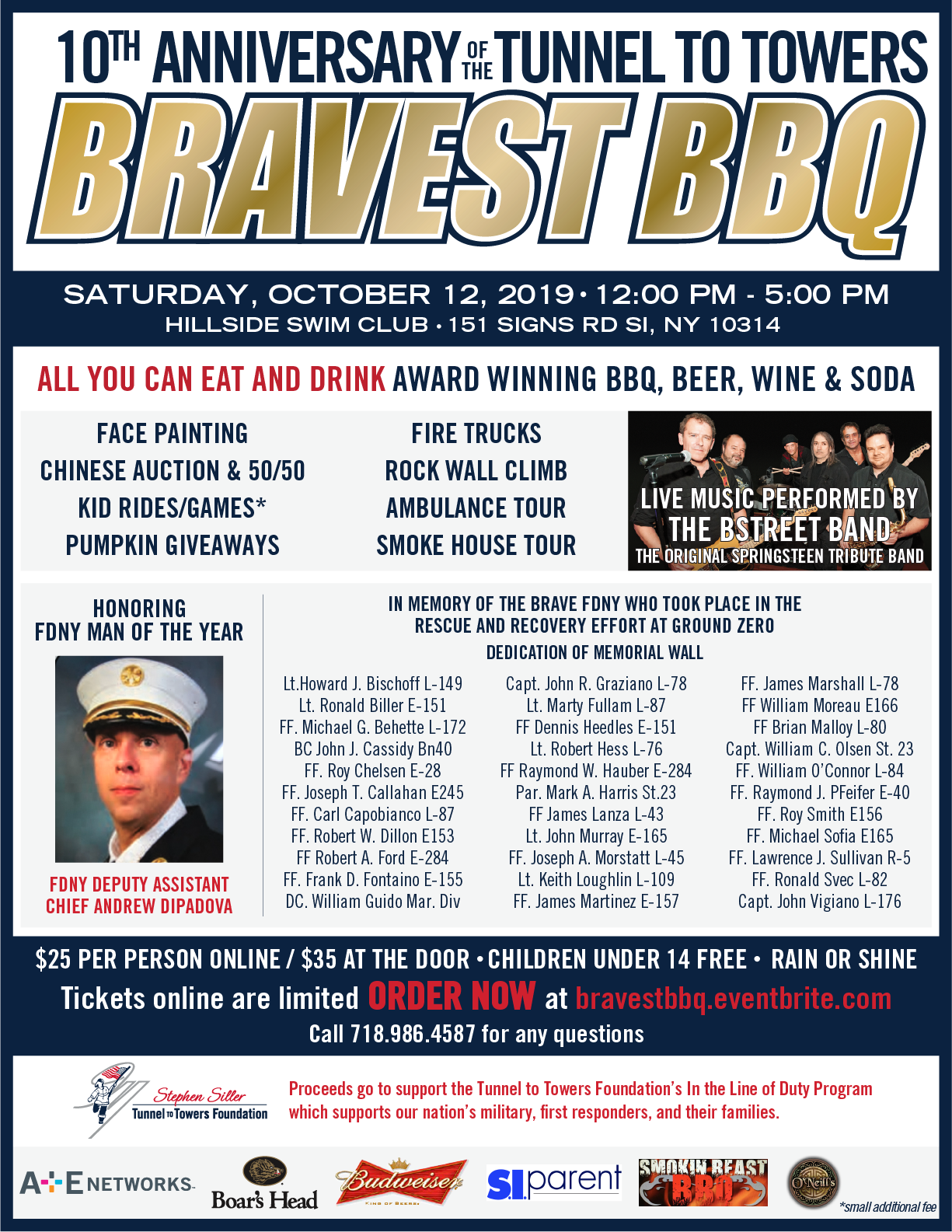 Stephen Siller Tunnel to Towers 10th Annual Bravest BBQ

October 12, 2019
12PM - 5PM - Rain Or Shine
Hillside Swim Club 151 Signs Road, Staten Island, NY 10314
Pricing

Tickets Are Limited
$25 per person on Eventbrite - Children 14 and under FREE
$35 @ the door

Honoring FDNY Man of the Year FDNY DEPUTY ASSISTANT CHIEF ANDREW DIPADOVA & IN MEMORY OF THE BRAVE FDNY WHO TOOK PLACE IN THE RESCUE AND RECOVERY EFFORT AT GROUND ZERO DEDICATION OF MEMORIAL WALL
Lt.Howard J. Bischoff L-149
Lt. Ronald Biller E-151
FF. Michael G. Behette L-172
BC John J. Cassidy Bn40
FF. Roy Chelsen E-28
FF. Joseph T. Callahan E245
FF. Carl Capobianco L-87
FF. Robert W. Dillon E153
FF Robert A. Ford E-284
FF. Frank D. Fontaino E-155
DC. William Guido Mar. Div
Capt. John R. Graziano L-78
Lt. Marty Fullham L-87
FF Dennis Heedles E-151
Lt. Robert Hess L-76
FF Raymond W. Hauber E-284
Par. Mark A. Harris St.23
FF James Lanza L-43
Lt. John Murray E-165
FF. Joseph A. Morstatt L-45
Lt. Keith Loughlin L-109
FF. James Martinez E-157
FF. James Marshall L-78
FF William Moreau E166
FF Brian Malloy L-80
Capt. William C. Olsen St. 23
FF. William O'Connor L-84
FF. Raymond J. PFeifer E-40
FF. Roy Smith E156
FF. Michael Soa E165
FF. Lawrence J. Sullivan R-5
FF. Ronald Svec L-82
Capt. John Vigiano L-176
All proceeds go to support the Tunnel to Towers Foundation's In the Line of Duty Programs for catastrophically injured military and fallen first responders.

Entertainment for the Whole Family!
ALL YOU CAN EAT AND DRINK AWARD WINNING BBQ, BEER, WINE & SODA
FACE PAINTING
CHINESE AUCTION & 50/50
KID RIDES/GAMES*
PUMPKIN GIVEAWAYS
FIRE TRUCKS
ROCK WALL CLIMB
AMBULANCE TOUR
SMOKE HOUSE TOUR
LIVE MUSIC PERFORMED BY THE BSTREET BAND "THE ORIGINAL SPRINGSTEEN TRIBUTE BAND"
* = small additional fee

Can I get a refund?
Unfortunately, ALL SALES ARE FINAL and we do not allow refunds. For more information please contact firefighters@tunnel2towers.org