Experience a new form of wellness event held safely at venues around Seattle. Clear stress, refresh your mind, spark your creativity
About this event
7/17 Stephanie Anne Johnson & The Hidogs, Shaina Shepherd
Live Music, in-person!
---------------------------------------------------
See COVID Safety Info at the bottom of this page under Abbey Arts Presents
---------------------------------------------------
"A singer's talent is complete when they can bring a crowded dive bar to a collective hush and also get one of the biggest audiences on the planet to a collective standing ovation. Stephanie Anne Johnson is that special singer. The front person for the Tacoma-based band, The Hidogs, can don a cowboy hat and sing over a slide as old timers weep. And they have wowed judges on the immensely popular NBC TV series, The Voice, showcasing their gifts. 
Perhaps it's no surprise that Johnson is so affecting. Their mantra, after all, is "Find your joy and go there." Their prowess exudes whether they are singing the Black national anthem - "Lift Every Voice And Sing" - to a packed auditorium or whether they're cooing acoustic lullabies to Saturday night tavern regulars. Their music, which is rooted in all that's American, expresses the pain of the past, the roots of the down home and the hope that hard work will lead to proper reward. 
  The Hidogs, which is comprised of dynamic drummer Arturo Ortega Marcos, pocket-perfect bassist Jesse Turcotte and the prolific Johnson, is a nimble trio equal parts capable of shaking the shingles off a rooftop as making any stage feel like a Sunday service. The group's latest LP, Take This Love, is a blend of Loretta Lynn and Valerie June. It's a stunning catalogue of surprise and satisfaction. 
Stephanie Anne Johnson has opened for acts that include political figure Bernie Sanders, and artists such as Mavis Staples, Chaka Khan, Ani DiFranco, Cedric Burnside, and Black Joe Lewis"
-Artist Bio
"Shaina Shepherd is one of our city's brightest voices, to the point where she barely needs an introduction. She's a classically trained singer who injured her vocal cords in her early-twenties only to become one of the most distinctive singers in Seattle music today. Just hearing her voice and piano can bring a venue full of people to its knees; a sight of people convening to witness a live performance becoming a memory so faint it is starting to feel like a mirage."
-Artist Bio
@ South Park Hall, 1253 S Cloverdale St, Seattle
Entrance in Front next to Uncle Eddies / Resistencia Coffee.
(Free parking around back or on street)
8:00p show, 7:30p doors
All ages, partly seated show
Reduced capacity show
Check out https://www.southparkhall.com/ for more about this beautiful historic space. Also available for private parties, weddings, and other rentals. Support a black woman owned business that also supports many local artists and food creators. South Park Hall is operated by Melanie Granger.
--------------------------------------------------------------------------
South Park Hall
Abbey Arts is now collaborating with Melanie Granger at South Park Hall to bring you select live music & arts events presented with all public health safety in mind.
Clear some stress, refresh your mind, spark your creativity with live music and multi-arts experiences.
Audience size will be limited and reduced per current Public Health Guidelines. Concerts are held in large spaces rated for 180-260 people normally.
More info via www.instagram.com/seattlewellnessevents
--------------------------------------------------------------------------
EVENT & VENUE INFO:
South Park Hall is not ADA accessible, we host other events at Fremont Abbey and other spaces that are ADA
Mostly Seated show
No food service onsite, great restaurants next door! Feel free to bring in food if you'd like.
Vaccine encouraged, please wear a mask otherwise

South Park Hall Entrance in Front next to Uncle Eddies / Resistencia Coffee.

(Free parking around back or on street)
--------------------------------------------------------------------------
ABOUT ABBEY ARTS, SEATTLE:
NONPROFIT 501C3, NON-RELIGIOUS, EST. 2005
Presenting welcoming music, arts & cultural experiences for people of all ages & incomes.
Home Venue: Fremont Abbey, 4272 Fremont Ave North, Seattle, WA 98103 / 206-414-8325 Ballard Homestead: 6541 Jones Ave NW, Seattle | + UHeights Auditorium, St Mark's Cathedral, & more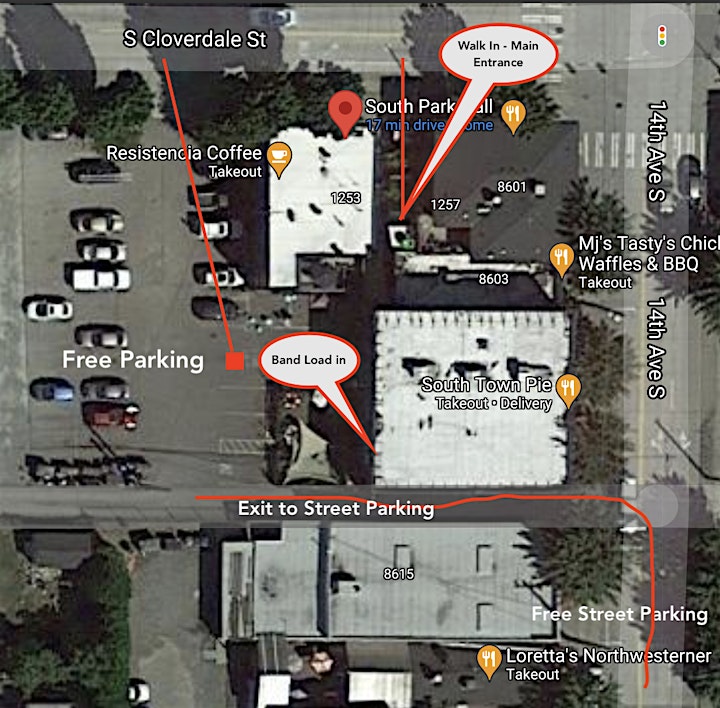 Organizer of Stephanie Anne Johnson & The Hidogs, Shaina Shepherd (IN-PERSON)
COVID Safety Info:
As of June 22, 2021
As we reopen the doors to our venues, rest assured that we will be welcoming our patrons back in to an environment that prioritizes your safety, wellness, and health. We are working with local government and health officials to ensure compliance with current health and safety protocols, while being mindful that flexibility will be required as those guidelines will likely continue to evolve.
JULY Onwards
All current state and local health guidelines must be followed, https://coronavirus.wa.gov/
Windows will be open and lots of fresh air flowing
Limited capacity events until noted
Masks and Distancing not required if you bring Proof of Vaccination against COVID-19:
Vaccination Requirements:
GUESTS AGE 16+ must have received their final vaccination dose of Pfizer/Moderna or single dose of Johnson & Johnson). Proof of vaccination must be presented at time of entry
Full vaccination is defined as having received a final vaccination dose at least two weeks prior to the event date (i.e., second dose of Pfizer/Moderna or single dose of Johnson & Johnson
Acceptable forms of proof of vaccination include: an official CDC COVID-19 Vaccination Record Card or a picture of your vaccination card; a digital or printed WA State Certificate of COVID-19 Vaccination; a WA State Immunization Information System printout; or a verified medical record printout from a medical provider.

GUESTS AGE 2-15 must provide proof of negative COVID-19 test within 72 hours of admission
GUESTS UNDER 2 no requirements
For our friends who are unable to meet these requirements or who wish to sit in the Distanced section: Please wear a mask and we have reserved space in the distanced seating section next to the windows. Email boxoffice@fremontabbey.org to RSVP and ensure enough seats will be available for your chosen event.
Individual events may have additional safety measures in place, see Ticketing pages for details.
-----------------------
ABBEY ARTS, SEATTLE:
NONPROFIT 501C3, NON-RELIGIOUS, EST. 2005
Fremont Abbey | Ballard Homestead | South Park Hall | St Mark's Capitol Hill | The Auditorium @ UHeights |  & more
Independent nonprofit, non-religious, all ages/incomes. 
Low Fee Tickets! No hidden high fees like Ticktmstr. :-)
  (Note: Comedy shows may have different ticketing fees)
[ Click here to subscribe to our optional text messages. ]
[The views and opinions expressed at events are those of the artists and performers and do not necessarily reflect Abbey Arts. About Page | Respect Policy.]
Refunds may be available per event settings.
No refunds due to support act changes.
Tickets for rental events may be via their website.