An exciting live 3-day virtual conference offering up to 1.1 ASHA CEUs, to help SLPs better understand swallowing and swallowing disorders.
About this Event
Course Description:
STEP Swallowing Symposium 2020 is a high-quality, low-cost live virtual meeting, offering up to 1.1 ASHA CEUs to speech-language pathologists, to help advance their understanding of swallowing and swallowing disorders. Comprising of 11 hours of sessions by swallowing experts, the symposium will foster credible debate, provoke discourse and elevate discussions surrounding issues in dysphagia management, across the continuum of care. Click here to visit the STEP Swallowing Symposium 2020 website.
Target Audience:
Speech-Language Pathologists
Course Objectives:
Upon completion of this course, attendees will be able to:
Explain three key differences between CSE and VFSS assessments
Describe the impact of diet modification on patient outcomes
Identify the correlation between oropharyngeal dysphagia and aspiration pneumonia
Discuss the similarities and differences of common compensatory and rehabilitative techniques for managing dysphagia
List at least 3 different devices and criteria for their use in dysphagia management
Summarize the advantages of using biofeedback in dysphagia therapy
Compare and contrast the similarities and differences in the roles of SLPs managing dysphagia in various healthcare settings
Describe best practices for effective documentation of skilled SLP services in dysphagia management
Explain how clinicians can self-assess and improve their skills and competency related to dysphagia assessment and treatment
Summarize the considerations for effective service delivery while providing dysphagia services via telepractice
Swallowing Symposium 2020 Agenda:
Please Note: All session times are listed in the Eastern Time Zone.
Friday, December 11, 2020
6:00pm-7:00pm- Don't Half-ASSess It: Re-assessing Swallowing Assessment
7:10pm-8:10pm- Let Them Eat Cake: Diet Modification in Dysphagia Therapy
8:20pm-9:20pm- ExASPIRATING: How Much Does Aspiration Even Matter?
Q&A and wrap-up by 9:30pm
Saturday, December 12, 2020
2:00pm-3:00pm- WERK WERK WERK!: Rehabilitation versus Compensation
3:10pm-4:10pm- If the Shoe Fits, Wear It: Device-Driven Swallowing Therapy
4:20pm-5:20pm- Mirror Mirror on the Wall: Will Biofeedback Help Them All?
5:30pm-6:30pm- Do All Settings Matter: SLP Roles Across the Continuum of Care
Q&A and wrap-up by 6:45pm
Sunday, December 13, 2020
2:00pm-3:00pm- CYA: Documentation in Dysphagia Management
3:10pm-4:10pm- 2 Legit 2 Quit: Lifelong Learning and Training in Swallowing
4:20pm-5:20pm- I Just Called to Say… How Are you: All About Telehealth
5:30pm-6:30pm- Myth-understandings and Top Takeaways: What Have We Learned?
Click here to view and download a copy of the course agenda.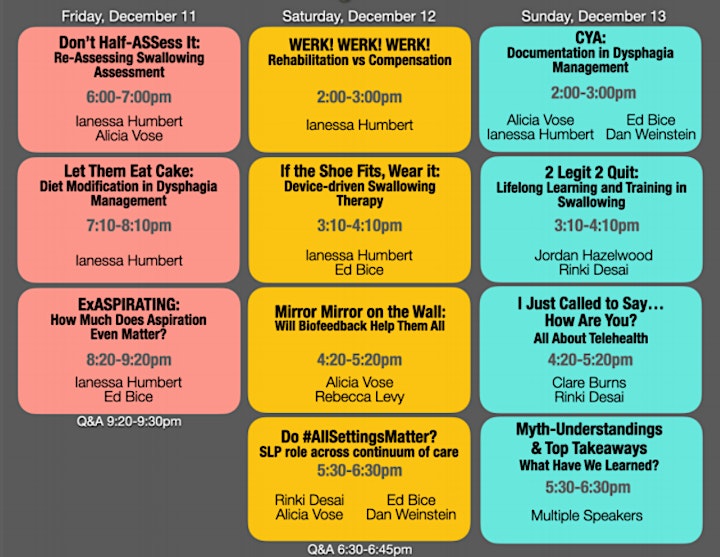 Swallowing Symposium 2020 Speakers:
Course Organizers:
Ianessa Humbert, Ph.D., CCC-SLP
Rinki Varindani Desai, M.S.,CCC-SLP, CBIS, CDP
Rebecca Levy, M.S.,CCC-SLP
Primary Speakers:
Alicia Vose, Ph.D., CCC-SLP
Clare Burns, Ph.D., BSpPath, CPSP
Dan Weinstein, M,S., CCC-SLP, BCS-S
Ed Bice, M.Ed.CCC-SLP
Jordan Hazelwood, Ph.D., CCC-SLP, BCS-S, CCRE
Session Provocateurs:
Alicia Vose
Brooke Richardson
Dan Weinstein
Jessica Forbes
Jonathan Waller
Jordan Hazelwood
Karen Sheffler
Kendrea Garand
Phoebe Macrae
Rick McAdoo
Click here to learn more about our speakers. Speaker bios and disclosures can be found here.
ASHA CEU and Course Registration Information:
Total CEUs that can be earned: 1.1 ASHA CEUS
Completion Requirements:
ASHA CEUs for this course are sponsored by Swallowology, LLC, an ASHA-approved CEU provider.
This course is available for partial credit. Credit will be applied for each session attended and will be verified.
Attendance during the question and answer portion of each session will be considered an informal learning assessment
Attendees must fill out a course evaluation form at the end of the symposium.
All attendees who complete this course will receive a course completion certificate.
ASHA CE Providers have up to 45 days from the course's end date to send your participation to the ASHA CE Registry. The ASHA CE Registry processing time usually takes one week. During periods of heavy volume, processing time may be longer. If you have any questions, please email stepsymposium@gmail.com.
Cancellation, Registration and Refunds:
This course is available as a live remote learning conference and will be accessible online via Zoom on www.stepcommunity.com.
Cost:

Early-Bird Rate: $30 before October 31, 2020

Regular Registration: $50 from 11/1/2020 until December 9, 2020.

Please note: You will still need to pay for the full conference even if you plan to attend a portion of it or are seeking partial credit.
Paid registrations for live courses are non-refundable unless the event is canceled due to unforeseen circumstances. A full refund will be given only if the even is canceled by the hosts of the event.
Special Needs: Please indicate any special assistance or needs required when you register.
Complaints and/or feedback for improvement can be emailed to stepsymposium@gmail.com.
Recorded Sessions:
This symposium is available as a live remote learning conference and will be accessible online via Zoom on www.stepcommunity.com.
All sessions will be recorded and made available on the STEP Community website December 21 onwards.
All those who want to access the recordings will need to purchase the recorded bundle separately on the STEP Community website, once the recordings are made available. The recorded version of the symposium will be sold at a higher price.
IMPORTANT: ASHA CEU credit and registration for the live conference cannot be transferred to the recorded course.

This course is offered for up to 1.1 ASHA CEUs (Intermediate level, Professional area)
Date and Time
Location
Refund Policy