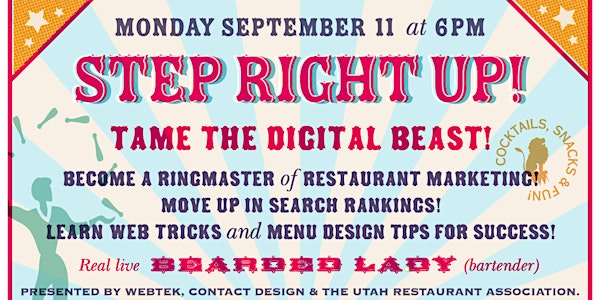 Step Right Up! Exclusive Restaurant Marketing Event at Church & State
When and where
Location
Church & State 370 S 300 E Salt Lake City, UT 84111
Description
Step Right Up!
Chefs and restaurant owners and managers throughout the greater Salt Lake City region are invited to attend a special, free marketing event to be hosted by the Church & State business incubator on September 11, beginning at 6 p.m. Tame the Digital Beast. Become the ringmaster of restaurant marketing. Move up in search rankings. Learn new web tricks and menu design tips for success!
In the least boring way possible, learn how to capitalize on the latest consumer behavior and trends online in a few easy steps, including:
Exactly how people are using mobile devices for dining, and how you should strategize around this.

What factors Google looks at when deciding which restaurants to rank in the top results.

What elements are now critical for restaurants to incorporate on their site, and how to do it easily.

How branding and design factor into your success.

Meet some true restaurant marketing experts who can help you get ahead of the game if you would like a partner to handle the work and strategy involved. They will be locals only.
Bonus!
Get free Bar Vs. Restaurant signage custom designed templates, so you can jazz up that terrible ugly sign the state is requiring in all your windows.

Meet other strategic partners for helping you run your restaurant business… Employee benefits/wages/tips management, catering opportunities, and more.
For fun:
This will not be a stuffy marketing meeting or pitch… it will be a fun, vintage circus-themed event, with a short and sweet presentation with useful, revenue-generating takeaways and materials, specifically for the restaurant industry.

Bearded lady bar tender, serving a specially themed cocktail.

Carnival game raffle prizes.

Free food and snacks.

Mixer with other industry folks.


Registration is Free although space is limited, so those interested in should claim their place as soon as possible.
About the Utah Restaurant Association
The Utah Restaurant Association is a non-profit industry organization representing the food service industry in Utah. The organization works to support the needs of Utah restaurants and food service providers through education and legislative work. They partner with the National Restaurant Association to maintain the high standards members adhere to. In recent years, they have been active in areas related to menu labeling, minimum wage requirements, and restaurant owner rights.
About Contact Design
Contact Design is a focused Salt Lake City studio specializing in branding and web design. Partner Matthew Coles and Jesse Walker offer a model based on the studio's designers working directly with clients to develop their projects without account reps or sales staff to get in the way.
About WebTek Interactive
Led by Justin Crawmer and Scott Miscall, Webtek Interactive is a digital marketing agency with offices in Salt Lake City, Utah and Austin, Texas. Webtek encompasses a comprehensive digital marketing offering, focusing on SEO, PPC, Content Marketing, and Web Analytics. Utilizing a deep understanding of clients' businesses and goals, Webtek works to increase visibility to target audiences. An optimized digital presence encourages potential buyers to consistently take action, allowing for constant success in the online marketplace