Sales Have Ended
Registrations are closed
Thank you for your interest in attending Step Into Your Bliss, we are so excited to give you a full weekend of tools and skills to support you in finally getting the man and relationship you need and want. Unfortunately, the tickets are no longer on sale. However, you can join our waitlist and we may be able to sneak you in after all. But you have to be on the waitlist. Email: ultimatematchagency@gmail.com
Sales Have Ended
Registrations are closed
Thank you for your interest in attending Step Into Your Bliss, we are so excited to give you a full weekend of tools and skills to support you in finally getting the man and relationship you need and want. Unfortunately, the tickets are no longer on sale. However, you can join our waitlist and we may be able to sneak you in after all. But you have to be on the waitlist. Email: ultimatematchagency@gmail.com
Description
Announcing A Life-Altering 4-Day Event Created Just for YOU to Transform Yourself and Find A Real Lasting Love in Less than 90 days…
World's Favorite Plus-size Dating Coach and Matchmaker Announce A "Life-Altering" Weekend where You'll be Hold by Hand and Shown Exactly How to Get Your Ideal Man and Healthy Lasting Love Without Compromising on Your Standards – Absolutely Guaranteed!

*********************JUST ADDED:

"Real Men Talk" Discussion Panel with Single & Married Men in addition to the singles mix & mingle.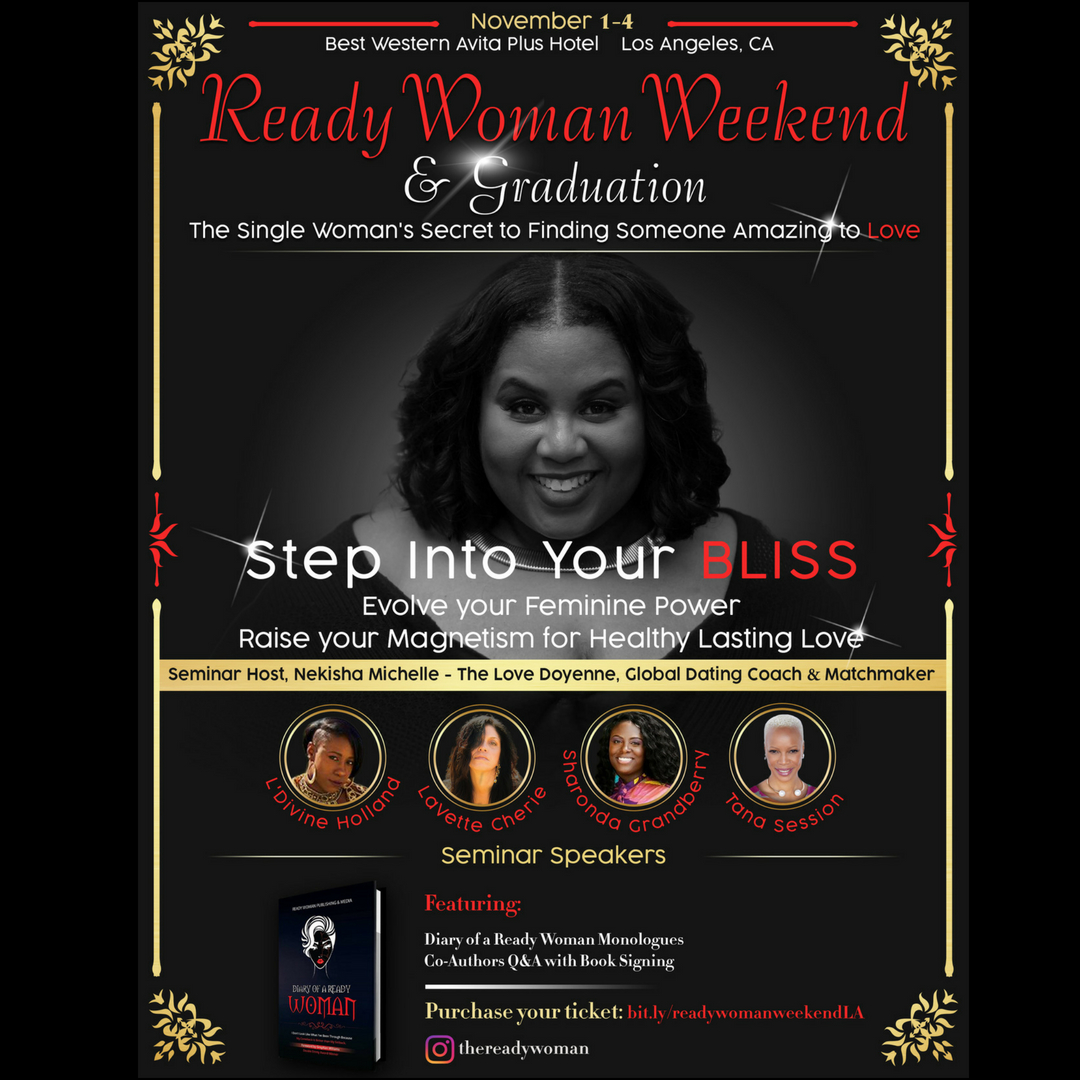 You are a successful, professional woman but has the worst luck when it comes to LOVE – you keep going from one loser to the next

You have an assertive nature and fear that men are intimidated by you

Work has completely taken over your life and you can't even remember the last time you went on date with a guy you really liked

You may be worried that you'll never find "the one" or that "all the good guys are taken"

Your confidence when it comes to love and relationships is on the "all-time low" and you're having a hard time believing there's a "prince charming" out there for you

You're still haunted by past love and betrayal – and unconsciously letting it sabotage every new one you've tried to start
---
Sounds anything like you? I know because I have been there myself – I had THE worst luck with love; a divorce, domestic violence, abandoned and rejected. That's my story!
There's NOTHING wrong with you and you're certainly not born under a bad sign. You simply have been unable to attract your IDEAL man and maintain healthy lasting love because you lack the necessary tools.
Think about it, how can you truly annihilate something "internally" holding you back when you have absolutely no clue what it is or where it stems from?
You don't have the blueprint on what to do and what "not to" – with the right information and guidance – you can effortlessly attract REAL lasting love into your life without pretending to be someone you're not or compromising your standards.
And that's exactly what our upcoming hands-on event is designed to do for you!

---
WEEKEND HIGHLIGHTS:
THURSDAY NOVEMBER 1, 7-9PM "REAL MEN TALK" Discussion Panel & Singles Mix & Mingle
FRIDAY NOVEMBER 2, 7-9PM "DIARY OF A READY WOMAN MONOLOGUES & BOOK SIGNING"
SATURDAY NOVEMBER 3, 10 AM- 7 PM "STEP INTO BLISS SEMINAR & WORKSHOPS"
SUNDAY NOVEMBER 4, 12-3PM "HOT SEAT LOVE COACHING, Q&A and GRADUATION CEREMONY"

Commencement Speaker, Tana Session, International Success Coach, Speaker & Author -
TITLE: "Your Destiny is Calling, How Will You Answer"
---



Take a peek at a recent live TEACHING with Nekisha Michelle
https://youtu.be/rD07USl1cZM
---



Here's Just A Glimpse of What You'll Discover At this Life-Altering Event:
How to naturally heal from past wounds and relationship failures in order to create NEW lasting healthy love

How to reconstruct your foundation to get the RIGHT kind of men chasing after you

A tested and PROVEN system I personally created to feel more confident and irresistible
No one attends Ready Woman Weekend & Graduation and leaves the same – In most cases, you will be in a deeply committed relationship within 90 days to six months may even be married.
---


LOOK WHAT HAPPENED TO CLIENT DR. CARLA: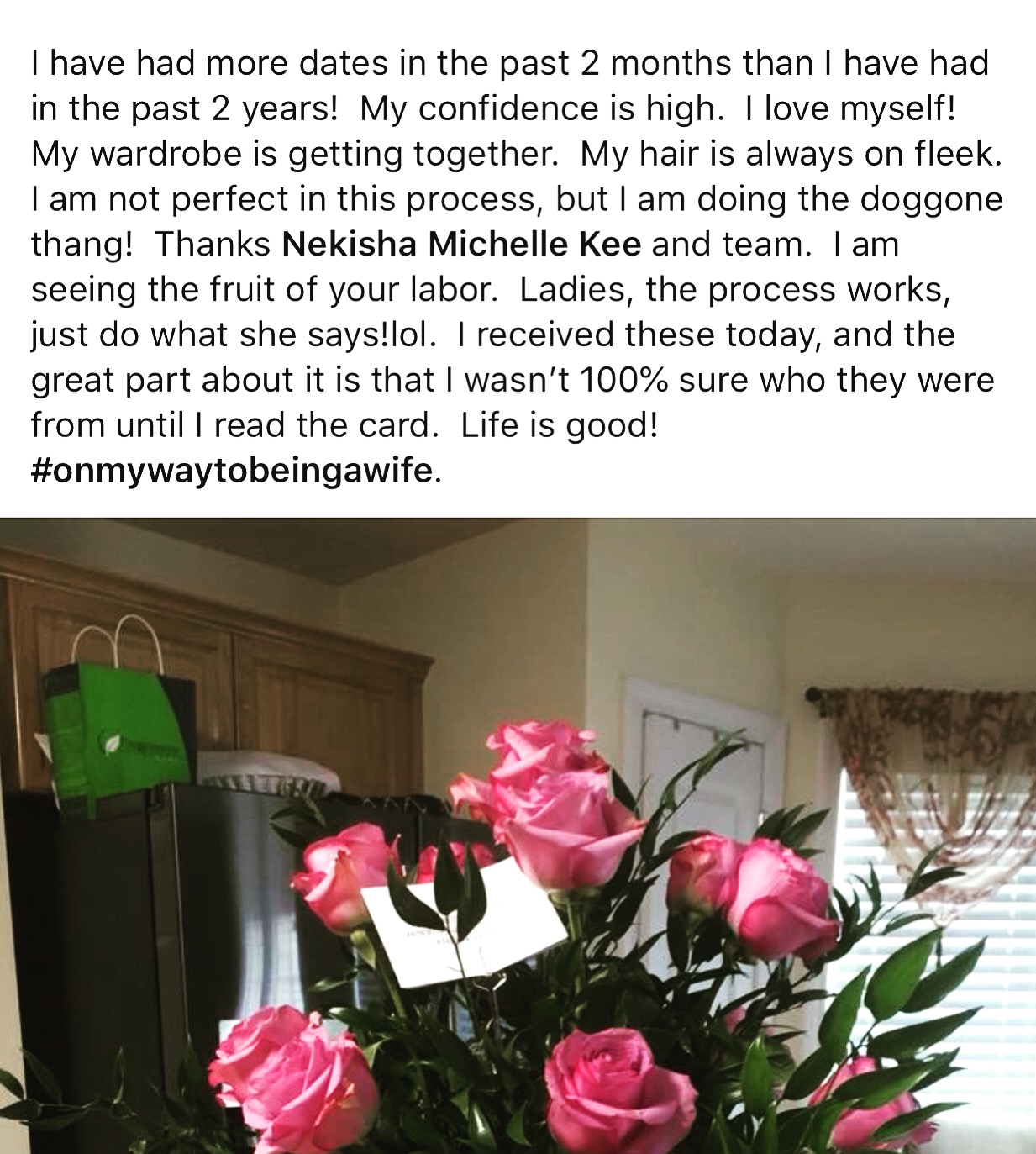 SEE YOU THERE!
---
FAQ'S
What are my transportation/parking options for getting to and from the event?
Free Parking at the Hotel! If you would like to stay at the hotel the entire weekend. Call 323.596.1722 we have secured amazing rates. You might as well make it a mini vacation and stay where you will be learning.
---
How can I contact the organizer with any questions?
Feel free to contact one of our staff members via email: ultimatematchagency@gmail.com you will be contacted within 1 business day.
---
Do I have to attend all events scheduled?
No, but your ticket does cover all events. There are no discounted tickets or variations to pick and choose the activities. This is our annual Ready Woman Weekend. However, if you only want to attend the Diary of Ready Woman monologues, there are separate options for the Friday night event.

---
Will I really find my life partner in 90 Days?
We can't guarantee that you will follow the process and use the tools to do what is necessary to manifest love quickly. We do guarantee results and that you will have the answers, to your questions and the tools to assist you in accelerating the process. These results are not typical but women have found their life partner using our system in as little as 2 weeks to 90 days. It always depends on your willingness and execution. Are you a Ready Woman in her BLISS?
Organizer of STEP INTO YOUR BLISS -Real Women Finding Lasting Love in 90 days
Introducing:
Nekisha Michelle is The Plus-Size Love Doyenne which is French for at the top of her game as an experienced and intuitive expert in dating, matchmaking and the relationship industry.
She services a Global upscale clientele as the founder of Ultimate Match Agency. Her clients consist of the United States, Europe, and West Africa.    With a 90% success rate of clients who positively evolve their dating into healthy long-term intoxicating relationships and marriages. Several of her success clients also work alongside Nekisha Michelle as coaches. 
Nekisha Michelle has been featured in Success Magazine, Black Enterprise, Plus Model Magazine, Upscale, Rolling Out, Voyage Atlanta, Insider, and Ebony to name a few.
Nekisha Michelle is also a Hollywood TV Personality and you may have seen her on HGTV's Crowded House or OWN in the Flex & Shanice Wilson Reality Show, in rapper Lil Dicky's Pre Game Video or Lil Jon's "Bend Ova Video".
She is happily married to Boyo and the mother of CeCe & Izzy.  
Nekisha Michelle is the founder of The Ready Woman G-Spot in which she prepares women by using her BLISS CODE SYSTEM to be rare, ripe and juicy to get the relationships they want and need.