Event Information
Location
Bruce Bolling Municipal Building
2300 Washington St, Dudley Station
Boston, MA 02119
Description
Please join us for Step Into Stem (SiS): Exposing Girls to STEM Careers, an educational and career exploration event for young Latinas, led by Chica Project and BeVisible. All proceeds will benefit the event.
Rooted in sisterhood and STEM, and leveraging the power of relationships and role models, SiS aims to expose Latina youth and their families to diverse careers through a dynamic panel of Latinas in STEM and speed mentors from diverse backgrounds (Want to be a speed mentor? Sign up here!) from BeVisible, TECHNOLOchicas, the Association for Women in Science (AWIS) Massachusetts Chapter, Latino STEM Alliance, Harvard University, and Lesbians Who Tech, among others!
Your donation, minus any Eventbrite fees, is a tax-deductible donation to Chica Project to cover this event.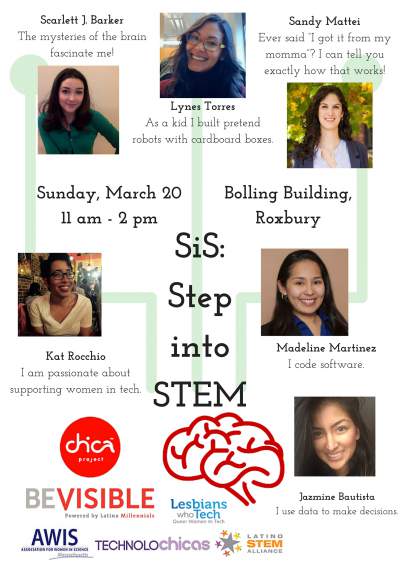 FAQs
Why expose Latina girls to STEM careers?
According to the Pew Research Center, "the Latino population, already the United States' largest minority group, will triple in size and will account for most of the nation's population growth from 2005 through 2050. Hispanics will make up 29% of the U.S. population in 2050, compared with 14% in 2005." Yet only 25% of Latino students are reaching Math proficiency and higher on MCAS tests versus 74% for Asian and 58% for non-Latino white students, and only 13% of Latino students are reaching proficiency or higher for the Science, Technology and Engineering test. Clearly, there is a need to prepare and engage Latino students in STEM.
Why "SiS: Exposing Girls to STEM Careers"?
After the success of Chica Project's Mentoring Circles and Next Generation Chica programs, which aim to build personal and professional development, we created this event to expose Chica mentees (and other youth in the community) to STEM career opportunities and to gather diverse professionals who are genuinely interested in bringing STEM to underserved youth who would otherwise not have such an opportunity.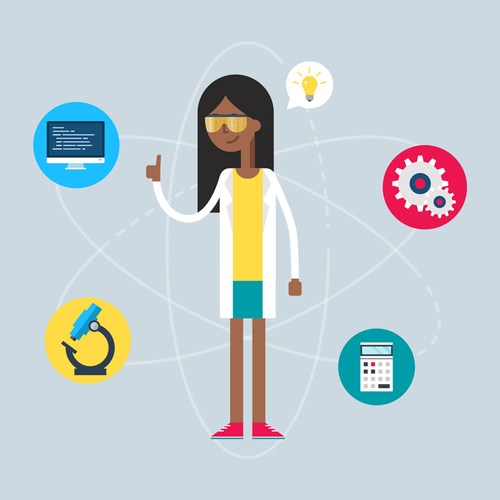 What is "speed mentoring"?
Think of speed dating, in which students will go from mentor to mentor in 1 minute increments answering questions prompted by the MC. It's a great, informal way to interact with the students and spark in them a curiosity about diverse life paths. Want to be a speed mentor? Sign up here!
Do I have to be in STEM to be a speed mentor?
No; we need speed mentors from many backgrounds to expose youth to diverse careers!
Where can I contact the organizer with any questions?
For more information or questions, please contact Tariana V. Little at tariana@bevisible.soy.
Do I have to bring my printed ticket to the event?
No; we will have records of your registration upon arrival.
Is a donation required?
No, donations are not required. We are very grateful for donations, which are tax-deductible and will cover event costs. When you donate, you will receive a letter at the event confirming your tax-deductible contribution to Chica Project. Thank you for supporting opportunities for youth development!
Date and Time
Location
Bruce Bolling Municipal Building
2300 Washington St, Dudley Station
Boston, MA 02119