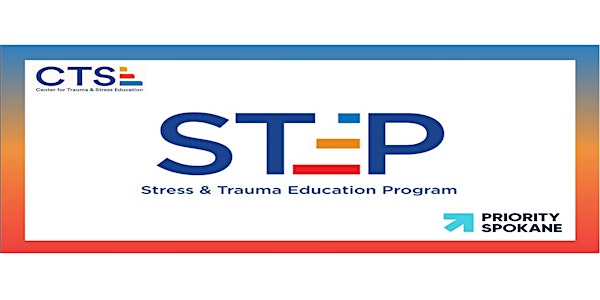 STEP - Grave Concerns Morning Training
STEP (Stress and Trauma Education Program) training each Wednesday 9am - 11:00am for 3 weeks Nov. 16- Nov. 30.
Date and time
Wednesday, November 16, 2022 · 9 - 11am PST
About this event
STEP (Stress and Trauma Education Program) training-
This unique STEP (formerly CSTEP) curriculum was developed by CTSE and Priority Spokane to provide tools and support to address stress and trauma while providing space to discuss and unpack the events of the last few years. You'll participate in activities and discussions with others while learning important evidence-based tools and practices that you can use yourself and share with others.
The Zoom link will be provided prior to the training. The training will be led by trained facilitators. You'll be asked to actively participate with your webcam on if possible. Check out the graphics below for more information or visit www.PrioritySpokane.org
This training is provided by Priority Spokane in partnership with the Center for Stress and Trauma Education.
Skills/tools provided in this training are:
1. Trauma prevention & recovery
2. Coping with stress & uncertainty
3. Managing increased work, life, and relationship stressors
4. Accurate expression & validation: improving communication
5. Managing attention & emotion
6. Building connections
7. Understanding grief & loss
8. Reducing suffering through opposite action
About the organizer
Priority Spokane serves as a catalyst and convener in Spokane County for data-driven and focused improvements in economic vitality, education, the environment, health, and community safety.
  Visit us online at www.PrioritySpokane.org