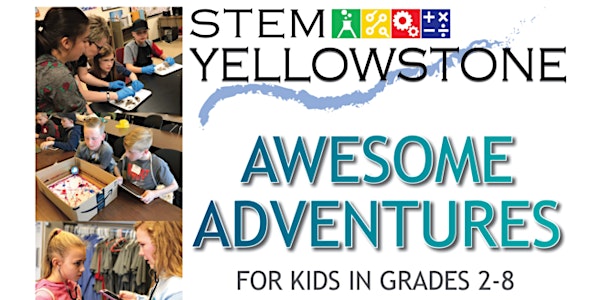 STEM YELLOWSTONE PRESENTS - Adventures in Health & Medicine
Adventures in Health & Medicine Saturday, Jan. 18, 2020 Billings Career Center / 1-4 p.m. Registration for kids starts at 12:30 p.m.
When and where
Location
Billings Career Center 3723 Central Avenue Billings, MT 59102
Refund Policy
Contact the organizer to request a refund.
Eventbrite's fee is nonrefundable.
About this event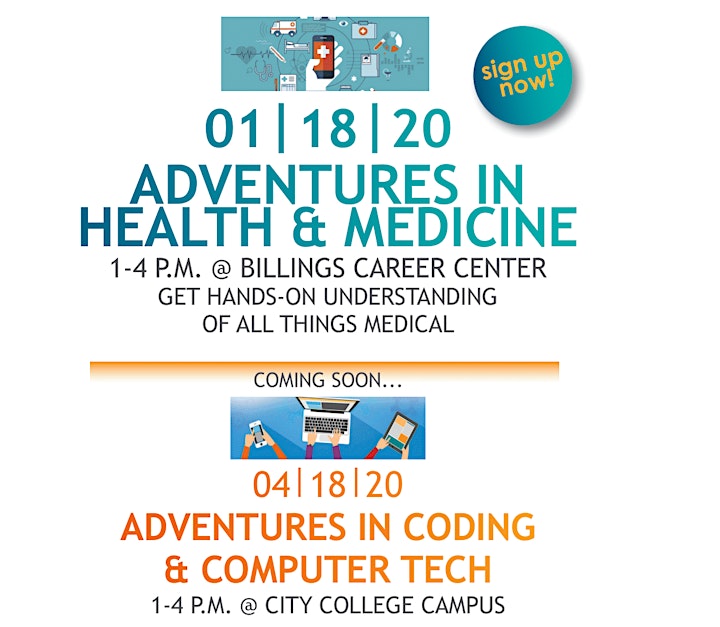 Event descriptions:
Take the Bio-engineering Challenge: Kids will work in teams of 4-5 to engineer, build, and test prosthetic legs made from household objects. They will then explain their design and demonstrate operation to fellow groups. This activity is for all ages, but similar ages in sessions is desirable for active collaboration. Sponsored by ExxonMobil.
Age group: Open to kids of all ages
Capped number: 30 per session
Get Up Close with Capillaries: Kids will take six cups, three with colored water and three that are empty. Using colored water and connecting them with paper towel "veins" kids will get a hands-on understanding of how blood system works. Sponsored by Wise Wonders Science & Discovery Museum
Age group: Kids in grades 2-5
Capped number: 20 per session
A Tasty Review of Cells: Discover the mathematical relationships important to human cells in an experimental and potentially "tasty" manner. Learn how M&M candies can teach us something about cell size. To conclude we will look at human lungs and apply those cellular relationships to healthy and tobacco-damaged lungs. Sponsored by RiverStone Health Public Health Services (Dr. Claire Oakley) and Rocky Mountain College Biology Program (Dr. Rebecca Polich).
Age group: Kids in grades 5-8
Capped number: 20 per session
Follow Your Food: A fun and interactive session exploring what we eat and answers to the mystery of food! What happens after we eat? How does food digest? How does our body absorb the nutrients from the food? Let's time travel through the body from beginning to end! This session isn't for those with a weak stomach! Sponsored by the Girl Scouts of Montana and Wyoming
Age group: Kids in grades 2-5.
Capped number: None
Brain Power: Learn all about the parts of the brain and how to prevent brain injuries. Use your own brain power to design and test helmet styles to protect your noggin! Sponsored by the Medical Careers Program at the Career Center.
Age group: Kids in grades 5-8
Capped number: None
Explore Yourself!: Come join us for a virtual tool of the human body! Using just an iPad and a T-shirt, you will take science to a new dimension enabling you to learn about the human body while using augmented reality. You can explore the circulatory, respiratory and digestive systems and even track your own heart rate. Sponsored by Amy Leffler, Middle School Science Teacher.
Age group: Kids in all grades
Capped number: 15 per session
Explore Animal Ear Anatomy: Kids will learn about how different shape, size, and movement effects animals health and ability to survive in different environments. Activities will include learning about their own hearing and creating animal ears. They will then show and tell their animal ear models and explain why they chose that specific ear anatomy. Sponsored by: Yellowstone Valley Animal Shelter
Age group: Grades 2-5
Capped number: 15 per session
Living With Less: Work with technology and simulation equipment to experience what it is like to live with hearing and vision impairments. Sponsored by RiverStone Health.
Age group: Kids in grades 5-8
Capped at 8 per session.
Stop The Bleed: There is a lot a person when someone is injured. Kids will learn simple steps that will help an injured person until medical care arrives. Be a part of a nationwide program to learn how to "stop the bleed." Sponsored by Billings Clinic.
Age group: Kids in grades 5-8.
Capped number: 12 per session.