Sales Have Ended
Ticket sales have ended
Registration has closed.
Sales Have Ended
Ticket sales have ended
Registration has closed.
Description
Join us for our opening day of STEMteachersNYC workshops for the 2014-15 school year!
WORKSHOP LEADERS:
Mark Schober, Head of Science, Trinity School, New York, NY
Howard Spergel, Physics Teacher, Midwood High School, Brooklyn, NY
DESCRIPTION: This hands-on workshop uses a specially-designed, low-cost, wheel-and-axle apparatus rolling on inclined rails (conduit pipe). This slows down the motion sufficiently to allow even middle school students to record accurate position data by hand every second - thus making the connection between the physical motion and the data transparent and eliminating the need for an additional "black box" device to record the position many times a second.
Teachers will collect and analyze data in "student mode" in order to experience how students can develop all of the accelerated motion equations experimentally from one inexpensive, low-tech lab, and fully meet the content and process standards in the Next Generation Science Standards. For those who have taken this workshop before, come for a refresher and invite a colleague to join us. For those who haven't done this before, this is an excellent introduction to proven, effective, Modeling Instruction(™) techniques, such as evidence-based model development, facilitating student discourse with whiteboarding, and emphasis on multiple representations of physical phenomena.
You have the opportunity at checkout to purchase a class set of the apparatus at low cost. At the workshop you will also receive printed teacher's notes and student materials that can be the foundation for lessons on the uniformly accelerated particle model. If possible, bring a computer with Vernier's Logger Pro installed. You can download a fully-functional, 30-day demo of Logger Pro for free at http://www.vernier.com/downloads/logger-pro-demo/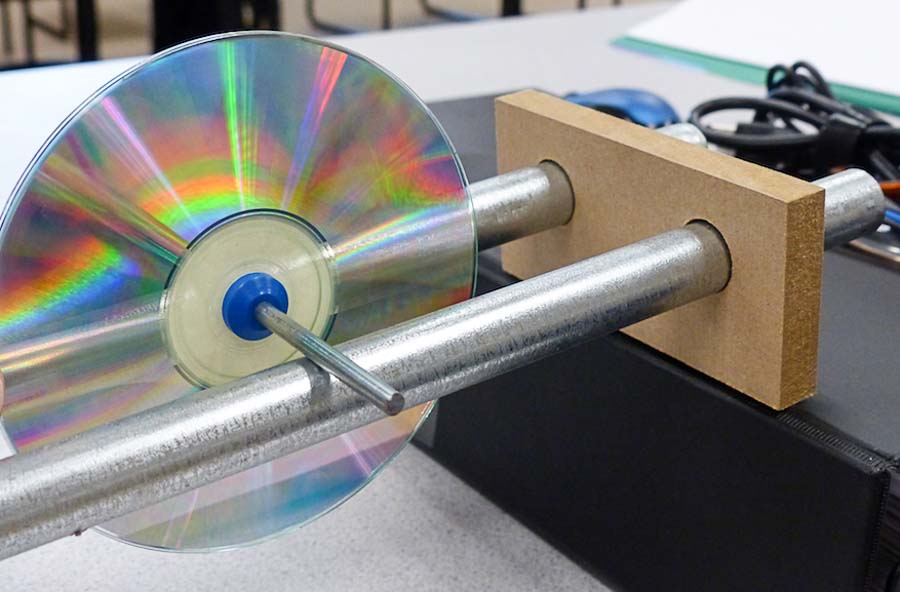 Apparatus from side showing wheel/axle, EMT conduit pipe, and endblock (to right).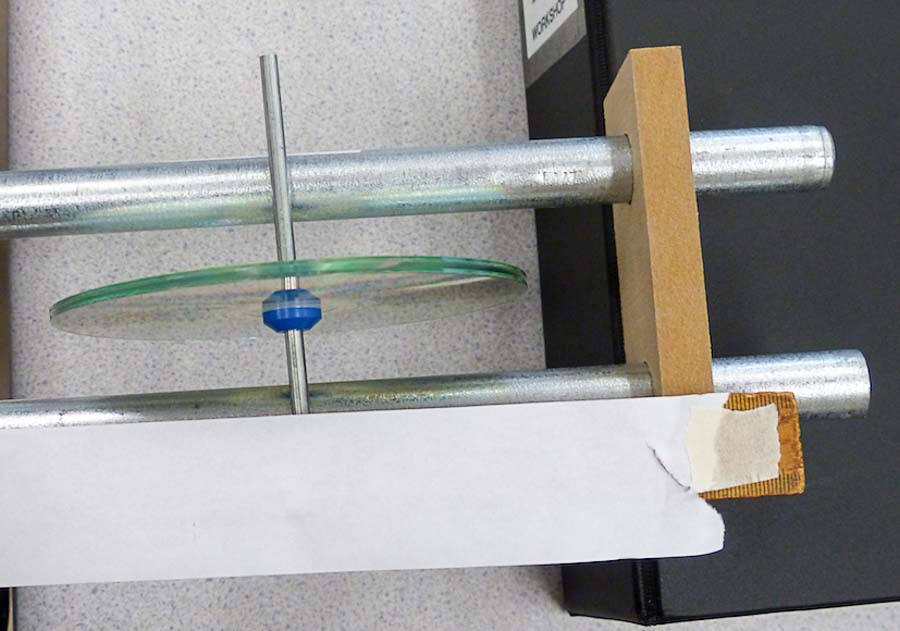 Apparatus viewed from above, showing wheel/axle riding on conduit pipes with endblock at right and marking tape at bottom.

Position data tick marks on paper tape.
HOW TO ORDER THE EQUIPMENT FOR YOUR CLASS: You can order 8 setups of the apparatus for this experiment when you checkout for an additional $64 ($32 for 8 wheel/axle sets with endblocks and 4 rolls of marking tape, and $32 for 16 40" EMT conduit pipes for the wheel/axles to roll down). Or you can order 1 to 7 complete setups for $10 each. We will have your order ready for you to take home at the workshop. NOTE: the 16 conduit pipes will be taped together but are somewhat heavy to carry, so plan accordingly. A shopping or luggage cart may be advisable.
WHITEBOARDS ALSO CAN BE ORDERED AT CHECKOUT: $20 for six 24" x 32" whiteboards. These are also heavy to carry, so plan accordingly.
There will almost certainly be additional wheel/axle sets and endblocks available for purchase at the workshop, at a slightly higher price than if you order them now at checkout. Instructions will also be available about how to get EMT conduit pipe and whiteboards on your own.
For those attending the concurrent Standards-Based-Grading workshop, you are welcome to order whiteboards and the accelerated motion apparatus!
Receipts and Certificates documenting participation are available.
WHO SHOULD COME?
Physics and other STEM (Science-Tech-Engineering-Math) teachers.

Physical science, earth science, and general science teachers (anyone who teaches about motion & Newton's Laws)

Students studying physics/STEM, especially those preparing to be teachers.
CAPACITY: limited to 36 participants.
ORGANIZER: Fernand Brunschwig, Math, Sci. & Tech. Dept., Columbia Teachers College
To join STEMteachersNYC, fill out survey: <tinyurl.com/modelingsurvey>. (Right-click on link and click on "Open link in new tab.")
(Members find out about workshops first and can sign up before others.)
=================
FAQs
Is there a fee to attend this workshop?
Yes. There is a $15 attendance fee.
Is there a special pricing for TC students for this workshop?
Yes. TC students recieve a 50% discount on PTNYC workshops. To receive your discount code, please send an email to STEMteachersNYC (ptnyctreasurer@gmail.com). You will be asked to present a current TC student card at the door on the day of the workshop.

Where can I contact the organizer with any questions?
Questions about registration and payments for this event should be addressed to

STEMteachersNYC

(ptnyctreasurer@gmail.com), Treasurer, PhysicsTeachersNYC.
Is the reservation fee refundable?
No, please be sure you are able to attend the workshop prior to registring for it. If you mistakenly register for 2 workshops that take place at the same time, we will not be able to refund the fee.
Is my reservation/ticket transferrable?
No, please contact STEMteachersNYC treasurer (ptnyctreasurer@gmail.com) if you need to transfer your reservation to a different person/name.
Can I update my reservation information?
Yes, you can update your reservation information.

The name on the reservation/ticket doesn't match the attendee. Is that okay?
No, please contact STEMteachersNYC (ptnyctreasurer@gmail.com) to address this.

Organizer of STEM Workshop: Accelerated Motion Lab Make-n-Take & Intro to Modeling
STEMteachersNYC is a 501(c)3 non-profit organization that cultivates excellence in STEM teaching and promotes deep understanding and success for students through innovative, teacher-led professional development. Our weekend workshops for teachers are offered during the school year and multi-week workshop intensives occur in the summer. We welcome and encourage teachers from across the globe, the US, and the local New York City area!

STEMteachersNYC is registered as a Continuing Teacher and Leader Education (CTLE) provider with the New York State Education Department.
STEMteachersNYC is an approved vendor for the New York City Department of Education (#STE-23385).
STEMteachersNYC was founded in the summer of 2011 by a group of educators as a teacher-led study, support, and professional development group.  STEMteachersNYC membership has grown at over 30% per year and now stands at over 1,000 members. STEMteachersNYC is an affiliate of the American Modeling Teachers Association.