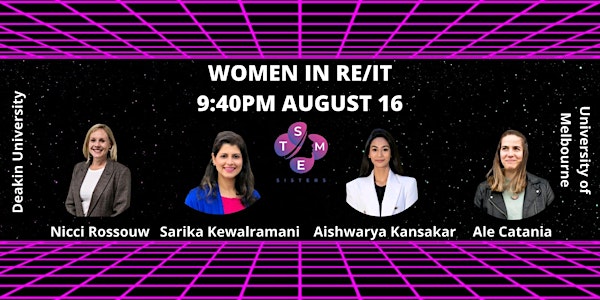 STEM sisters 2022 |Women in RE/IT
STEM Sisters 2022 |Women in RE/IT Panel Discussion
About this event
About the event:
The main topics of Women in RE/IT would be as followed but not limited to:
- Professional journeys of the panelists with the focus on how they address the challenges in Australian working environment as Women in STEM
- Lessons and experiences on how to secure professional STEM positions in the corresponding fields of career in Australian job market
- Prospective projects and goals to further give contributions to the development of STEM
About the organisers:
The STEM Sister Ambassadors from Deakin University and University of Melbourne in Australia has organised the event Women in IT. A broad mix of linguistically and culturally diverse women devoted to an intersectional approach to supporting women of colour in the professions of science, technology, engineering, and mathematics make up STEM Sisters, an organisation formed by Dr. Ruwangi Fernando.
Event details:
The event will be held via zoom.
Date and Time: Aug 16, 2022 09:40 PM Canberra, Melbourne, Sydney
All registered participants will receive a zoom link to join the event.