Description
One-week long STEM Robotics Camps for rising 4th through 8th graders begin the week of June 25, weekly from 9 am – 12 pm. Choose from Introductory Level or Advandced Robotics Camp. Finishing the Basic Camp (this year or last) or similar skillset is a pre-requisite for Advanced.

Returning instructor Beren of the award winning "Aperture Science" FTC Robotics Team from Western Alamance High School will be teaching alongside Jessica and Tony from the award winning "Plan B" FTC Robotics Team to bring your rising fourth through eighth graders this opportunity for hands-on learning through construction and programming of LEGO robots.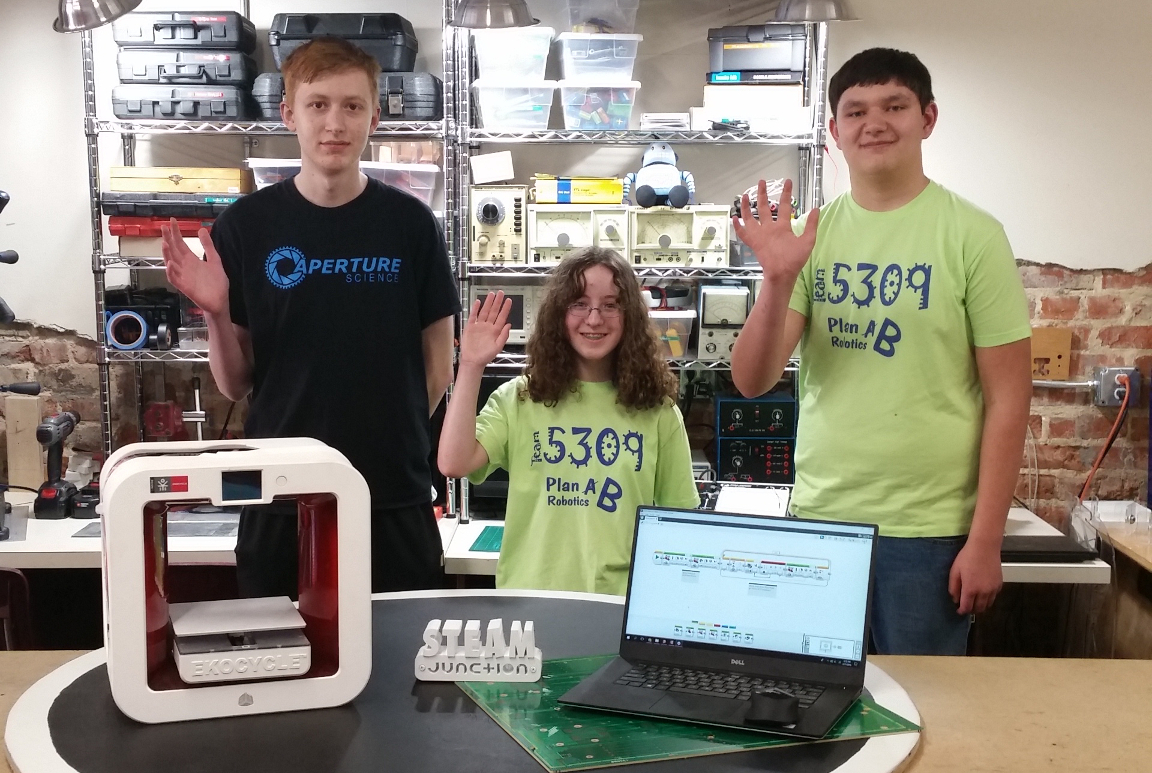 Learn more by watching this video: https://youtu.be/94c5pNHcWaw
Advanced Robotics Camps (this event):
Advanced Camp is offered for those who have successfully completed this Basic Camp (either last year or this year) -OR- for attendees who have more advanced robotics skills from some other outside source. Information about those camps are posted in a separate event on Eventbrite.
Week 1 Advanced: July 16


Week 2 Advanced: August 6
Basic Robotics Camp offerings (register here):
Monday through Friday sessions. 9 am – 12 pm daily.
Week 1 Basic: June 25 – 29

Week 2 Basic: July 9 – 13

Week 3 Basic: July 23 – 27

Week 4 Basic: July 30 – August 3

Please pick the week that best fits your and your child's schedule and reserve your seats for that week. It is possible to attend this camp more than once, but please be aware that the content will be the same during each offering. Depending upon demand we may schedule a follow-up higher level camp later in July. Please let us know if you might be interested in that opportunity.
What will participants do?
Participants start the week off by learning advanced construction techniques for building Lego Robots including gearing and advanced mechanisms. They learn about advanced and precision motion control and driving techniques including the use of the built-in Gyroscopic sensors in the LEGO Control brick. Each day brings new challenges that lead up to building a line-following robot that can quickly navigate along a line and then engage a mechanism to lift as much weight as possible. This camp includes more complicated coding techniques including "My Blocks," functions, parameters, variables, and algorithm development.
More than just Robotics... more STEM concepts and even soft skills too:
During the week participants work together as partners and in teams and learn team-work and problem solving. Participants are encouraged to document their creations and describe what they have learned in an engineering notebook. Participants will get help from STEAM Junction to take photos and video of their robotic creations and of their robots in action. The are also exposed to other robotics concepts like digital fabrication with laser Cutters and 3D Printers to make components for their robots and will engage in more open-ended and creative design.
Parent Participation:
On the final day of camp (Friday) participants engage in demonstrations of their line-following robot creations. Parents who are available are encouraged to attend the second half of the day on Friday to witness and share this event with their child. If you can't make it to this event on Friday we have you covered... we will video record the event and post the results on YouTube providing you with a link that you can view or share.
Privacy:
At STEAM Junction we care about your child's privacy. During the week our instructors, staff, and participants (with help) will be taking photos and recording video of their robotic creations and of their tournament. We will share some of these photos and videos via social media including our Facebook page and YouTube channel. We share photos and video so that others can learn about our Makerspace, find out about our Events, and be inspired to become Makers themselves and to get involved in STEM skills.

If you or your child do not wish your child to appear directly in photos or videos please let us know and we'll make sure that they are not directly photoed or videod for use online. (What do we mean by "directly"... i.e. they may still appear from behind, or their hands may be in a photo of a robot, but we will not focus on their face). We will never post any identifying information about your child or other participants of our workshops or camps.
Camp Offerings:
This Summer STEM Camp is being offered as a one-week long camp (5 days long for three hours each day 9:00am to noon). We will offer the same camp on two different weeks during July and August 2018:
Week 1: July 16th to July 20th

Week 2: August 6th to August 10th
Please pick the week that best fits your and your child's schedule and reserve your seats for that week. It is possible to attend this camp more than once, but please be aware that the content will be the same during each offering. Depending upon demand we may schedule additional weeks. Please let us know if you might be interested in that opportunity.
Basic Camps:
If your child has not yet completed our Basic STEM Robotics Camp you can learn more about it or enroll your child at this link. Basic Camps cover basic building processes, use of sensors, basic coding, and other skills necessary to build a Sumo Robot that can locate another robot on a ring and push it out of the ring in a tournament style competition. We recommend that students applying for our advanced level camps have already experienced our basic camps OR have equivalent experience through other sources.
More Information (answers to all of your questions):
What is STEM? STEM = Science, Technology, Engineering, and Math (add A for Arts to get STEAM)

Why robotics? Robotics is a great way to engage young minds in STEM skills including mechanics, electronics, planning, problem solving, sensors, actuators, programming/coding, and more.

Who can attend? This camp is for Boys and Girls rising into 4th through 8th grades for next school year (ages 9-15) who are interested in robotics, mechanics, and programming/coding.

How long is this camp? Camps are five days long and run from Monday through Friday for 3 hours each day.

When are these Camps Offered? The Advanced Camp from 9 am to 12 pm on the following dates:

Week 1 = July 23 – 27

Week 2 = August 6 – 10

Is the camp 1 week long or 4 weeks long? Camps are one week long. The same camp will be repeated four (or more) times throughout July and August.

How many participants per camp? Each camp has a total capacity of 12 participants.

Will participants work together? Yes Attendees will work together in pairs sharing access to robotics kits, materials, and LabView software pre-loaded onto a PC (all provided). Students may be paired based upon ability or personality. Pairs may change throughout the week as necessary.

What time should I drop off and pick up my child? Each day's activities starts promptly at 9:00am and ends at Noon (including a short break in the middle of each day.) Participants may be dropped off as early as 8:30am. Participants should be picked up by 12:15pm.

What is the Parking Situation? There are many 2-hour parking spaces available within a one-block radius along Front Street, Main Street, Davis Street, and Spring Street. There is a handicapped parking spot on Front Street (near the corner of Front and Main). There is all-day parking available in Parking Lot #1 (behind Redefinery and Company). There is also a loading zone space in front of STEAM Junction.

Is food provided/allowed? Food is not provided, however participants may eat a snack during the mid-morning break. Parents or guardians are responsible for providing snacks/drinks for participants. (due to possible food alergies or other complications, please no sharing)

Does my child need to bring anything with them? Camp includes access to all equipment and materials needed to build working lego robotic creations. (there is nothing for participants to bring except their imaginations and a positive attitude)

Are there any safety concerns with this camp? There are no direct safety issues involved in this camp. All equipment is battery powered and is low speed or low torque. The camp is being conducted in our Makerspace and participants should follow all instructions from instructors or makerspace staff including not handling tools or equipment unless they have permission and supervision. Students are expected to remain on the premises throughout the camp and will only be released to their parents or guardians.

How do I register and pay for this camp? Registration and payment is handled online via this Eventbrite page. Payment is done through Eventbrite using your credit card.

Can I pay at the door or by another means like check? If seats are still available on the first day of a new camp then we will accept payment at the door by credit card, check, or cash, however there is an additional fee for paying at the door of $10 and there is no way to reserve your seat in advance other than using the online application via eventbrite.

What is the cost for this camp? Cost is $120/Participant (plus eventbrite processing fee) for the week long camp if paid in advance.

Can I cancel? In the event of a personal emergency or illness (with as much advanced notice as possible) we will refund part or all of your fee OR move your child into a slot in a different future camp (where possible). No other refunds are offered.
While you are in Downtown Burlington...

Downtown Burlington offers many different opportunities for you as parents, and for your child (or other children not attending this camp). We are in the same block as May Memorial Library. Coffee, drinks, and snacks are available at our neighbors The Blend & Co who has inside and patio seating including free WiFi. Lunch is available at Valerios Italian Restaurant (across the street from STEAM Junction) and many other locally owned establishments including the Deli at the Company Shops Market, world famous Zack's Hot Dogs, the Boston Sandwhich Shop, Danny's Cafe, and Subway of Downtown Burlington. There are also opportunities for shopping including Game Over Comics, Shoemaker Guitar, Main Street Vinyl, 5th and Main, Wayne's Attic and many others.

If you have further questions:

Please feel free to contact us with questions at any time! You can reach us by phone at 336-524-3488 or by e-mail at makerspace@steamjunction.com
Going Further:
STEAM Junction is Burlington's Makerspace. We are part of a growing "Maker" Eco-System and are proud supporters of STEM Education for K-12 students, higher education, and for life-long learners. There are many opportunities available to you individually as adults, your children, and to your whole family. STEAM Junction will offer many additional camps, single-day workshops, and classes (for after school or for adults) in the future.You may also consider a membership at STEAM Junction to gain access to our tools and equipment for yourself or your whole family. STEAM Junction is also host to free monthly Alamance Makers Guild meetings and AMG Special Interest Group meetings. Together we produce the yearly "Maker Faire Burlington" event that highlights STEM in our community. Follow us via social media to stay connected to all of our events, classes, workshops, and more.
We offer 50/50 revenue sharing through our classroom, so if YOU want to teach something, just let us know and we'll work with you to create the best offering to our community.