Event Information
Refund Policy
Refunds up to 30 days before event
Description
Come and learn the latest techniques in teaching science, technology, engineering and math at this full day conference on the Washburn University Campus in Topeka.
The conference will feature multiple professional tracks and breakout sessions for teachers from elementary schools through middle and high school. The conference fee includes registration and all materials as well as a catered lunch, a reception at the end of the conference and reserved seating for the keynote speaker, Dr. Mae C. Jemison. The presentation will begin at 6 p.m. in the White Concert Hall.
Dr. Jemison was the first woman of color in the world to go into space and served six years as a NASA astronaut. Dr. Jemison was also NASA's first Science Mission Specialist performing experiments in material science, life science and human adaptation to weightlessness.
A strong, committed global voice for science literacy, Dr. Jemison founded the international science camp The Earth We Share™ (TEWS) for students 12-16 years old from around the world, and founded and chairs the Dorothy Jemison Foundation for Excellence.
Six Different Program Pathways During the Conference
STEM: Don't Keep Your Hands and Mind to Yourself!
In the STEM-oriented classroom, learning is a combination of "hands-on" and "minds-on" learning. How do we gain the knowledge and retain the knowledge? Using a variety of objects and manipulatives to engage hands and minds, students find they can "create" ideas and solutions to any problem!
STEM: Plugging in to Student-Centered Technology!
Using technology in the classroom allows teachers to engage students in all kinds of creative and compelling technological experiences. A variety of activities and resources can be plugged into technology to create high-interest and motivating learning environments.
STEM: "E" is for Engineering!
What does "engineering" mean and look like in my classroom? "E" is for Engineering and it's all about solving real world problems. The process to solve the problem is ENGINEERING! What are the steps to solve the problem and how can you apply them in your classroom today?
STEM: Pick A Subject, Any Subject!
Many people think that STEM is just for math and science, but it's for EVERYONE---language arts, social studies, music, art, etc. Cross-curricular units integrating STEM can apply to any subject and any grade.
STEM: Career and Tech Ed? STEM is For You!
Preparing students for a wide-range of highly skilled and demanding careers, Career and Technical Education engages students with academics in rigorous and relevant pathways, leading to certification and degrees. Many times we don't think of these pathways as STEM, but STEM is highly integrated into the plethora of careers involved in the 16 career pathways!
STEM: It's for PreK-5th Grade, Too!
Who says STEM doesn't start until the middle school grades? Integrated science, technology, engineering and math into curricula is alive and well in preschool and other elementary grades today. Integrated thematic units create a prime environment for STEM topics and ideas.
Speakers include:
Lunch Speaker -- Dr. John McConnell
STEM Outside of the Classroom – Dr. John McConnell, is a Washburn Physics graduate who went on to a career at the National Laboratory in Los Alamos, New Mexico. When they retired to Colorado, he established the John McConnell Math and Science Center in Grand Junction, Colorado. The center which provides both a hands-on learning environment for students and provides teacher training in that field. It began with some hands-on activities which he built himself and which he and his wife moved around from one elementary school to another and grew into a collection of experiments and educational activities which was housed in a classroom where students were brought and finally to an entire school building in Grand Junction which they were given to create this dual-purpose center.
Featured Speaker -- Dr. Tom Turpin
Dr. Tom Turpin is a native of Kansas. He received his undergraduate degree from Washburn University where majored in biology and played basketball and baseball.
Dr. Turpin created the "Bug Bowl," a celebration of insect science that draws from 20,000-35,000 visitors annually and attracts media attention from around the world. He has been featured in numerous news stories including Time and People magazines. He has appeared and been quoted on many major TV including Good Morning America, Prairie Home Companion.
He also writes a bi-monthly column "On Six Legs" that appears in over 40 newspapers. He has done presentations around the nation for the Smithsonian O. Orkin insect zoo that have taken him to over 30 major US cities. He has also been a regular featured speaker at the International Flower and Garden Show at Disney World. Dr. Turpin is retiring this year from Purdue University.
Other speakers include:
Beverly Erby & Rafael Alessio - Early Childhood
Tim McKenny - Manipulatives
Camille Schroeder & Loren Zachary - Engineering in the Classroom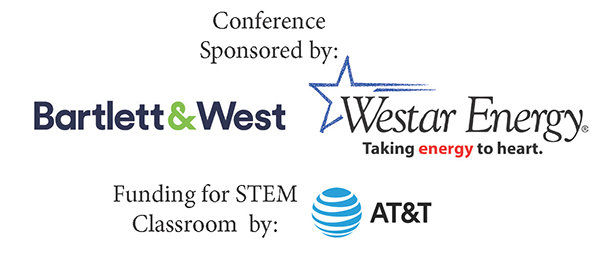 Date and Time
Location
Refund Policy
Refunds up to 30 days before event