Sales Have Ended
Ticket sales have ended
Great news - you did not miss the STEM Education & Workforce Equity Forum! Watch this groundbreaking event led by nationally-recognized leaders in equity. Get practical, actionable tips for being part of the equity solution, now. Join STEM Generation. Together, we'll level the playing field. Start now. Advocate for Equity with STEM Generation: https://sciencefairfun.org/advocates Commit to Equity through STEM Generation: https://sciencefairfun.org/donate STEM Education & Workforce Equity Forum recording: https://sciencefairfun.org/events/
Sales Have Ended
Ticket sales have ended
Great news - you did not miss the STEM Education & Workforce Equity Forum! Watch this groundbreaking event led by nationally-recognized leaders in equity. Get practical, actionable tips for being part of the equity solution, now. Join STEM Generation. Together, we'll level the playing field. Start now. Advocate for Equity with STEM Generation: https://sciencefairfun.org/advocates Commit to Equity through STEM Generation: https://sciencefairfun.org/donate STEM Education & Workforce Equity Forum recording: https://sciencefairfun.org/events/
About this Event
Now is your time. Are you ready?
Register today to be part of the equity solution whether you are a
Professional in a STEM business sector
Corporate Social Responsibility leader
Human Resources professional
Equity advocate
Take your commitment to equity a step further. Every $33 you donate during your event registration gives a teacher tools to develop the leadership skills and STEM identity of a budding scientist at a high-needs, low-resource school. Colorado is our incubator - the world is our platform.





Forum Agenda
4:00-5:00 Practical tips for building a more diverse & innovative workplace, addressing the core inequities in STEM opportunities.
5:00-5:15 Audience Q & A
5:15-6:00 Free Ticket-holders: Learn more about STEM Generation's impact
5:15-6:00 Donors & Equity Team Members: Join your choice VIP Breakout Room
Together, let's level the playing field!
COVID 19 and its effects have had a disproportionate impact on students from low-income communities. STEM Generation, the event host, is a nonprofit ready to address this inequity head-on with fun, hands-on STEM projects with in-class and remote learning options.
Every $100 raised gives a teacher tools to develop the leadership skills & STEM identities of three budding scientists at high-needs, low-resource Colorado Public Schools with > 50% Free-reduced Lunch enrollment.
"STEM Generation's Science Fair Fun programs lend significant value to the growth of DPS youth. … we welcome their support of our DPS educators to continue to work towards making equity a reality."
- Renee Belisle, DPS Team Lead & K-8 STEM Curriculum Specialist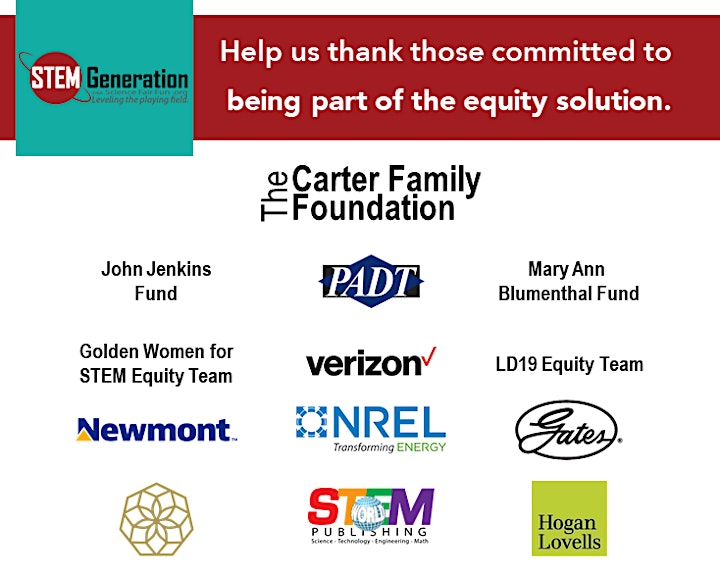 Event Committee
Carol Weber, Gates Corporation, Event Chairperson
Jen Lamborne, STEM Generation, Event Manager
Stephanie Geyer, Insight, Event Marketing Strategy
Michelle Moorman, Sargent & Lundy, Event Sponsorship Strategy
Timeri Tolnay, EdCuration, Speaker Strategy
Wendy Wempe, STEM Generation, Program Strategy
Event Ambassadors
Nita Mosby Tyler, The Equity Project
Kirsten Vermulen, B:CIVIC
Mike O'Donnell, Colorado Lending Source
Rosemary Rodriguez, Denver Cafecito
Amanda McKee, Spark the Change Colorado
Adriane Bradberry, National Center for Women & Information Technology (NCWIT)
Dwana Franklin-Davis, Reboot Representation
Toi Massey, JEKL Institute for Global Equity & Access
Julia Cummings, University of Colorado Denver
Dominic Martinez, University of Colorado Denver
Asia Lyons, Lyons Educational Consulting
Ann Motrunich, Caltech
Denise West, Technology Concepts Group Intl
Sarabeth Berk, More Than My Title
Tom Brinegar, Peak Resources
Jim Sears, 1 Million Cups, Boulder
Graham Forman, Edovate Capital
Liz Cox, Red Rocks Community College
Koryn Del Prince, Twilio
Uriel Berrum, Effct
Arlen Meyers, Society of Physician Entrepreneurs
Delfin Lozano, QuestBotics
Whitney Trainor-Guitton, SeaOwl Energy Services
Dave Mayer, Technical Integrity & Massive Impact
Andrew Ehrnstein, Solar 4 Planet A
Ken Thibodeaux, Microsoft
Jason Moorehead, Ventures Lending Technologies
Tim Stein, Natural Source Sales
John Jenkins
Juan Carlos Madeni, Johns Manville
Madison Carter, Morgan Stanley
Eric Miller, PADT
Hilary Constable, Constable HR
Steve Parry, Sales Productivity Consultants
Lisa Henkel, LMY CRM
Catalina Luneburg, TerraEx Group