About this Event
Join us for the 2019 pilot of STEM Circuits, which will meet monthly from Jan. until June, alternating between Northwestern's Chicago and Evanston campuses. STEM Circuits will address the persistent need for mentoring to support early career women in STEM, i.e., graduate students and postdocs. All Northwestern students, postdocs, faculty, and staff, as well as our initiative's members are welcome. We aim to build an inclusive and diverse Chicago-area STEM community, while providing professional development and leadership opportunities.
**The only REQUIREMENT FOR REGISTRATION is to complete an approximately 7-10 minute survey here to assess your professional development needs and interests, current access to mentors , etc., and a later post-program survey. Attendance to monthly meetings is highly encouraged, but not required. Please complete the survey now.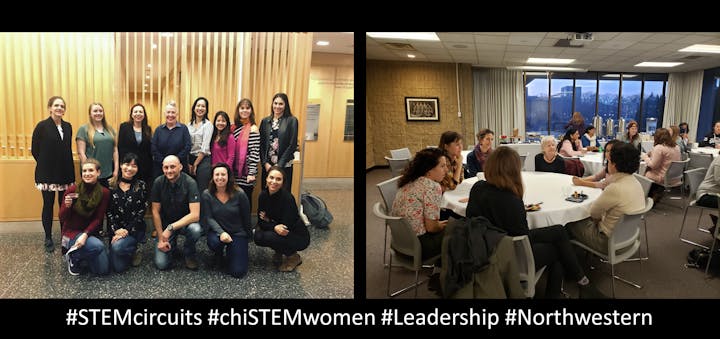 Save the date of the STEM Circuits kick-off in Evanston in the Willen's Wing Atrium (Tech) from 4 - 6 pm on Jan. 15th, 2019.
Food & refreshments will be provided!
Circuit meetings will often involve a speaker or activity, followed by break-away small group discussion.
Occasional networking events will connect our members with the Chicago-area STEM community.
Proposed discussion topics:
Career development (e.g., academia, industry, government, and policy)
STEM communication (e.g., developing the tools necessary for effectively conveying your research to diverse audiences)
Innovation and entrepreneurship (e.g., combining new and existing resources in creative ways to enhance STEM innovation)
Professional development (e.g., leadership, networking, mentoring, and outreach)
Women's issues (e.g., #MeToo/#Time'sUp, gender bias, pay gap, work/life integration, and women in politics)
Intersectionality of gender, race, ethnicity, citizenship, sexuality, and/or social class on perceptions of STEM efficacy
Current events (e.g., climate change, STEM professionals in politics, artificial intelligence, and genetic engineering)
New research techniques (e.g., imaging, robotics, coding, transgenic animals, human research, patient outcomes, stem cells, and nanoparticles)
You are welcome to suggest additional topics and speakers in the survey!
***Please complete the survey here before finishing your registration. Please also be advised that space is limited.
For more information about the Chicago Women in STEM Initiative, i.e. link to professional network sign up and IWD: 2019 event details, visit our website .
Questions? Interested in participating in a future STEM Circuits event as a speaker or small group discussion leader? Contact us at women@nupostdocs.org