RSVP for our upcoming STEMCafe with STEM Ambassador CaT Bobino!
About this event
CaT Bobino is a STEM Ambassador with a Master's degree in Biology. With her work on various television stations and special programs, in the community, and throughout many speaking engagements, CaT Bobino is spreading the knowledge of Science, Technology, Engineering, and Math.
Currently, Ms. Bobino produces a weekly show where she interviews diverse people in STEM as a way of showcasing the different opportunities that are out there for students. She has also organized trips to various STEM centers, has been a guest speaker for numerous organizations, and is the author of In The Know: Setting Up Your Child For A STEM Career. She is a biologist, teacher, speaker, host, and is also currently on the board for Self e-STEM, a nonprofit that focuses on encouraging young girls of color to learn about and pursue education in STEM. With a background in science, CaT Bobino also helps with creating and implementing science programs and opportunities for Bay Area youth.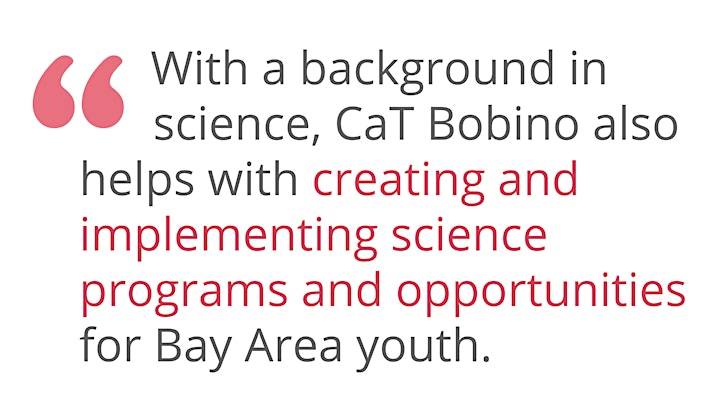 CaT Bobino is diversifying and demystifying STEM through her consulting business, In The Know Consulting, LLC. In The Know Consulting offers presentations to parents, teachers, and students on the importance of a STEM education as well as identifying key players within these fields. Each presentation leaves the audience with inquiries about STEM as well as a better understanding of Next Generation Science Standards (NGSS) that schools must implement. She also promotes awareness, provides networking opportunities, and utilizes media to engage everyday people into the lives of STEM professionals.
With experience in K-12 and undergraduate education, networking, mentoring, and media, In The Know Consulting is providing materials that are leading our next generation into the STEM world.