Stella & Dot Meetup- Garden Party with Tysh Mefferd!
Description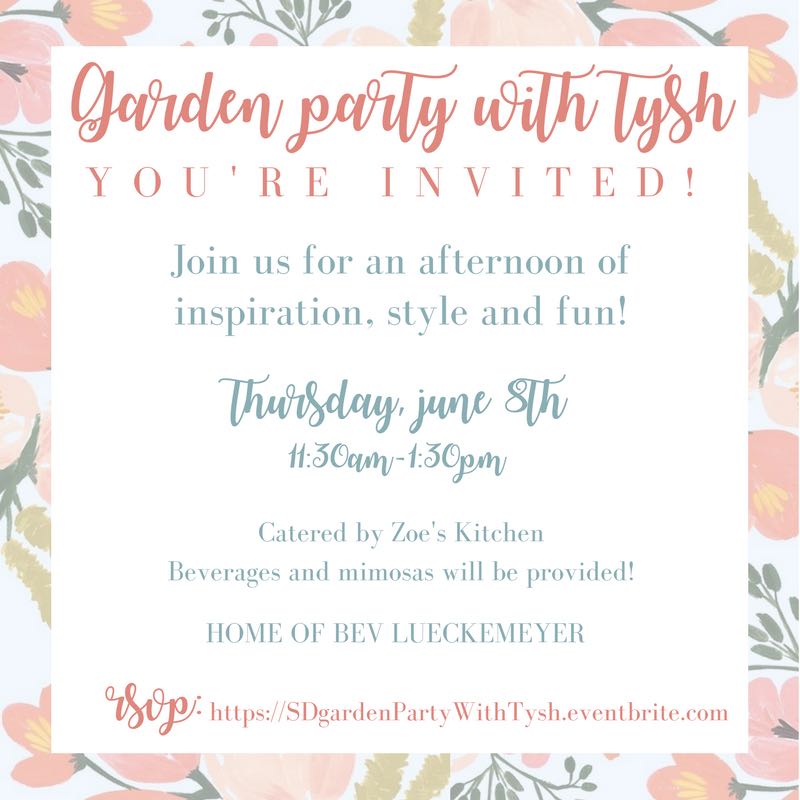 Join us for an afternoon of inspiration, style and fun with your local leaders and Tysh Mefferd!
Thursday, June 8th | 11:30am-1:30pm
Bev's Home
Your ticket will cover lunch catered by Zoe's Kitchen, and we will be providing beverages!
Please RSVP as soon as possible as space is limited! This will be such a fun event that you don't want to miss!
Not a stylist yet?
OUR MISSION: TO GIVE EVERY WOMAN THE MEANS TO STYLE HER OWN LIFE.
We get great joy out of designing irresistible jewelry. And yet, jewelry is just the tangible expression of something much greater we are creating. We have a vision of the world where STRONG WOMEN LIVE BOLD and joyful lives. They know what they want and they work for it. They inspire each other. Passion and joy are their best accessories.
Come see what all the buzz is about! As featured in the Wall Street Journal and the New York Times, this hyper growth company is enabling a new kind of success for busy women with a professional, flexible, profitable home based business.

About Tysh:
Tysh Mefferd, Stella & Dot's first Diamond Director (highest ranking promotion level for the company) and Founding Leader with Stella & Dot, is married to her college sweetheart and the mother of 3 kids. After closing her small business in the wedding industry, Tysh joined Stella & Dot as a Stylist in 2008 after she fell in love with the company's business model and philosophy. In just 6 years with the company, Tysh has made Stella & Dot her full-time career, while consistently ranking at the top in Stella & Dot sales through her international team of over 6,500 Independent Stylists – the Gemstones Tribe– who are responsible for bringing in nearly $35MM in sales annually. Tysh loves introducing women to the Stella & Dot entrepreneurial opportunity, as well as coaching and mentoring them toward the success level that they are working to achieve, whether it be a part-time effort to earn supplemental income towards their children's education expenses or dedicating themselves full-time to making a career out of Stella & Dot.