Steinbeck Family Business Seminar with JMBM/Don Lee Farms

Wednesday, May 24, 2017 from 5:30 PM to 7:30 PM (PDT)
Event Details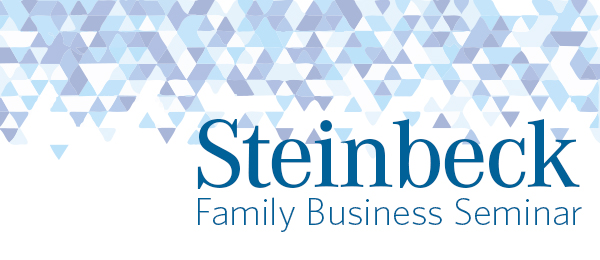 Don Lee Farms - Over Three Decades of Success

Wednesday 5/24/17
5:30 - 7:30pm
The Price Center presents a series of seminars, focused on leading effective and profitable family-owned (or otherwise closely held) businesses.
Schedule
5:30 - 6:00pm Networking with Food and Beverages

6:00 - 7:30pm Discussion and Case Study

Donald Goodman \ CEO, Don Lee Farms 
Danny Goodman \ Product Development & Marketing, Don Lee Farms
Tim Lappen \ Founder and Chair, The Family Office Group and The Luxury Home Group at the Law Firm of Jeffer Mangels Butler & Mitchell LLP
A candid and thought-provoking conversation with the first- and second-generation family members about their experiences with starting, nurturing, operating and expanding their business of manufacturing and distributing frozen foods to retailers and school districts nationwide.
Speakers
Donald Goodman is the Founder and President of Don Lee Farms. Mr. Goodman founded Don Lee Farms in 1982 where he has grown the company from a rented building in Marina Del Rey, California into a leading national food manufacturer and supplier of frozen foods. The company has hundreds of employees in California and Texas. Major customers include Costco Wholesale, Trader Joe's and thousands of school districts from Los Angeles Unified School District to the New York City Board of Education. Mr. Goodman served as a board member and past Chairman of the Board of the Los Angeles Regional Food Bank and currently serves as a board member and past Chairman of the Board of the Santa Monica-UCLA Medical Center and Orthopaedic Hospital Board of Advisors. Mr. Goodman attended the University of California, Los Angeles.
Danny Goodman oversees product and business development at Don Lee Farms. Mr. Goodman joined Don Lee Farms in 2004 where he has lead innovation of conventional and organic foods sold in club stores, markets, and schools under the Don Lee Farms label, private brands and under brands of partners. Mr. Goodman initiated agreements with national partners and launched successful product lines in Costco Wholesale, Trader Joe's, Whole Foods, Walmart and Smart & Final.
Tim Lappen's practice, spanning more than 40 years, emphasizes representing clients as their "outside general counsel" in virtually any legal matter of importance to them, anywhere in the world. Tim's work involves myriad family office matters, luxury homes, business, general residential and commercial real estate, entertainment, hospitality, intellectual property, tax, labor, litigation, land use and more. He also represents entertainers, athletes and others with regard to a variety of projects, including estate planning, pre- and post-nuptial agreements, philanthropic and general business advice.
Tim is particularly well-known for his pioneering work with local, United States and international family offices as well as anyone who has an interest in a luxury home - buyers, sellers, lessors, lessees, developers, architects, general contractors, lenders, borrowers and owners who need advice on such disparate matters as contracts, boundary disputes, litigation, land-use and zoning and even labor and employment issues involving the household staff. His expertise extends to projects involving general business law. He is especially effective in his work with family-owned and other closely-held businesses as he can advise such clients on a wide range of topics. As one of the founding directors of the twice-yearly UCLA Anderson Steinbeck Family Business Seminar, he speaks often on the matters of particular importance to such clients.
As founder and chair of his law firm's Family Office Group and his law firm's Luxury Home Group, Tim has presented at conferences and moderated a number of panels, including the Milken Institute Global Conference and, most recently including the Lido Consulting Eleventh Annual Family Office Investment Symposium, including the Private Family Office Roundtable and the Family Office Panel Discussion and a panel at Haute Living's Third Annual Los Angeles Luxury Real Estate Summit with some of the top real estate agents in Southern California.
Registration Students $15 • Alumni and Others $20
The special rate is made possible by the Steinbeck Family Business Endowment and our sponsors.
The Harold and Pauline Price Center for Entrepreneurship & Innovation, a recognized leader in entrepreneurial education and research, oversees teaching, research, extracurricular and professional development related to entrepreneurship at the UCLA Anderson School of Management, serving our students, alumni and the entrepreneurial business community.

The Steinbeck Family Business Seminar has been made possible through the generous support of Jay Steinbeck and our sponsors, Bolton & Company, City National Bank, Jeffer Mangels Butler & Mitchell LLP and KPMG. 
---

110 Westwood Plaza C305
Los Angeles, CA 90095 -1481
(310) 825-6368
anderson.ucla.edu/price
When & Where

UCLA Anderson

110 Westwood Plaza, A202
Los Angeles, CA 90095


Wednesday, May 24, 2017 from 5:30 PM to 7:30 PM (PDT)
Add to my calendar
Organizer
Price Center and Impact@Anderson
The Harold and Pauline Price Center is an internationally recognized leader in entrepreneurial education and research. With a distinguished faculty as its cornerstone, the Center serves as a catalyst in developing transformational courses and programs, while embracing the advantages of its Los Angeles location and UCLA home. We foster a spirit of innovation in individuals, enhance the managerial capacity of organizations, and prepare entrepreneurial leaders who provide significant social and economic value.
Impact@Anderson launched with a mission to inspire, educate and challenge the next generation of leaders to be social change makers. It operates with a three-pronged approach to value creation: 1) Building core competencies in impact for Students, 2) Elevating the social impact Sector through thought leadership, research and shared learning, 3) Creating value for Society by connecting impact organizations to business acumen. 
The UCLA Anderson School of Management is perennially ranked among the top-tier business schools in the world. Award winning faculty renowned for their research and teaching, a highly selective student body, successful alumni and world-class facilities combine to provide an extraordinary learning opportunity. Established in 1935, UCLA Anderson provides management education to more than 1,500 students enrolled in fulltime, part-time and executive MBA programs and academic master's and Ph.D. programs.
Steinbeck Family Business Seminar with JMBM/Don Lee Farms