Event Information
Location
Steigerwald Lake Wildlife Refuge
35001 Lewis and Clark Highway
Washougal, WA 98671
Join us as we celebrate the reopening of the trail system at Steigerwald Lake National Wildlife Refuge and the Reconnection Project
About this event
Join the US Fish and Wildlife Service, the Lower Columbia Estuary Partnership, and dozens of other partners as we celebrate the Steigerwald Reconnection Project and the new Steigerwald Lake National Wildlife Refuge trail system. After three years of active construction, the refuge and upgraded trail system will reopen to the public.
Many partners all played an integral role in making the reconnection a reality, and representatives from these groups will gather in celebration of the success of the project and the refuge reopening.
Light refreshments will be served. Guests should come prepared for the weather with sun and/or rain protection.
The gathering begins at 10:00 a.m. and speakers will begin at 10:30 a.m. The ceremony will take place a short walk from the new Steigerwald parking lot. After the speakers, there will be opportunities to walk the trails and tour the site from noon to 4pm.
Shuttle Information: To accommodate a larger than usual crowd, the Refuge parking lot will be closed, and access will be by a shuttle.
Partners attending the ceremony: Partners should plan to park at the parking lot across S. 2nd Street from the Best Western Plus parking lot at the Port of Camas-Washougal (map) to access the shuttle. The shuttle will begin at 9:30 and run every 10-15 minutes.
Public attendees: The shuttle will leave regularly from the Pendleton Mill Store at 2 Pendleton Way, Washougal WA. The shuttle will be mask friendly and wheelchair accessible. If you have questions about this or need alternate accommodations, please call Park Ranger Josie Finley at 360-608-2059.
The refuge can also be accessed from 6 am to 8 pm via a trail connection from William Clark Park at South Index Street at South 32nd Street, Washougal, WA.
The parking lot will reopen at 5 pm for regular visitation and the automatic gate closes at 8 pm.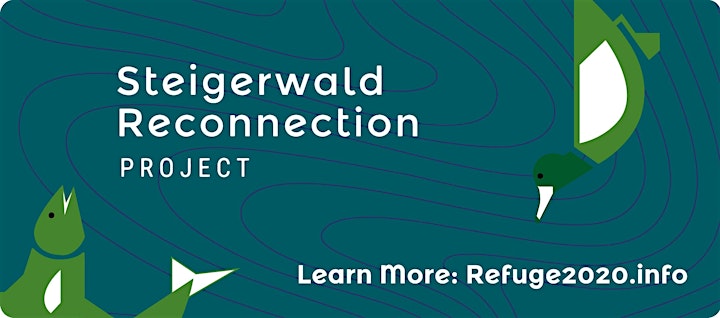 Public involvement may be reduced based on Clark County COVID -19 case levels. RSVP to receive updates.
The US Fish and Wildlife Service is committed to providing access to this event for all participants. Please direct all requests for sign language interpreting services, closed captioning, or other accommodations needs to Josie Finley, 360-887-4106, Josie_Finley@fws.gov, TTY 800-877-8339.
Thank you project partners and funders!
Port of Camas-Washougal
Bonneville Power Administration
Columbia Gorge Refuge Stewards
Washington Department of Transportation
Friends of the Columbia Gorge
Floodplains By Design
Washington State Department of Ecology
National Fish and Wildlife Foundation
City of Washougal
Camas-Washougal Communitiy Chest
Washougal School District
City of Camas
Camas School District
One Tree Planted Foundation
M Bar J Ranch
BNSF Railroad

Date and time
Location
Steigerwald Lake Wildlife Refuge
35001 Lewis and Clark Highway
Washougal, WA 98671