Description
So, you are a trainer/speaker/coach/facilitator, an agent of professional development, an advocate for growth.
Let me guess: over the years, you've researched, compiled and produced tons of contents while training your clients. You've probably been paid for it. It's probably sitting on your hard drive or library somewhere.
Do you want to earn cryptocurrencies with it?
If your answer is,"Nah, I'm ok earning analog money, and all these bitcoin blockchain thing is just plain confusing", then stop ready. Watch a TED video here, or some cat playing piano.
But if you think you're ready to embark on the next technological revolution, to future-proof yourself with digital currencies and to earn good income sharing your knowledge, then read on.
Say hello to Steemit. I'm gonna leave the mumbo-jumbo aside, and just tell you this:
When other people like the contents you posted on Steemit, you make money.
When you like other people's contents on Steemit, you make money.
As simple as that. And if you want to watch a quick video about this amazing, almost magical social media platform, click on the link.
Oh, how much money can you make? Well, one Steem Dollar is currently trading at RM30.
In a partnership with neOOne Academy, Steemitup.club (Steemit Malaysia) is organising a 1-DAY STEEMIT BOOTCAMP, and we're customising the content to suit trainers, speakers, coaches and facilitators like you!
What you going to get from this Bootcamp?
MORNING
A dummies guide to Steemit
Setting up your Steemit Account
Writing Softwares to Make Your Steemit Life Easy
Free-Flow Writing - Overcoming that BS thing called Writer's Block
Writing your first post - #introduceyourself
Images, Videos & Multimedia
Posting Your First Post - #introduceyourself
The Interest Identifier
Idea generation tips (based on your areas of interest)
LUNCH (Yes, we will, we will, feed you!)
AFTERNOON
Writing your second post (on your interest)
The 25-25-25 Method of Actual Writing
Handy Tools to Improve Your Writing
Becoming the Advanced Steemian
Building your Followers
Handy resources
Withdrawal Processes
Ways to get involved in the Steemit Malaysia Community
And because we are so sure about the platform, we can even guarantee by your fifth good* post, you can make back the fees for this bootcamp!
*Good posts are those that you are proud to show your loved ones. It's just to guarantee a certain level of standard. We can't guarantee for crappy posts (one pic of what you're eating for lunch will get you nothing).
See ya!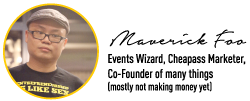 FAQ:
So, what is this bootcamp all about?
The Steemit Bootcamp is a 8 hour program to get you started on earning on Steemit.com. We will guide you through the setting up of the account, help you with your first few posts, give you tips on how to engage with the Steemit community, and most importantly, how to make money from the contents you will be creating on it.
You mean I can make money when I post money on Steemit?
Hmph, don't you want to know what Steemit is first?
Ok, what is Steemit?
Great question! In one line, Steemit is a social blogging platform built on blockchain technology, which rewards content creators and curators with Steem. One Steem is currently trading around USD7 (at the time of writing). When you post contents (articles, videos, podcasts or photos), you will earn Steem. When you comment and upvote other people's contents, you will earn Steem. The crazy part? Even those who upvoted your content earn Steem too!
Check out this video for a quick 2 minute explanation. (Yeah, should have started with that.)
Wow, really? And can I withdraw Steem money into my bank account?
Yes you can. We will walk you through the process during the bootcamp.
Where the money comes from?
We will explain it further during the bootcamp.
Wait…wait…wait… Is this some kind of MLM or Ponzi scheme?
Definitely not. Firstly, we are not even paid to introduce Steemit to you. There is no selling involved, no levels, no commissions, no downlines to manage, no "maintenance fees". Secondly, it's not a Ponzi scheme because you do not need money to start earning on Steemit. As a matter of fact, the RM80 fee that you're paying for the bootcamp, after deducting our petrol and some admin costs, will be donated to a charitable cause. On that note, thanks in advance for you support. :)
So Steemit is legit?
Yes it is.
No subscription or hidden fees, right?
Nope, we are not like those sneaky banks with their credit cards.
Ok, I'm keen. What do I need to do before the bootcamp? What do I need to bring?
Must Do Before The Bootcamp:
You must open a Steemit Account. It's not like normal account that can be approved automatically. It may take between 6 to 48 hours, so unless you just want to see the other participants making money, you better not procrastinate on this one.
Open your account here.
DO NOT LOSE YOUR PASSWORD! Unlike other services, YOU WON'T BE ABLE TO RESET YOUR PASSWORD. Write it down in a favourite book, save it in a secured online folder, or put it in your safe deposit box. Serious, if you lose your password, you will have to start all over again, and you will not be able to withdraw your money. At all.
To Bring for The Bootcamp:
Laptop (iPad, Tablet, Phone won't be able to do sometimes you need to get done)
Stationeries for note taking
Yourself
An open mind will help
A willingness to try new things will be an added advantage
Will you be providing food?
Yes.
I got more questions about the event.
You can WhatsApp me at +60162252500, or email me at maverickfoo@gmail.com.