This four-hour hike will focus on native plants, including summer wildflowers.
About this event
WHERE: Steelhead Falls Trailhead
WHEN: Tuesday, June 11, 2021, 8:00 am - Noon
RATING: Moderately difficult, 2.2 miles
GUIDE: Marilynne Keyser (mtkeyser@gmail.com; 541-923-0558)
This four-hour hike will focus on native plants, including summer wildflowers. Of course, the incredible cascade views from the rim, the geological marvels and Steelhead Falls itself will also be highlights. Our hike will take us up to and along the Deschutes canyon rim, then back down to the river to the site of FANs Monarch Waystation. We will hike up river, stopping at Steelhead Falls before we return to the parking lot. On guided hikes, FANs has special permission to hike through private property on the rim to make a complete loop back to the trailhead. This permission does not extend to any other individual or group.
The Steelhead Falls trail is in poor condition despite FANs continuing efforts to counter the damage caused by heavy recreational usage. The private trail down from the canyon rim is steep, gravelly and slippery. Standard hiking equipment includes sturdy boots, lunch, water, extra layer, and hiking poles. Bring a mask. Standard COVID precautions will be in effect.
This hike will start at the Steelhead Falls trailhead located at the end of River Road in Crooked River Ranch. Please be at the trailhead ready to start the hike at 7:45 am. No dogs please.
Bring your Guide to the Native Plants of the Deschutes Canyon Area. Guide books will be available for purchase before the hike ($10/FANs members; or S12/non-members, payable with cash or check). A plant checklist will also be provided.
This is a free hike, limited to 6 participants and registration is required and available at www.fansofdeschutes.org one month prior to the hike date. If the hike is full, add your name to the waiting list by contacting fansofdeschutes@gmail.com. It is not unusual for folks to cancel as the day of the hike approaches. We will contact you if space develops.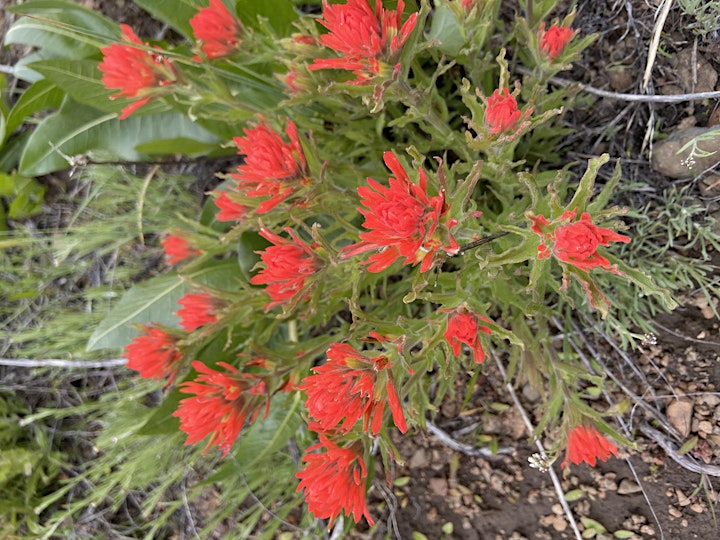 Organizer of Steelhead Falls Wildflowers
Friends and Neighbors of the Deschutes Canyon Area (FANs) is a group founded in 2011 by landowners living near the Deschutes Canyon - Steelhead Falls Wilderness Study Area in Central Oregon who came together over their shared love of nearby public lands.
Our Mission:  We work to preserve and restore the wild landscapes of the Middle Deschutes and Lower Crooked Rivers and Lower Whychus Creek through stewardship, outreach and education.