Steel Horses & Stogies An event benefitting Cigars For Warriors | Presented...
Description
*****Due to poor weather being forcast for Saturday I have decided to allow all types of vehicles to participate in the passport run****
Steel Horses & Stogies is a Motorcycle and Cigar Event Benefiting Operation: Cigars For Warriors (CFW) Presented By Touring Midwest. It will consist of a Passport run with 6 stops plus the main event location where we will have check in/registration open from 9:30 am until noon and drawings and raffles in the evening, there will be some things happening at this location throughout the day such as a small number of vendors including the Skull Truck Mobile Art Project, Pharaoh's Mediterranean food truck, cigar smoking, motorcycles and visiting with like minded individuals.
upon arrivng at each stop riders will find volunteers at the CFW booths to have their rider card stamped. complete all 6 stops and return with your card to enter drawings for some great prizes, grand prize $250.00 cash.
You are able to ride alone, with friends or join the group ride leaving Burnsville at 10:30 am

All 7 of our locations for this event are local Cigar Lounges in the Twin Cities area and they will be offering different cigar deals & incentives to buy for yourself and/or donate to CFW.
Riders are to return to the check in/regeistration site no later than 6PM to enter their fully stamped rider card for drawings and prizes.
Ticket pricing is as follows:
Early Bird Registration Closes Dec 31st 2017 at 11:55 PM Cost is $10
Pre Registration is open from January 1st 2018 at Midnight until May 19th 2018 (2 weeks prior to event) Cost is $15
I've added an extended pre registration that we'll keep open right up through Friday June 1st at 11:55pm .. because why the heck not?
Day of registration will be from 9:30 AM until Noon and available only at the event check in/registration site. Cost is $20 cash only for day of registration.
Registered riders = 1 rider card.
Riders may choose to register passenger for second rider card.
Tickets are non refundable.
Registered riders will receive a swag bag including a minimum of:
1 Operation: Cigars For Warriors button pin
1 Operation: Cigars for Warriors sticker
1 Touring Midwest sticker
What is Cigars For Warriors?
They are a non profit organization with 100% of all donations going to show support to the folks that deserve it more than anyone.. our active duty military. Their mission is simple: to send cigars and cigar accessory packages out to our troops serving in active duty combat zones!

cigarsforwarriors.org
Fun fact: Did you know that cigars are the number 1 most requested item from our military serving in active combat zones?

Why I chose Cigar For Warriors:
CFW is one of the only charities I know of that is 100% volunteer from the bottom to the top and are truly a non profit organization with .92 cents from every dollar raised going to ship care packages to active duty combat zones. The other .08 cents is just to keep the operation operational. They run on a shoestring budget simply to put a smile on the faces of those fighting for our freedom!
Vendor space and sponsor opportunities available.
We'd like to thank our sponsors:
Boveda
The Chapel Tattoos & Peircings
Representative Jim Nash
Steve Conroy and his Skull Truck Mobile Art Project
Ciro3D
Spectro Performance Oils
StageVClinger
Ride MN
Churchills quality cigars & gifts
Coors
Memphis shades
And Locations Involved in the poker run:
Burn Premium Cigar Specialists
Churchills Fine Cigars & Gifts
Cigar Jones
Ramsey Smoke Shop
Stogies On Grand
Perfect Ash
Tobacco Grove
Suggested Route:
https://goo.gl/maps/PqWNhtwHEbA2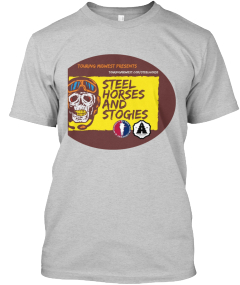 Steel Horses & Stogies
$15.00
We partnered with Teespring to create some awesome merchandise for this event. Show your support and look good wearing it. Check it out!