Event Information
Location
Morgantown Elks Lodge #411
1138 Chestnut Ridge Road
Morgantown, WV 26505
You are invited to join Inventor Abram Skinner and his elite guests for the launch of his latest revolutionary project!
About this event
Some time in the early 19th century, history took an alternative path. Oil has not been found, or, at least, not exploited; there are no oil-based engines and no plastics so the steam-age continued, expanded and was refined.
Inventor Abram Skinner is taking full advantage of the opportunities of this age of technological entrepreneurs and has invited guests to the launch of his latest project which he believes will bring about revolutionary changes.
The VIP Guests include an adventurer, a naval pilot, wealthy investors and industrialists, and, amongst them, an assassin.
Cocktails in the Elks Lodge Lounge from 6 to 7 p.m. Doors open for Mr. Abram's Exciting Announcement at 7 p.m.
Event Tickets include munchies, a drink ticket and a door prize ticket. Additional prizes for best Steampunk costumes will be awarded by Mr. Abram's VIP Guests.
Tickets are $30 person. Reserved Table of 8 for $240.
The production features members of Morgantown' s own M. T. Pockets Theatre Company: Colin Crawford, Angela Kauffman, Jim Stacy, Stacy Hovatter, Christian Cox, Tracy Evans and Christine Adducchio. Directed by Vickie Trickett.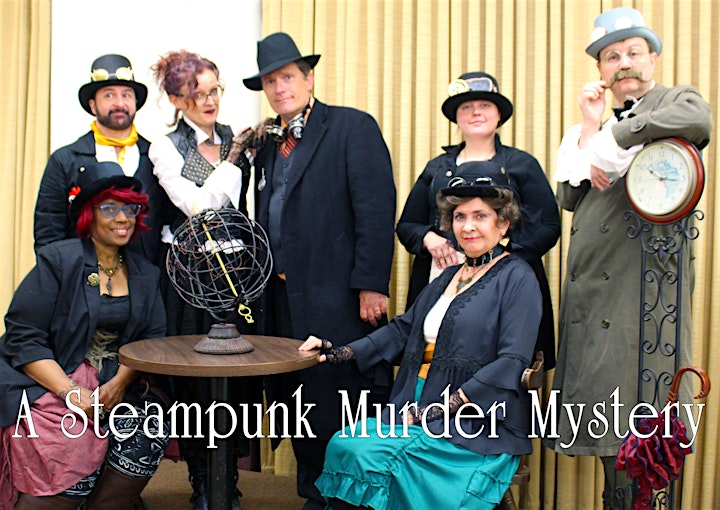 Date and time
Location
Morgantown Elks Lodge #411
1138 Chestnut Ridge Road
Morgantown, WV 26505
Refund policy