Learn & Support STEAMFest: Science, Technology, Engineering, Art&Makers and Electronic Entertainment industry
About this event
Come show your support for the Science, Technology, Engineering, Art&Makers and Electronic Entertainment industry. Learn about the PA STEAM Fest Mission, it's Founding Partners and Sponsors, while enjoying dinner and entertainment.
WHO IS THIS FOR?
The STEAM21 Dinner focuses on Businesses, Media, Educators, and Supporters of the Science, Technology, Engineering, Art & Makers (STEAM) & Electronic Entertainment industry.
The dinner will support the STEAMFest Event and it's mission to lead, educate, and frame an educational entertainment path for STEAM and the Electronic Entertainment Industry.
DETAILS PLEASE?
The STEAM21 Dinner will be held April 24th 2021, 3rd floor of the SteelStacks at ArtsQuest Center from 6pm-9pm EST. Dress is business casual. Limited seating available.
HOW TO REGISTER
Seating is limited, so get your tickets now!  Entry ticket includes entry, dinner, entertainment and supporting the cause. Dinner Sponsorship includes entry and dinner for two, entertainment, logo on presentation and special mention at opening remarks.
MEDIA & SPONSORS
Media and Sponsors of the PA STEAMFest please contact Alicia Williams at alicia@thegeekgrid.com for entry.
Proudly hosted in partnership by TheGeekGrid Studios, ArtsQuest, and the Greater Lehigh Valley Chamber.

STEAM Dinner Menu is now available!
First Course
Bethlehem Greens Salad
Carrots, Cucumber, Radish, Tomato, Balsamic Vinaigrette, Rolls & Butter
Entrée
Caramelized Lemon Chicken
Rosemary Caper Chicken Jus (Gluten Free)
Quinoa Stuffed Pepper w/ Marinara Sauce
Chef's Choice Starch & Seasonal Vegetables
Drinks
Iced Water & Coffee Service
Cash Bar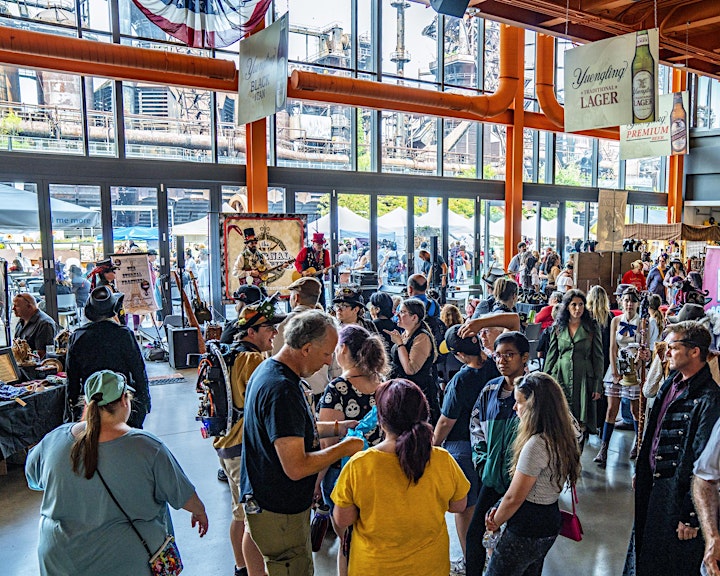 SPONSOR THE STEAM21 DINNER
Sponsorship of the STEAMFest21 Dinner includes 2 ticket entries with dinner, entertainment, company Logo on Presentation Board with special mention at Opening Remarks.
To Sponsor, purchase the Sponsor Ticket and a representative will reach out to you within the hour!
ABOUT THE PASTEAMFEST
The annual STEAM Festival brings a mix of the sci-fi technical and post-apocalyptic modernization genre to today's generation while maintaining a focus on Science, Technology, Engineering, Art & Makers education and video game development.