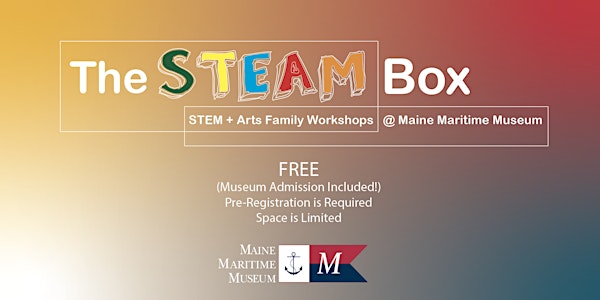 Steambox Family Workshops
Steambox Family Workshops: 10:30am-12pm, one Saturday a month, Oct. 2021 through May 2022. FREE with pre-registration.
When and where
Location
Maine Maritime Museum 243 Washington St Bath, ME 04530
Refund Policy
Contact the organizer to request a refund.
About this event
One Saturday each month, October 2021-May 2022 10:30-12pm
FREE, preregistration required for each individual workshop (Museum admission is included)
OCTOBER 16, Maine Sea Monsters
Come listen to some spooky legends of famous Maine Sea Monsters and learn the ecology behind such infamous monster sightings. Take inspiration from these marine legends to design and create your own take-home sea monster. Appropriate for all ages. Will contain some historical images that may be "scary" for the youngest of Sea Monster Sleuths. Sea Monsters costumes encouraged!
NOVEMBER 20, Model Ship Building and Launching
Learn the fundamental principles of buoyancy and build your own mini wooden vessel. Add a mast, sail, and ballast, then test its mettle in a launching pool!
DECEMBER 18, Navigate Santa's Journey Round the World
Not every vessel is guided by a team of magical reindeer. Learn how navigation implements and methods changed through history by engaging hands-on with artifacts from Maine Maritime Museum's collection. Using sextants, traverse boards, ship logs, nautical charts, and your imagination, see if you can plot Santa's journey around the world, just like mariners in the Golden Age of Sail.
JANUARY 29, Estuary Ecology
Frozen marshlands and snowy grounds make winter the best time to study, track, and acquaint yourself with the remarkable animals of the Kennebec Estuary. Explore the most active sections of Maine Maritime Museum's 20+ acre riverfront campus to identify, follow, and understand what animal tracks can tell us about this wildly diverse ecosystem.
FEBRUARY 19, Make Your Own Logbook
Calling all future-captains and crew! Prepare for your future journeys by learning the importance of keeping a logbook to record your adventures. Take inspiration as you examine real logbooks from our museum collection and learn some bookmaking techniques to craft your own logbook from scratch.
MARCH 19, Mud-Season Microbiology
Learn to make your own microscope slides and look at Maine's Mud Season on a microscopic level. Participants will take samples from the banks of the Kennebec River on MMM's campus, prepare slides, and discover the microscopic ecosystem living among the mud.
APRIL 16, Spectral Imaging: Using Lightwaves to Learn about the Past
Museum professionals use all types of technology to learn about the objects in their collection. Infrared and ultraviolet light can detect details and chemical compositions of artifacts and paintings not usually seen by the human eye. Participants will learn about the full light spectrum and its applications. Try-out MMM's newly purchased Full-Spectrum camera to discover new details about items from the museum collection.
MAY 7, Shipwreck Detective
Over 1,300 ships have wrecked off the coast of Maine, each with a story of danger, adventure, heroism, and tragedy. Explore our immersive "Shipwrecks and Salvage" exhibit to understand the technologies, risks, and preservation efforts involved in maritime archaeology, then dive into our historic shipyard to search for clues and solve the mystery of the wreck of an actual Maine vessel.
Generously sponsored by First Federal Savings