Event to benefit local COVID Impacted Businesses, Lift Up of Routt County, and the Steamboat Lake Snow Club
About this event
Event Information:
Poker Run Course Hours: 9 AM to 3 PM
Registration is open from 9 AM until 12 PM at Steamboat Lake Marina.
Participants are encouraged to register online in order to expedite check in.
Day of registration will be Cash Only at the Steamboat Lake Marina. Long course 7 stops is $100, Short Course with 5 stops is $50.
Parking:
Parking is available at the Hahns Peak Roadhouse, Steamboat Lake Marina (with a valid parks pass), and the Columbine Parking Lot at the end of County Road 129.
The course will be open from 9 AM until 3 PM. Participants can start anytime between 9 AM and 12 PM by checking in at the Steamboat Lake Marina, which is accessible by car with a valid Parks Pass or via snowmobile via the groomed trail network. The short course is expected to take 2-3 hours, and the long course is expected to take 3-4 hours.
Riders are free to explore the North Routt Trail network or follow the designated trail. Trail markers for the designated trail will be placed for the day of the event.
Scorecards with Maps on the back of them will be given to each participant at registration. (See Map below)
Participants will carry their scorecards to either 5 or 7 stations depending on the course they signed up for and collect a unique hole punch at each station. Qualifying score cards must have all punches completed.
Poker hands may be played at one of three locations: Station 1/Steamboat Lake Marina, Station 7 Columbine Parking Lot, or the Hahns Peak Roadhouse. The Roadhouse is not one of the mandatory stops, however there will be a station there for information and poker play from 9 AM until 6 PM. Food and drink will be available all day at the Hahns Peak Roadhouse.
Poker Play:
• Upon arriving at Station 1 or 7, a volunteer will punch the player's card, then lay out a deck of cards face down and allow the player to select 1 card for each of the stations they signed up for (5 for the short course or 7 for the long course). Once the player has drawn their cards and determined the 5 cards they wish to play, the volunteer will write down their 5 cards on their completed scorecard and initial.
• For those participating in the short course, there is also an option to draw up to 2 extra cards in an effort to improve their 5 card hand. The volunteer will collect $10 cash for each card players wish to draw, and allow them to select their new cards. Then once the player has drawn their cards and determined the 5 cards they wish to play, the volunteer will write down their hand on their completed scorecard and initial.
• Completed cards can be turned in at any station on the course or at the Hahns Peak Roadhouse.
• When a participant is ready to turn in their completed card, the participant and volunteer may take a photo of their card as a copy, and then the volunteer will collect the scorecard, verifying it has all of the required punches.
• Poker Play will be the same at the Hahns Peak Roadhouse, however no punches will be available. Only cards with all qualifying punches will be accepted. Cards will be accepted at the Hahns Peak Roadhouse until 6 PM. Deadline for all poker play is 6 PM sharp.
With the time change and hopefully with the nice weather forecasted, Hahns Peak Roadhouse will be a great place to spread out outside and enjoy some well earned food and drink.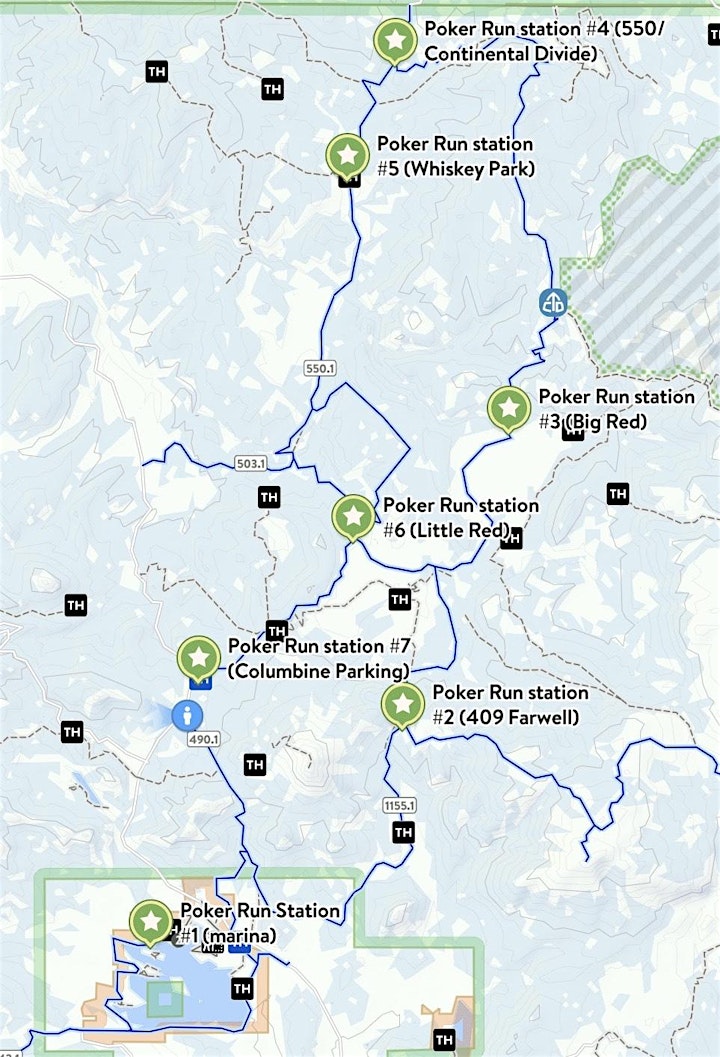 FAQs:
Where are the stations located?
All stations are located in the Routt National Forest in North Routt County. Starting the Steamboat Lake Marina and following groomed trails the to farthest north station which is just south of the Wyoming state line. Maps are available at Steamboat Lake Marina, Hahn's Peak Roadhouse, and Columbine Parking lot, as well as an electronic map that can be accessed on your smart device and using the COTrex app.
What should I bring?
If you are a participant, you need to bring a snowmobile to get to the locations, whatever food and drink you would typically take out snowmobiling. If you sign up for the 5 stations, it is expected to take about 2 hours depending on often you stop and for how long. If you are signed up for 7 stations it is expected to take about 4 hours.
If you are a volunteer and have a snowmobile, please bring it, otherwise we are working on getting transportation to the locations. You will also need to bring warm clothes, food, drinks, propane fire pit or heater,. There are no amenities at the station locations, so even though it is expected to be a nice day, you will still be standing in the snow in the middle of the National Forest. You may also want to bring a chair, music, cooler, canopy, and anything you want to make your station festive and fun.
As a volunteer, how do I get to my station?
If you have a snowmobile or other over the snow transportation, that would be great. Otherwise we are working on transportation options to get you to your station, which may include a loaner snowmobile should you feel comfortable riding it. Otherwise you may ride behind someone on their snowmoble or a tracked OHV.
What if I decide I can't make it to the number of stations I signed up for?
No problem, return you card to any of the locations where you can draw cards (Columbine Parking lot, Marina, Roadhouse), and you will be allowed to draw a card for each hole punch you have on your card. It is poker and there is always the chance you would draw 3 aces and be a winner.
Where do I park?
The home base location for the event is at the Steamboat Lake Marina, and there is lots of parking there. You may also park at the Hahn's Peak Roadhouse and the Columbine parking lot (4 miles north of Steamboat lake on CR129). Please be considerate of traffic, driveways, and others that are in need of parking.
What if there is a tie?
If you are signed up for 5 stations and there is a tie, the purse will be split evenly between the winners.
If you are signed up for 7 stations and there is a tie, cards 6 & 7 that you drew, but were not part of your winning hand will break the tie based on the highest card.
How will I be notified if I am a winner?
When filling out your scorecard there is a section where you are asked how you want to be notified, which include text messaging, phone call, or email. Should you wish to be notified in another manner, please just write it on your score card.
If I'm a winner, how will I collect my winning's?
If you are a winner, you will be mailed a check. Keep in mind, all participant cards will be reviewed over the following week to determine the winners, which will be notified by the 27th of March and checks will be mailed after that date.
If I'm a volunteer, where will I go on Saturday?
While we are working on all the specifics at this time, we will be have a zoom conference call on Thursday at 8pm. All volunteers will be sent an email. Also, the link is here: https://us02web.zoom.us/j/84367159990?pwd=Qjd5SXJrTDNSY0g1VHJRV0FuNXNKdz09 During this call we will address who should go where depending on the station you are signed up for.
If I'm a participant, where do I go on Saturday?
All participants should go to the Steamboat Lake marina. If you have per-registered, a scorecard will already be filled out for you, and you will just need to check in and receive your scorecard. In the event you have not signed up as of Saturday, you may signup at Steamboat Lake Marina, Hahn's Peak Roadhouse, or Columbine parking lot. Keep in mind we will not have the ability to take credit cards on Saturday and it will have to be cash only.
What/who does the fundraiser benefit?
The money raised through the fundraiser will go to those who have been affected by Covid and are in need, as well as a portion of the funds going to the Steamboat Lake Snow Club. The Snow Club is responsible for grooming approximately 120 miles of trails in the Routt National Forest of north Routt County.
Do I need to follow a designed route?
While a map is provide for all the stations, participants may take any path they choose to the stations and in any order? The main route will be marked with trail markers to assist in navigation.