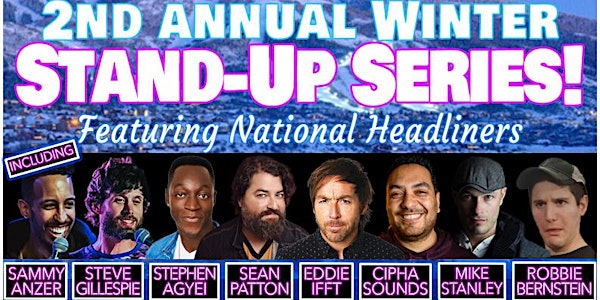 Steamboat Comedy's 2nd Annual Schmiggity's Winter Stand-up Series!
Steamboat Comedy Returns to Schmiggity's for the 2nd annual Winter Stand-up Series! Featuring hilarious comedians from all across America!
When and where
Location
Schmiggity's Live Music & Dance Bar 821 Lincoln Avenue Steamboat Springs, CO 80487
Refund Policy
Contact the organizer to request a refund.
Eventbrite's fee is nonrefundable.
About this event
Steamboat Comedy Returns to Schmiggity's for the 2nd annual Winter Stand-up Series! Featuring hilarious comedians from all across America! All shows start at 7:30pm with doors opening for happy hour at 7pm.
December 16th and 17th Sammy Anzer kicks things off! Sammy Anzer performs at colleges and clubs across the country, and when he appeared on Kevin Hart's "You Look like," lost every one of his matches for looking like "church camp Drake" and "the most handsome employee at the Taco Bell." Sammy Anzer is growing into the mixed-race comedic voice in America and has proven it by performing alongside DL Hughley, Maria Bamford, Neal Brennan and Rojo Perez. Expect confidence, joy, and thought provocation.
January 6th and 7th the great Sean Patton returns for his second Winter Series! Sean Patton is a comedian based in New York, by way of New Orleans. He began doing stand-up in the Crescent City and has since performed in comedy clubs and festivals across the world, including The Melbourne International Comedy Festival, The Glasgow Comedy fest, the Dublin Comedy fest (2017), and The Edinburgh Fringe . Other festivals appearances include SXSW, The Moontower comedy festival, Just for Laughs Chicago, Just for Laughs Toronto and Just for Laughs Montreal. He's performed on Comedy Central's Live at Gotham , Late Night with Jimmy Fallon , Conan, and Comedy Central's The Half Hour (2013). More recently, He's been on @midnight, The Meltdown with Jonah and Kumail, This Is Not Happening, TruTv's Comedy Knockout, and This week at the Comedy Cellar. As for acting, He's appeared on IFC'S Maron, Comedy Central's Inside Amy Schumer and TruTV's Those who can't. In 2019 he released his second album Scuttlebutt on Helium Records. His next album King Scorpio was released on Christmas Eve 2021 and as a special on Youtube in August 2022, and his new special "Number One" is available streaming on Peacock.
January 20th and 21st Steve Gillespie makes his first appearance in the Boat! Steve Gillespie's second comedy album "Alive on State" reached #1 on iTunes Comedy Charts and hit the top 10 on the Billboard charts. Gillespie has appeared on CONAN, Amazon Prime's "Inside Joke", and FOX's "Laughs - All Stars".He was named a finalist in CMT's Next Big Comic, runner up for Best of the Midwest at Gilda's Laughfest, and his debut album "Steve Fever" was named a top 10 comedy album of the year by ComedyReviews.com
February 3rd and 4th Cipha Sounds returns to Steamboat! You may know Cipha from hosting popluar radio show HOT 97 Morning Show for over 7 years, DJing or doing stand-up around the world. Cipha has carved out a distinct voice in music and comedy over the past 15 years. Cipha found himself spinning for Lil Kim, Mos Def and Jay-Z on national tours, and rocking private parties & album release galas for superstars like P. Diddy, Eminem and Mariah Carey. Most importantly, Cipha learned how to break new records, helping turn once-unknowns like Sean Paul, 50 Cent, Pitbull, Rick Ross, Rihanna into superstars, while maintaining a healthy sense of humor on the mic. In 2003, he took an even bigger leap into the music industry and began hosting "Sucker Free" and "TRL" on MTV. In the past few months Cipha has become the first comedian to sign to ROCNATION management and has teamed up with Alicia Keys to develop a Television Series.
February Stphen Agyei return for his 2nd Winter Series! Stephen Agyei is a Stand-Up Comedian, Actor and writer who hails from Denver, CO. Shining brightly with his mischievous smile, the Comedy Works regular was the winner of the 2012 Comedy Works' Clean Comedy Contest, and 3-time finalist in the venue's New Faces contest. The LA-based comedian has been featured on Just For Laughs Digital, Viceland's Flophouse and NPR's "All Things Considered" with Roy Wood Jr. You may also have seen him in his commercial work for Realtor.com, Remi Martin, and Voiceover on BoJack Horseman, on Netflix. He will also be featured on the upcoming season of Cartoon Network's Tig-N-Seek.
March 10th and 11th Mike Stanley makes his second Steamboat appearance! WRY, WITTY, CUNNING, AND CRASS Detroit native Mike Stanley is all of these things, but none, when put on paper, quite manage to serve the justice dealt by Stanley onstage. Yeah, he's pretty hilarious, but more than just coarse anecdotes about life and sex, there's an enviable amount of heart and warmth behind Stanley's humor. Given his penchant toward brutal honesty, spiced up with a healthy dose of insatiable wit, it's not difficult to see why Stanley was named "Best Chicago Stand-up Comedian" in a Peoples Choice poll done by the Chicago Reader and "Best Detroit Comedian" by HOUR Magazine. Originally hailing from Detroit, and after spending a decade honing his craft in the Windy City of Chicago, Mike tours constantly, both domestically and internationally.
March 24th and 25th Robbie "The Fire" Bernstein returns with irreverent comedy! Known as "The Great Purveyor of Misinformation," Robbie has an unorthodox style of making fun and pushing boundaries in life, politics, and taboo subjects. Robbie is a regular in the NYC comedy scene, but is best known for his ranting podcast "Run Your Mouth" and his co-hosting role on Dave Smith's "Part of the Problem" podcast. Robbie tours from coast to coast with his annual Summer Porch Tour where he performs in the backyards and on the porches of his fans.
April 7th and 8th Eddie ifft come back to the boat to wrap up the season! Eddie Ifft has been called one of the most underrated comics in America by the Onion and has proudly told jokes around the world to sold-out crowds in over 15 countries. Most recently Eddie is co-host of one of the most successful podcasts in the comedy world called Talkin' Sh*t. He has recently released his DVD, "I Love Pussy." which is the follow up to his critically acclaimed DVD "Live From Australia" which was filmed in front of a sold out audience at the Sydney Opera House in Sydney Australia. He has also released his own 30-minute special for Comedy Central and made numerous TV appearances on shows such as Showtime's the Green Room with Paul Provenza, Showtime's Tommy Chong 420 Show, E!'s Chelsea Lately, NBC's Last Comic Standing, Comedy Central's Premium Blend, BET's Comic View, NBC's Late Friday Night, VH1's Never Mind the Buzzcocks, Comic's Unleashed.