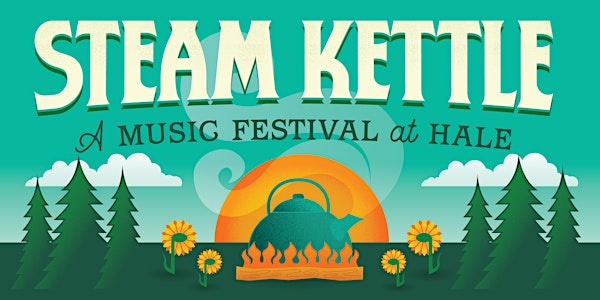 Steam Kettle Music Festival
Grab your camping chair, swing by the food trucks and beer garden, and enjoy a full day of live music from a dozen local bands!
When and where
Location
Hale Education, Inc. 80 Carby Street Westwood, MA 02090
Refund Policy
Contact the organizer to request a refund.
Eventbrite's fee is nonrefundable.
About this event
The Steam Kettle Music Festival and other programs coordinated by Hale's artist-in-residence are made possible by the generosity of The Margaret Stewart Lindsay Foundation. Proceeds from this event support Hale's financial aid and campership programs.
ARTISTS
Kemp honed his powerful, intimate performance style in Cambridge's coffeehouses, developing into a magnetic frontman who has shared stages with artists such as Koko Taylor, Gil Scott-Heron, and Taj Mahal. He has composed original music for the Alvin Ailey American Dance Theater and Complexions Contemporary Ballet, established a songwriting residency at Boston's Wang Theater, and recently delivered a series of master classes at Berklee College of Music on the subject of Artists as Activists, alongside Chad Stokes of the band Dispatch and members of the dance troupe Urban Bush Women. Kemp's most recent album, Edenton, featuring vocals from the legendary Holmes Brothers, is a modern blues journey that fuses the personal and the political, the sacred and the profane, to haunting effect.
Late Night Thoughts is the Indie-Pop duo of Michael Harlow and Brian Rauch. Michael is the music and harmony to Brian's lyrics and melody as the two share their complementary talents to create a unique combination of singer-songwriter stylings with anthemic pop production. Their first EP, 'Moonlit Memories', was released in 2018 and helped them burst onto the scene behind their singles 'Shit Happens' and 'What Love Truly Means' as they grew their audience by performing locally and at colleges up and down the East Coast. Garnering praise from multiple outlets such as Popternative, NYS Music, and Aesthetic Magazine, their early releases have given the duo a dedicated fanbase across the country. LNT released their newest EP, 'Bridges & Tunnels' on December 3, 2021.
Sympli Whitney was featured on BET's season finale of "Apollo Live," where judges Gladys Knight, Doug E. Fresh, and Michael Bivens searched for words to describe how much they enjoyed her performance and struggled to compare her unique sound to others. The daughter of two Baptist ministers, she hails from Springfield and Framingham, and her sound feels like home. Whitney catapulted onto the music scene when "Indie Soul United 2" reached the #2 spot on the U.K. Soul Chart. Her debut CD, "Ryze of the Phoenix," commanded the charts for more than 8 months with hits like "I Can See You And Me," which climbed to #4 on the UK Top 30 Soul Chart, and "Get Enuff," which reached #2 and has had 40K+ views on YouTube. Sympli reminds us of what true R&B can do to the heart.
This Boston-based Americana band plays an upbeat style of modern folk music that blends the singer/songwriter genre with jazz, bluegrass, and blues. The Old North recently released their third studio EP. Its style fits in with artists like Ray Lamontagne, The Wood Brothers, and Shakey Graves.
The Remedies
These Boston-area musicians and friends have been playing together for years in various lineups. The band plays a wide range of dance-able blues, pop, and classic rock, with a focus on fun (and female vocalists).
Indie folk rock meets hooks and intricate jams—combine The Shins, Wilco, and Foo Fighters, and you get Wild Sundays. Check out their new 30-song album, "June Project."
Ariel Strasser is a singer, songwriter, and pianist based in Boston who brings her native Minnesotan charm to all her live performances, sharing stories, laughs and general quirkiness with her audiences. Two 2019 New England Music Award nominations for "Songwriter of the Year" and "Album of the Year" acknowledged her newest release, "Motivation." Strasser performs in festivals around New England including The Boston Arts Festival and The Town & The City Festival. She has toured with and opened for artists including Chris Trapper (of the Push Stars), Lucy Wainwright Roche, Antigone Rising, and Brooke Annibale.
Cold Car is a mostly acoustic group featuring Ken Carter, whose "contagiously catchy melodies" are complemented by Leah Lodato's "bass playing [that] bellows out the bottom end." The duo is often joined in performance by friends and can be found throughout the Boston area performing easy listening, heartfelt, original tunes.
If Bruce Springsteen and Sara Bareilles formed a duo, put it through a Black Keys fuzz pedal, and added the blues and harmonies that made Fleetwood Mac famous, you would get Three at Home. Two voices with one guitar, a full band with horn section, or any permutation in between, Three at Home delivers pop folk with a kick that invites audiences to tearfully and joyfully sing along.
You'll find TIMKO doing many things related to music...hosting open mics, promoting shows, playing acoustic covers, performing original alt-rock music solo and with friends, and joining bands such as The Almighty Buck, Cold Car, Bourbon Chasers, The Lucky Fun, and Mojo Jubilee Swamp Band.
Zack is a Boston area singer/songwriter with warm vocals and a melodic acoustic sound. His approachable style is influenced by today's country and rock. Known for his storytelling, he pens songs that capture a moment. At Steam Kettle, his band will perform its original music.
We will continue to announce artists in the weeks to come. If you would like to perform among our talented musicians, let us know by filling out this form.
FOOD & BEVERAGE
Beer Garden
Black Hat Brew Works , a small craft brewery based in Bridgewater, MA, will serve high quality beers brewed with local ingredients. Stop by the beer gardnen to see what's on tap from their menu of ales, stouts, witbiers, and saisons.
Food Trucks
Wicked Flavah offers everyday favorites with a healthy twist. Owners Dave Casey and Nicole Bartlett—both culinary graduates of Johnson & Wales University—incorporate fresh local products and spices in salads, wraps, melts, and bowls.
LOGISTICS
Location
Performances will occur throughout the day on multiple stages around Hale.
Parking
Premium parking in Hale's parking lots (near the performance areas) is available for purchase. Free parking (farther from the performance areas; may require use of shuttle) will be available as well.
Gear
We recommend you bring a camping chair, sunscreen, bug spray, rain gear, flashlight, and (empty) water bottle—filling stations will be available on site. Bags are permitted but may be subject to bag checks. Coolers and pets are not permitted. Attendees are required to respect Hale's general Visitor Guidelines.
Restrooms
Restrooms will be available.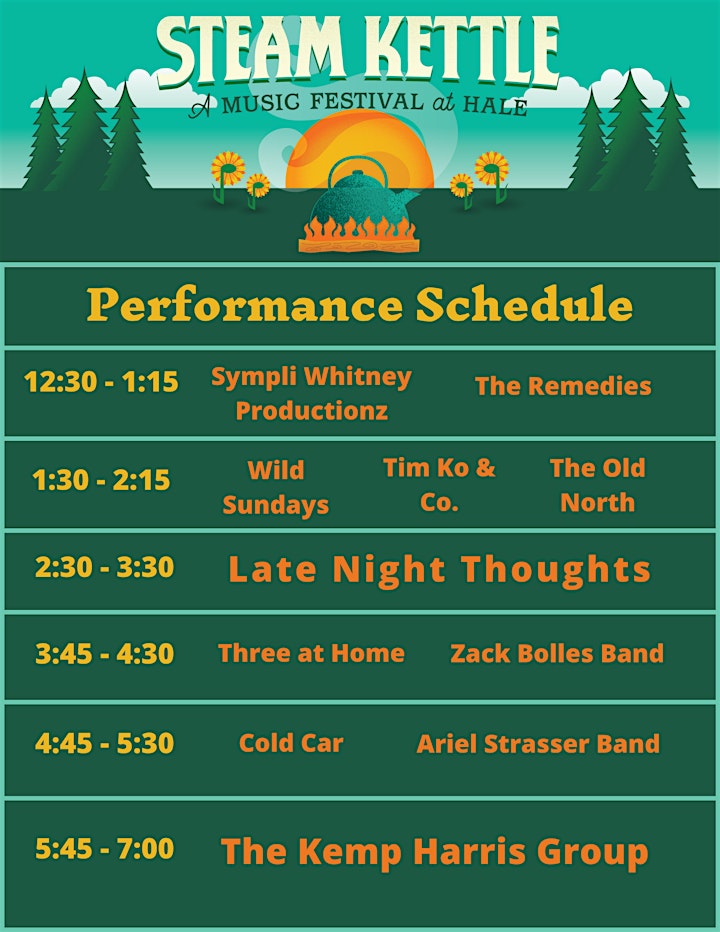 ABOUT HALE
Hale Education, Inc. is a private nonprofit widely recognized for its flagship camps, youth programs, family and community activities, school partnerships, and professional development opportunities. It serves several thousand children and families from 70 Greater Boston communities annually, and invites visitors to enjoy its 1,100+ acres of forests, ponds, and meadows in Westwood and Dover, Massachusetts. Hale's programs and land management practices are the legacy of its founder, Robert Sever Hale, who encouraged people to use his property in ways that were "charitable and benevolent in nature…to provide education which will develop intelligent, capable, and responsible citizens."