Description
Featured on WFAA ABC News and The Rambler Newspapers, the STEAM Achievers Biannual Purpose Hackathon is a fun and exciting event where scholars from numerous Independent School Districts, charter schools and private schools from all over DFW come together for a great cause... to give back their time and talent by designing video games for children with Autism, in honor of Autism Awareness Month. Recipients of winning video games include UNT Kristin Farmer Autism Center.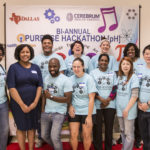 Volunteers from Microsoft, Swift Pace and other companies enjoy a pose on the red carpet at the STEAM Achievers Fall Purpose Hackathon held at University of Texas at Dallas (UTD) on October 14th 2017
Highlights:
Neurology and Autism Workshop by UNT Kristin Farmer Autism Center

3 Coding Boot Camps for Elementary, Middle and High School by UTD

Medical Mini-Boot Camp by UTSW

Project Management, Professional Presentation, Team Building, Collaboration, Problem Solving and Critical Thinking Skills by STEAM Achievers

Over 45 Mentors from S.T.E.A.M. Organizations including Microsoft, AT&T, Dell, Alliance of Technology and Women, Sabre, JP Morgan Chase, State Farm, Swift Pace, University of Texas at Dallas (UTD), University of Texas Southwestern (UTSW) and more!

Scholars 3-12th Grade Designed Video Games Using up to 5 Programming Languages including Java, JavaScript, Python, Alice and Scratch

Recipients of Winning Video Games include University of North Texas Kristin Farmer Autism Center

Scholars Receive Internship Opportunities, CAS and Volunteer Hours

Light Breakfast and lunch included


Volunteer Shift 1: 7-6 PM | Volunteer Shift 2: 7-1 | Volunteer Shift 3: 12-6
Volunteer conference call on Thursday 4/26 at 8PM. Conference call details to be provided after registration. No technology experience necessary.