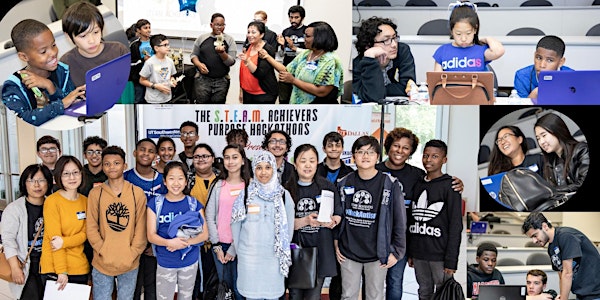 STEAM Achievers #HackAutism Powered by Microsoft
STEAM Achievers #HackAutism Powered by Microsoft: A day of Discovery, Innovation, and Impact as we team up to give back!
Date and time
Sunday, October 20, 2019 · 8am - 5pm CDT
Location
Microsoft Corporation 7000 State Highway 161 Building LC1 Irving, TX 75039
About this event
STEAM National Achievement Collaborative (S.N.A.C) Educational Services is a Dallas-Fort Worth (TX) - based non-profit whose mission is to bridge the academic and career achievement gap in science, technology, engineering, art and math among children, youth, and adults; girls and women; minorities, veterans, disabled persons, and persons on the Autism Spectrum across all socio-economic backgrounds.
Our signature program, STEAM Achievers, is focused on bridging the STEAM education, academic, and career achievement gap for students from diverse backgrounds by inviting them to:
Discover: through STEAM focused, project-based instruction;
Innovate: through exciting hands-on experiences that foster creativity, team building, and collaboration; and
Impact: through application of acquired skills to solve real world problems in their communities; including opportunities to volunteer and intern with any of our year-round programs.
As part of our full-circle approach, STEAM Achievers provides scholars with mentorship opportunities with professionals and instructors from a growing list of STEAM companies including Microsoft, IBM, AT&T, University of Texas at Dallas, UT Southwestern, and JP Morgan. Through partnerships with corporations, colleges, and universities, STEAM Achievers aims to integrate STEAM education and access at an early age with the growing push for greater Diversity, Equity & Inclusion (DE & I) in the talent pipeline into employment and higher education opportunities.
At the very heart of STEAM Achievers' mission is our core program, the Bi-Annual #HackAutism Purpose Hackathon. Held twice a year, these events integrate scholars on the Autism Spectrum by bringing together neurotypical and neurodiverse scholars, 3rd-12th grade, from different ISDs, charter schools, and private schools. Following interactive learning sessions, scholars team up to give back by designing video games or interactive web pages for children with Autism. Our program also includes panel discussions and a speaker series for parents, caregivers, and educators in attendance. Recipients of winning video games and web-pages are UNT Kristin Farmer Autism Center, and National Autism Association of North Texas.
Our Spring #HackAutism is held in late April, Autism Awareness Month; and in our Fall #HackAutism is held late in October, National Disability Employment Awareness Month. Sponsorship is offered to scholars from Title 1 schools, as well as other teams of scholars who are interested in participating but unable to meet the cost.
On October 19th, 2019, STEAM Achievers #HackAutism Powered by Microsoft will be held at Microsoft Corporation in Las Colinas. Our goal is to attract and reach more scholars on the autism spectrum, more girls, minorities, and under-served schools and communities. We are very well aware that for most, opportunities such as these are often out of reach. We are fortunate to have partners and volunteers who continue to work very hard to ensure that this experience is impactful and meaningful to all who attend. To that end, we are profoundly grateful to you for your interest in partnering with us!
Thank you!
For more information, please visit our website, www.steamachievers.org