Description
STC 2016 Fall Seminar Series
STC.UNM, the University of New Mexico's technology-transfer and economic-development office, is hosting its 2016 fall seminar series. The seminars are free and open to the UNM community and the public, but registration is required. Light refreshments will be served.
Summary
This coming Wednesday we'll be visited by Paul Singh, a serial entrepreneur and prolific investor (including co-founding 500 Startups, one of the world's top accelerators). He'll share his thoughts on how young entrepreneurs can get started based on his own experience and visiting startup ecosystems across the country with his RJ Tech Tour (https://nvite.com/community/rjtechtour).
If you're interested in becoming an entrepreneur or working in startups, Paul's direct, no-BS approach is priceless. We hope you'll take this special chance to meet him and learn about other events with him throughout the week.
The ABQ Tech Tour with Paul Singh is supported by the City of Albuquerque and ABQid Accelerator.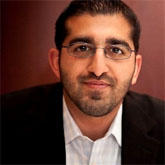 Paul Singh Bio
Paul Singh, a successful entrepreneur and seed-stage investor, will visit Los Alamos, Taos, Santa Fe and Albuquerque to deliver a week-long series of events for aspiring entrepreneurs and community members.
His "2016 Tech Tour" is a great opportunity for anyone starting a business, getting some practice at pitching, or getting that idea off the back burner. It also is an opportunity for entrepreneurs all over the state to get together for networking. "I'm driving across North America to visit the places that startups actually start (and grow) their businesses," wrote Singh on his website,www.resultsjunkies.com. "Over the past five years, I've flown 500,000 miles, raised tens of millions of dollars for my venture funds, and invested in hundreds of companies around the world. I know startups and small businesses better than anyone else. And they know me. Along the way, I'll mentor thousands of entrepreneurs, visit incubators and co-working spaces, hold investor dinners and dive into the local (tech) culture. I'm doing it all with a pickup truck and a custom-built Airstream travel trailer." Singh started his career at America Online 15-17 years ago. Then he started several companies. In 2010 he raised his first venture capital fund, that invested in 1,500 companies worldwide. "My goal is to go where venture capitalists don't ordinarily go. I'd like to avoid getting on an airplane, slow things down and meet as many founders and investors along the way as possible," he said.
-------------------------------------------------------------------------------------------------------------------
(Free parking available in the parking garage directly west of Building 800, at the corner of Basehart and Bradbury Drive.)