STC-PSC January 16th Chapter Meeting: Opportunuity to Step Up to the Podium
Event Information
Location
Tableau Software
1621 N 34th Street
(In Helicopter on the 3rd Floor)
Seattle, WA 98103
Description
Learn a New Presentation Style
For the first few minutes of this chapter meeting, you'll get a chance to see a demonstration of a type of PowerPoint presentation style invented in Japan and called Pecha Kucha. It is fast-paced, and guaranteed to keep your attention. The premise is to present 20 slides for 20 seconds each.
Learn When to Use Various Types of PPT Presentations Types
Lin Laurie, your president, will talk for 5 minutes on the various questions that plaque presenters: How many topics should be on a PPT page? Why would you create a PPT with lots of topics on a page? What's the ultimate size of font to use on a PPT presentation? If you're seeking answers to these questions, here is where you will find some answers.
Listen to Mini-Ted Talks for Tech Comers
Next, 3 of your brave members will volunteer to step up to the podium and give a 6-10 minute talk on an area of interest to fellow tech comm professionals. If you've ever watched a professional talk, like at Tacoma Tech Comm, and said, I can do that but weren't sure if you had what it took to talk for 45 minutes in front of a room full of strangers, here's a chance to take a baby step in that direction. You will not only get to support your fellow technical communicators, but you'll also learn something new. We promise that the evening won't include speakers doing what the following cartoon shows.
Do You Want to Be a Tech Comm Ted Talk Volunteer?
Sometimes, you talk in front of peers and it seems easy because you're in your comfort zone, but when you face the deadpan faces of strangers, it doesn't seem so easy any more. Trust me, I've been through it all and faced the fear head on. Most of the best, most comfortable speakers have done improv work. We won't be doing that, but we'll be giving you a small bit of experience in front of the room without making you fill 45-60 minutes of time.
Event Agenda
· 6-6:45 Socializing and Refreshments

· 6:45 – 7:00 Announcements and Business

· 7:00-8:00 Presentations

· 8:00--8:25 Cleanup and Networking

· 8:30 End
There are no refunds for this event.
This meeting will be held at:
Tableau – NorthEdge Seattle (in Helicopter Meeting Room on the 3rd Floor)
1621 N 34th St.
Seattle, WA 98103
Parking
The entrance to the parking is on the south side of the building. The attendees will grab a ticket as they enter the garage and will have it validated by the security at the front desk. Reception is located on Floor 3, street level to N. 34th Street.
Admintance

Your ticket will be validated by security when you enter the building and they will also hand you a guest badge and let you into the conference room.

Driving Directions
Directions from Northbound I-5
• Take Exit 169 towards NE 45th Street
• Turn Left onto NE 45th Street off-ramp
• Turn Left at Wallingford Ave N.
• Turn Right at N. 34th Street.
• You will see NorthEdge on your left
Directions from Southbound I-5
• Take Exit 169 towards NE 45th Street
• Turn Right onto NE 45th Street off-ramp
• Turn Left at Wallingford Ave N.
• Turn Right at N. 34th Street.
• You will see NorthEdge on your left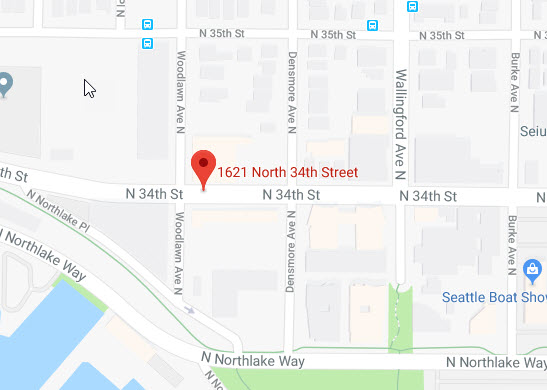 Date and Time
Location
Tableau Software
1621 N 34th Street
(In Helicopter on the 3rd Floor)
Seattle, WA 98103