Description
This is a fun opportunity to meet people and participate in a unique socially-engaged experience curated around African literature.
It will appeal to the socialite, BUPPIE/YAPPIE and intellectual in YOU!
| WHAT YOU GET WITH YOUR TICKET |
A uniquely curated social networking experience (Every event is different!)

Open wine bar featuring our WINE OF THE MONTH (paired perfectly with our BOOK OF THE MONTH)

Authentic African food

Games + Giveaways + Afrobeat

Discussions led by African literary scholars

Be the FIRST to find out the next BOOK OF THE MONTH (Jan 2019)

A book club experience that's BETTER than a book club (no requirement to read the entire book)!
---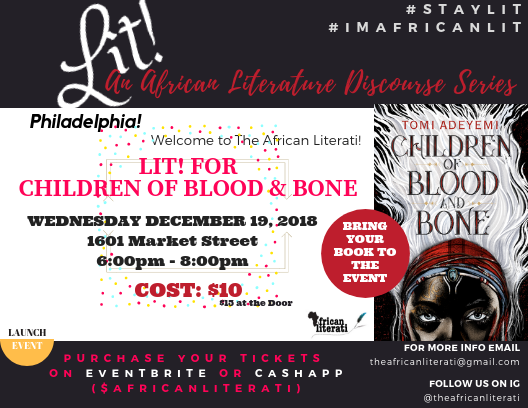 ---


FAQ
Q: What should I bring to the event?
A: Your copy of Tomi Adeyemi's debut novel, "Children of Blood and Bone."

Q: Is there anything else I should bring to the event?
A: We are collecting copies of "Children of Blood and Bone" to give to young African readers as a way to encourage them to read African literature. Please bring an extra copy of the book to donate to our Book Drive.

Q: Does that mean I have to finish the book before the event?
A: Although it is strongly encouraged, there is no obligation to have the entire book read as a pre-requisite to attending this event. We can still have a rich discussion.
Q: What is the dress code for the event?
A: There is no strict dress code. This is an after work event and so we anticipate attendees wearing anything from (African) trad to business casual.
Q: Will there be food and beverages provided?
A: We will have small bites, apertifs, beer on tap, La Colombe coffee, tea and fruit infused water.

Q: How do find out more information about and register for the African Literature Discourse Series?
A: Follow us on IG (@theafricanliterati), join our MAILING LIST or call us at (484) 488-7176.