Staying Green: Keeping California Clean in 2017!

Tuesday, March 21, 2017 from 5:00 PM to 7:30 PM (PDT)
Event Details
 P R E S E N T E D  B Y:



Staying Green:
Keeping California Clean in 2017!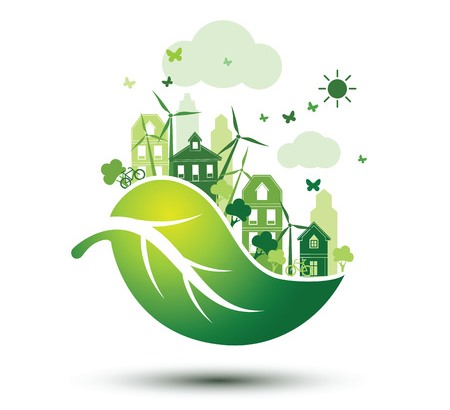 Join Broads Circle and LACI for an event focused on clean energy, water and the environment and how public, private and philanthropic organizations are working to keep California clean. Meet several LACI portfolio companies in the cleantech/sustainability space and learn what local leaders in business and government are doing to help California stay green in 2017!

Generously Sponsored By: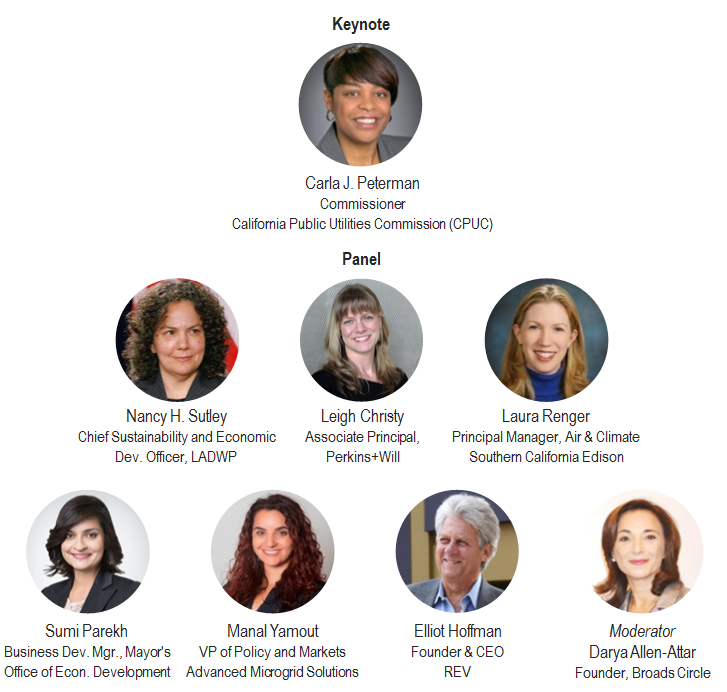 LACI Portfolio Companies:

WHEN:
Tuesday, March 21, 2017
5:00-7:30pm

WHERE:
LACI (Los Angeles Cleantech Incubator)
Amphitheater
525 S. Hewitt Street
Los Angeles, CA 90013
(See map above right)
Parking Options:
Parking is available on-site for $5.00 and public transportation is also available.

AGENDA:
5:00-5:30pm 
Check-in (light appetizers & beverages provided)
5:30-6:00pm 
Welcome: Darya Allen-Attar, Founder of Broads Circle and Tony Morberg, CFA, Investment Director at LACI
LACI Portfolio Companies' Fast Pitch: Avisare, Divining Labs, Rain Systems, Repurpose

6:00-6:15pm 
Keynote: Carla J. Peterman, Commissioner, CPUC 
6:15-7:15pm 
Panel Discussion
7:15-7:30pm 
Q&A


---
Keynote: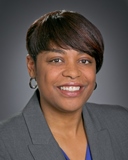 CARLA J. PETERMAN
Commissioner, California Public Utilities Commission (CPUC)

Carla J. Peterman was appointed to the California Public Utilities Commission (CPUC) by Governor Edmund G. Brown Jr. in December 2012. Commissioner Peterman is the CPUC's assigned Commissioner for a number of proceedings including energy efficiency, the Renewables Portfolio Standard, alternative transportation, energy storage, and several general rate cases.
Commissioner Peterman serves as Board member of the National Association of Regulatory Utility Commissioners (NARUC) and as a Steering Committee member of the California Plug-in Electric Vehicle Collaborative.
She was previously appointed by Governor Brown, in 2011, to the California Energy Commission where she was lead Commissioner for renewables, transportation, natural gas, and the 2012 Integrated Energy Policy Report.
She is the first African-American female to be appointed to both Commissions.
Commissioner Peterman has conducted research at the University of California Energy Institute and the Lawrence Berkeley National Laboratory. Commissioner Peterman has also served as an environmental business analyst at community redevelopment non-profit Isles Inc., and an associate focused on energy financing in the investment banking division at Lehman Brothers.
Commissioner Peterman holds a Doctor of Philosophy in Energy and Resources from The University of California Berkeley.  She also earned a Master of Science degree and a Master of Business Administration degree from Oxford University, where she was a Rhodes Scholar. Commissioner Peterman holds a Bachelor of Arts in History from Howard University, where she graduated summa cum laude.
Panelists: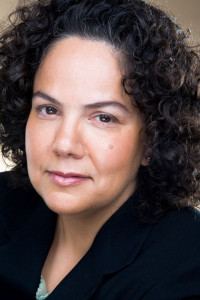 NANCY H. SUTLEY
Chief Sustainability and Economic Development Officer
Los Angeles Department of Water and Power (LADWP)
In July 2014, Nancy Sutley was named Chief Sustainability and Economic Development Officer of the Los Angeles Department of Water and Power (LADWP) where she oversees energy efficiency, water conservation, economic development, and electrification of the transportation network.  Prior to LADWP, Nancy Sutley served as Chair of the White House Council on Environmental Quality from January 2009 to February 2014.  Under Sutley, the Council on Environmental Quality played a central role in shepherding the Obama Administration's signature environmental accomplishments. Sutley was one of the chief architects of President Obama's June 2013 Climate Action Plan to reduce carbon pollution, prepare the U.S for the impacts of climate change, and lead international efforts to address climate change. 
Prior to her appointment as Chair of the Council on Environmental Quality, Sutley was the Deputy Mayor for Energy and Environment for the City of Los Angeles, California under Mayor Antonio Villaraigosa. She represented Los Angeles on the Board of Directors for the Metropolitan Water District of Southern California. She served on the California State Water Resources Control Board from 2003- 2005. Sutley also was Energy Advisor for California Governor Gray Davis, and Deputy Secretary for policy and intergovernmental relations at the California EPA from 1999-2003. During the administration of President Clinton, Sutley worked for the U.S. Environmental Protection Agency as a Senior Policy Advisor to the Regional Administrator in San Francisco and Special Assistant to the Administrator in Washington, D.C.
Sutley received her bachelor's degree from Cornell University and her Master in Public Policy from Harvard University.  Sutley resides in Los Angeles, CA.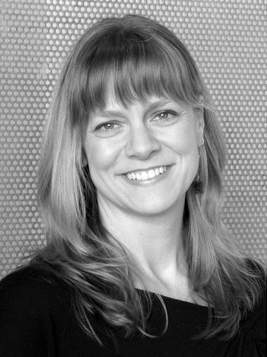 LEIGH CHRISTY
Associate Principal, Perkins+Will - Head of the firm's Innovation Incubator microgrant program & leader of LA Office Social Responsibility Committee
As an Associate Principal at Perkins+Will, Leigh works at the interface of urban design and architecture. She is the head of the firm's Innovation Incubator microgrant program, the leader of the Los Angeles Office Social Responsibility Committee, and a member of the firm's Resiliency and Water Task Forces. Her recent project work on the Urban Agriculture Green Infrastructure Plan for an underutilized industrial area of Los Angeles is leading to the creation of a healthy, sustainable Los Angeles River neighborhood through the lens of urban agriculture while her work on the LAPD Metropolitan Division Facility led to LEED Platinum Certification. In 2010, Leigh was named as one of Building Design + Construction's "40 under 40" honorees. She was an adjunct faculty member at Woodbury University from 2008 – 2014, and continues to sit on multi-disciplinary design juries throughout California. Using both research and project work as a basis, Leigh frequently publishes articles and presents on issues dealing with social and environmental sustainability at all scales.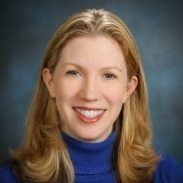 LAURA RENGER
Principal Manager, Air & Climate
Southern California Edison
Laura Renger is the Principal Manager of Air & Climate in the Regulatory Affairs organization at Southern California Edison (SCE).  Laura leads a team responsible for the utility's regulatory and legislative policy concerning air quality, climate change and transportation electrification. Prior to this position, Laura was a Senior Attorney in the SCE Law Department, primarily focusing on air quality, climate, safety, and transmission project licensing.  Laura is the immediate past chair of the Environmental Section of the Los Angeles County Bar Association and the Treasurer of Neighborhood Legal Services of Los Angeles. 
Laura holds a B.A. from Occidental College and a J.D. from Columbia Law School.  She lives in Los Alamitos, California with her husband and nine-year-old son, Jack.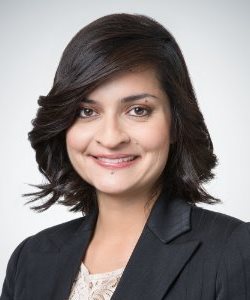 SUMI PAREKH
Business Development Manager
Mayor's Office of Economic Development
Sumi Parekh is a Manager of the Mayor's Fund for Los Angeles. Prior to the Mayor's Fund, she was the Director of Legislative Affairs and Programs at the Los Angeles Business Council (LABC). At the LABC, she focused on outreach for LADWP's Feed-in-Tariff program and policies relating to housing, transportation, and workforce development, managed certain aspects of LABC's research arm, the LABC Institute, managed the Legislative Affairs, Energy & Environment, and Housing & Transportation Committees, and managed the influential Mayoral Housing, Jobs, and Transportation and Sustainability Summits.
Sumi graduated in 2013 from the University of Southern California with a Masters in Public Policy. Her Masters thesis focused on the economic impact of the Panama Canal expansion on Southern California. She also worked at Network Public Affairs in Long Beach, helping complete the environmental impact reports for the 710-lane extension and the 10 express lanes.
Before moving to California to pursue her master's, Sumi worked as an actuarial and management consultant in Dallas with Mercer and Towers Watson. She is a graduate of the University of Texas with a B.S. in Mathematics and has an ASA with the Society of Actuaries.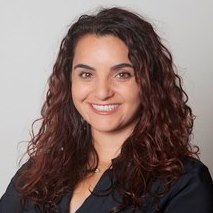 MANAL YAMOUT
VP of Policy and Markets, Advanced Microgrid Solutions
Manal leads government and regulatory affairs, focused on developing policies in new and established markets. She most recently served as Director of Government Affairs for NextEra Energy / Florida, Power & Light—the country's largest clean energy company. Prior to this, she served as renewable energy advisor to both California Governors Brown and Schwarzenegger. Manal jointly coordinated California's effort to bring the state closer to its goal of providing at least 33% of electricity from renewables and worked to streamline permitting for tens of billions in in-state investment and ultimately 16,000 megawatts of electricity. In addition, she helped lay the foundation for Governor Brown's energy program to develop 12,000 megawatts of distributed power in California.
Prior to her time as an Advisor to Governor Schwarzenegger, Manal served as California's Assistant Secretary for International Trade, Special Assistant to First Lady Maria Shriver and as an Executive Fellow in the Office of the Governor. Manal holds a Masters Degree in Public Administration from the University of Southern California and a degree in Biology from CSU San Marcos.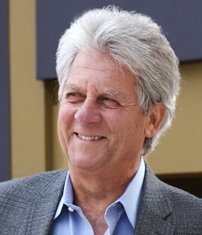 ELLIOT HOFFMAN
Founder and CEO, REV
As founder and CEO of REV, Elliot builds on his passion for creating a new business movement for positive change in our nation and world, continuing his commitment to bringing the power and creativity of business to address the core challenges and opportunities of our time. REV strives to accelerate the marketplace transformation to a new mindset of sustainability, energy efficiency, resource productivity and climate resilience by providing sustainability education and supporting tools to businesses, organizations and communities.
Elliot has been a business and community leader in the San Francisco Bay Area for nearly 30 years. He was co-founder and CEO of Just Desserts, one of the most highly respected brands in the SF Bay Area, employing over 300 people. From the early 1980s, Just Desserts was a pioneer in sustainable business practice, installing energy saving equipment, heat recovery systems, and initiating energy saving solutions that resulted in behavior change among the staff. He is also a co-founder of New Voice of Business, a pioneer in small business advocacy in the San Francisco Bay Area and nation. New Voice is a national movement of business people dedicated to creating a sustainable economy and society by mobilizing the power and creativity of business and business people around the core issues of our time.
Elliot is a previous board member and chair of the Presidio Graduate School, one of the few accredited U.S. programs offering MBAs in Sustainable Management. He is a former board member of the SF Chamber of Commerce and Business for Social Responsibility. Elliot Hoffman and REV were profiled in the Jan/Feb 2016 issue of Conscious Company Magazine. The full article can be accessed here.
Moderator: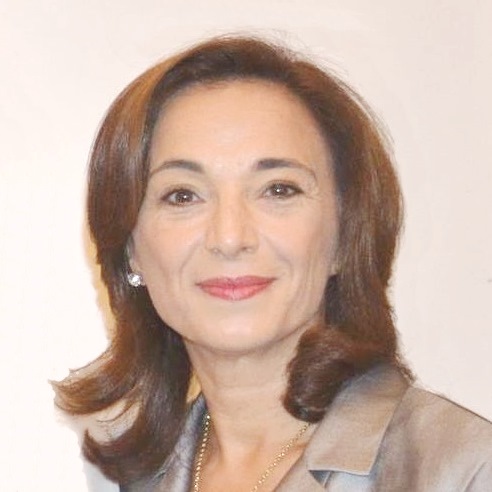 DARYA ALLEN-ATTAR
Founder, Broads Circle

Darya Allen-Attar founded Broads Circle, an executive level women's networking group with a focus on money and power for women, in 2008. The group organizes events that provide a venue for established, successful women to make high quality revenue connections. A "Broad" in our circle is a dynamic, smart, successful woman responsible for driving revenue and growing capital. Over 7,000 people have attended our events since 2009.
In 2013, Darya recruited several colleagues to form Women Founders Network (WFN), a virtual accelerator that hosts educational networking events and an annual fast pitch competition for women entrepreneurs. The focus and goal of WFN is to connect women founders building high-growth businesses not only with the required capital but also with the resources, connections, mentorship and sponsorship that they need to grow scalable, transformative, successful businesses. WFN has awarded and directly invested $485,000 in women-founded companies in the past three years, and alumni have gone on to raise over $30 million in funding.
Darya earned her BA from Kalamazoo College, Certificate in Accounting from Northwestern University, and her MBA in Finance from Fordham University. She currently serves on the Boards of the Los Angeles Westside YMCA and the Los Angeles Chapter of Advisors in Philanthropy (LA-AiP).

Attendee List
Sort by:

Date

|

First Name

|

Last Name
When & Where

LACI (Los Angeles Cleantech Incubator)
525 S. Hewitt Street
Los Angeles, CA 90013


Tuesday, March 21, 2017 from 5:00 PM to 7:30 PM (PDT)
Add to my calendar
Organizer

Driving Revenue and 
Growing Capital for Women
Broads Circle is a professional business networking group that is all about MONEY and POWER for WOMEN.