This is a virtual safety fair designed to help you navigate your life on the road.
About this event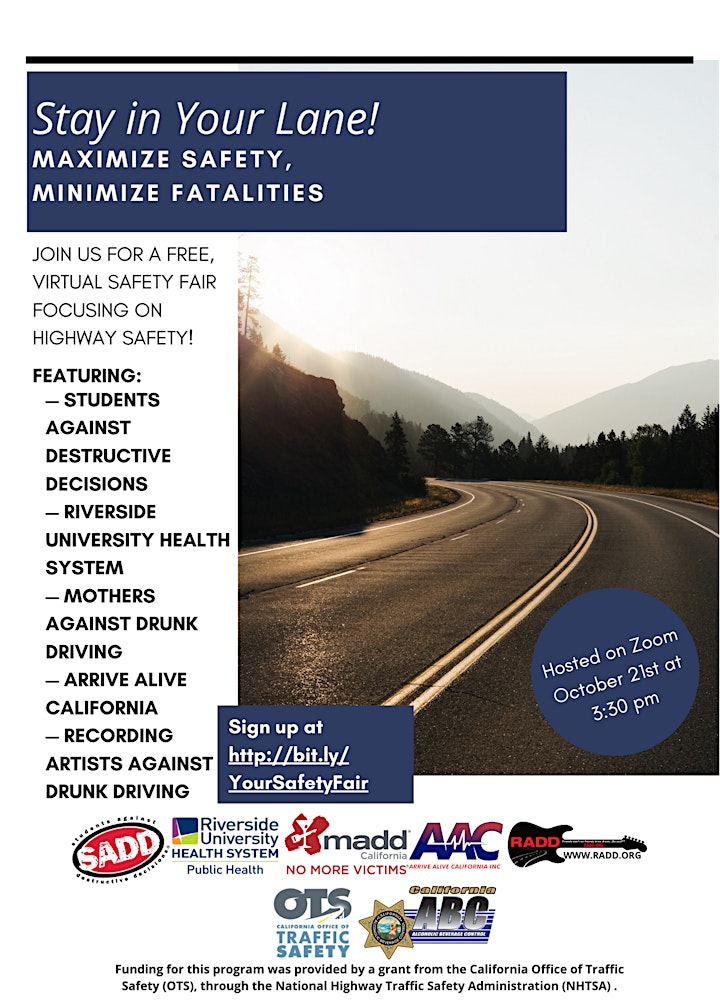 Stay in Your Lane!
Maximize Safety, Minimize Fatalities
What: A safety fair to help students and educators keep themselves and their peers safe on the road. Topics include road safety, holistic health, and student success. Participants can expect to learn the best practices and knowledge to create their own interventions for road safety.
When: Wednesday, October 21st from 3:30 pm to 6:30 pm
Where: Safety fair will be conducted through Zoom. The Zoom link will be posted on the Eventbrite Online Event Page.
How this works:
One registration/ticket through Eventbrite will give you access to all sessions and recordings through our online Eventbrite event page.
Once you register, navigate to the online event page at the times before sessions occur. A webinar tile will be activated before sessions begin.
Tip: Remember your Eventbrite username and password and you can access the online event page using your ticket.
Funding for this program was provided by a grant from the California Office of Traffic Safety (OTS), through the National Highway Traffic Safety Administration (NHTSA).