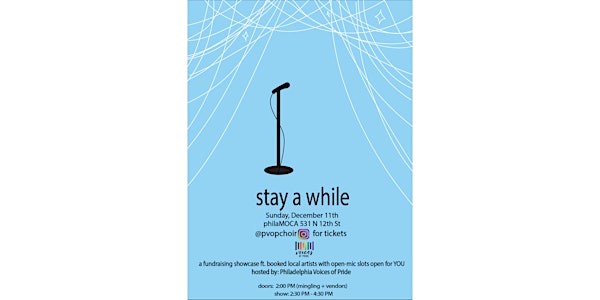 "Stay a While" a Fundraising Showcase of Community Talent (hosted by PVOP)
"Stay a While": chill vibes, open-mic, booked talent, vendors, and community <3
When and where
Location
PhilaMOCA 531 North 12th Street Philadelphia, PA 19123
About this event
Philadelphia Voices of Pride (PVOP) is so excited to welcome you to our first ever open-mic/showcase event! With our first concert of the 2022-2023 season coming up on January 7th, we thought it would be fun to promote our event, while also bringing together old and new friends. There will be coca-cola/water available for donation. All proceeds made from this event go directly to our choir for things like paying for venues, music, and our artistic directors.
If you can't make it, but wish to make a contribution to our choir, regardless, please feel free to make a donation. We appreciate all of the financial love!
Who is Hosting this event? PVOP!
Philadelphia Voices of Pride (PVOP) is a self-affirming Lesbian, Gay, Bisexual, Transgender, Queer (LGBTQ) and Ally vocal ensemble devoted to enhancing the musical, educational, and cultural life of the Philadelphia area. We consider ourselves ambassadors, promoting a positive image of the LGBT community by donating our time, talents, and financial resources to benefit LGBT, HIV, and Women's organizations. | Proudly supported by The Philadelphia Cultural Fund.
Can I perform?!
Yes! We have five wonderful performers (singers, musicians, and more) booked for you, and are leaving five-minute slots open for guests to sign up at the door. Our hosts will pull names, raffle style, and you will get a chance to share your gifts with your community <3
Run of Show:
2:00 PM - Doors open, mingle and see vendors
2:30 PM - Act 1 of the show begins
3:30 PM - *a brief 15 minute intermission to take a breather, meet some new friends, etc*
3:45 PM - Act 2 begins
4:30 PM - Show ends, mingling/hanging out commences
5:15 PM - Event ends
Where can I see more information about PVOP/this event?
@pvopchoir on Instagram or pvop.org
Are masks required?
Masks are optional and recommended, however, there will be a masked section of the audience for folks who wish to only sit around other masked folks.
Info about the venue (philaMOCA):
https://www.philamoca.org/about/#accessibility
---------
We can't wait to see you there!