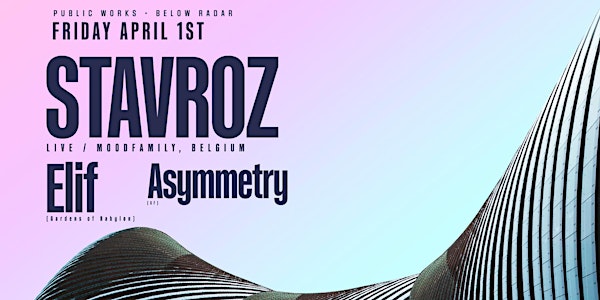 Stavroz (Live), Elif & Asymmetry at Public Works
Location
Public Works
161 Erie Street
San Francisco, CA 94103
Stavroz (Live), Elif & Asymmetry presented by Public Works & Below Radar
About this event
Friday April 1st, 9pm - 3am
Main Room / 21+ / Limited Capacity
LINEUP:
➩ Stavroz (Live)
➩ Elif ((Gardens on Babylon / Stil Vor Talent)
➩ Asymmetry (SF)
━━━━━━━━━▲━━━━━━━━━
STAVROZ BIO:
Stavroz was formed in 2011 by IJsbrand & Gert, both dj's and sound engineers looking for a way to channel their musical antics. Soon thereafter, Maxim & Pieter joined on live shows and in the studio. Their first EP release "The Ginning" was picked up on international blogs, resulting the highest position on the Hype Machine and was chosen vinyl of the month by the German 'Faze Magazine'. Back home in Belgium, they were awarded second best breakthrough artist, coming in just after Oscar & The Wolf.
Known for injecting an overall ethnic, acoustic and organic vibe to electronic music, these four friends pocketed releases for Kindisch, Laut & Luise, Bedrock and their own label 'Moodfamily' in Ghent.
Their intimate live set and unique dj sets were quickly picked up, sending them on regular trips abroad. Only to return home for some FIFA and their weekly show on Belgian National alternative radio 'Studio Brussel' where they display an uncanny ability to combine the old with the new and the East with the West.
Their acclaimed latest releases "Talabout", « Gold Town » & « Kasambila » brings you where no one ever goes to, a destination unreachable by common means, but a place blurring the lines between having a dream and a state of mind.
Stavroz manage to create a wholesome, comforting soundtrack for a place, which no words can describe. Take a rest, lay down, close your eyes and listen to a story told in an orchestral fashion, with such profession and ear for details. Stavroz is something different.
Elif
DJ and producer Elif (Anjunadeep, Stil Vor Talent) is like her music – compelling, creative, full of life and energy. Since she hit the ground running with her debut on Anjunadeep (2019) which made her an instant favourite, the warm-hearted spirited talent has been ever evolving and productive, both with her sets and releases. She's dropped the stunning 'Entanglement' on Stil Vor Talent and 'Moonspell', her label debut on A Tribe Called Kotori which achieved chart success.
Elif has turned heads as a non-stop nomadic performer at the likes of Burning Man, The Monastery Festival, Anjunadeep Explorations, ADE, Kater Blau, The Gardens of Babylon and Flying Circus parties, Tulum, Montreal, Ukraine, Amsterdam… be it a dark club or a sunny beach, she brings heart, variety, passion and life-enhancing vibes to her listeners. Within the DJ circuit, she's a name much admired, with top level talent including BLOND:ISH and Oliver Koletzki regularly championing her music.
━━━━━━━━━▲━━━━━━━━━
When you purchase tickets to this event you'll automatically be signed up for LOCAL 161, our SMS community where you'll get special invites + guestlist + other perks as a thank you for your support. You'll receive about 4 messages per month, message and data rates may apply, and you can text STOP to cancel at any time.