Station Stories | 2011

Multiple Dates
Event Details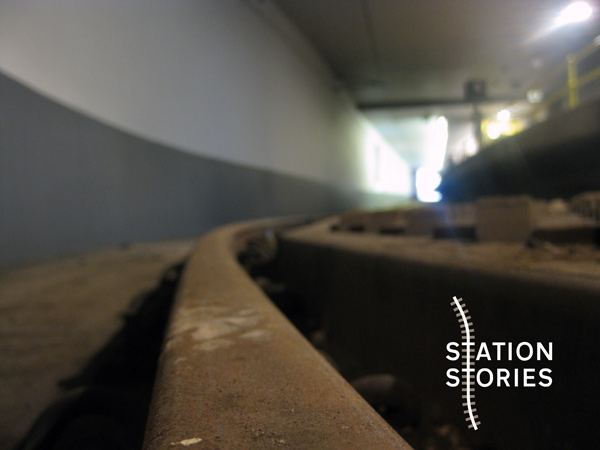 Station Stories | 2011
Station stories is a unique site specific live literature promenade event using digital technology and live improvised electronic sound. From platform to platform, café to café and shop to shop, six writers take you on a creative trip of Piccadilly station and read specially commissioned stories inspired by the station and the people who use it and work there. It's a unique live literature promenade performance featuring live improvised sounds using samples of ambient station noises as they happen.
Audiences are linked to the writer's microphones by headsets using wireless technology, making the event unobtrusive and ensuring the audience hear every single word, whilst still experiencing the live ambience of the location. A musician accompanies the writers and improvises music using sampled live sounds from the station, manipulating these sounds and playing them into the audience's headsets between and underneath the text. The writers interact with passing members of the public who may be unaware that a performance is taking place.
Station stories will explore the day-to-day life of the station - its platforms, its workers, the journeys people take, the waiting, the encounters, the thrill, the loneliness, the joy. It will express the peculiar, unique qualities of this marginal, in-between world, where anything can happen and often does.
- At Manchester Piccadilly Station.
- Meet at the Station Stories floor graphic downstairs near to the main entrance.
- Actual performances run for an hour, with time allowed either side for fitting / removal of audio headsets.
For example a midday performance splits down like this...
12.00pm-12.30pm | Arrival and fitting of audio headsets.
12.30pm-1.30pm | Performances.
1.30pm-2.00 | End of performances and removal of audio headsets.
---
Any problems or queries please call The Hamilton Project on 01625 265 055 or email us at info@thehamiltonproject.co.uk

 

 
Where

Manchester Piccadilly Train Station
London Road
M60 7RA Manchester
United Kingdom


Multiple Dates
Add to my calendar
Organizer
A creative agency for creative projects. Marketing / Design / Project Management / Consultancy