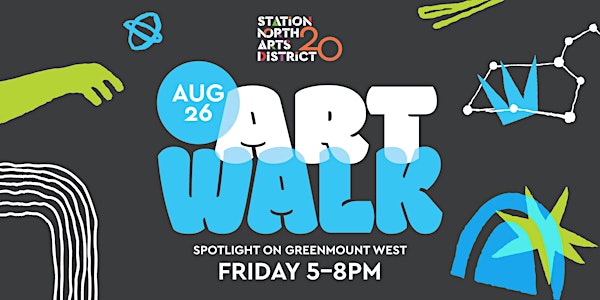 Station North Art Walk: Spotlight on Greenmount West
An evening of simultaneous exhibits, performances, and maker market spotlighting the Greenmount West neighborhood
When and where
Location
Open Works and Multiple Locations 1400 Greenmount Avenue Baltimore, MD 21202
About this event
Pick up a map at Open Works and create your own self-guided tour of the Station North Arts District with a special spotlight on the Greenmount West neighborhood. The event is free, we just ask that you register for a ticket so we can track attendance, and share email updates and specials.
New this month! We're partnering with Open Works to feature the Art Walk Maker Mart with local arts and maker vendors, food, and music in the Open Works parking lot.
This year marks twenty years of Station North, and we're celebrating all summer long on the final Friday of each month. Check out a preview of the participating venues on Aug. 26th, and save the date for our final Art Walk of the season: Fri, Sept 30th.
Follow us @stationnorth on IG/FB for a map, venue highlights, and more!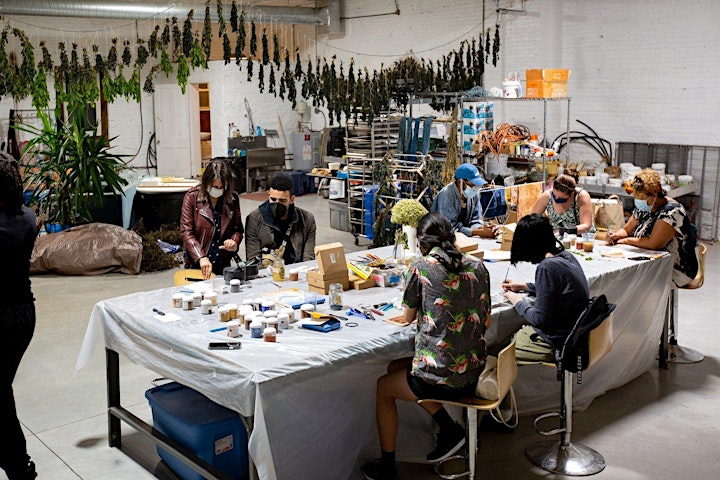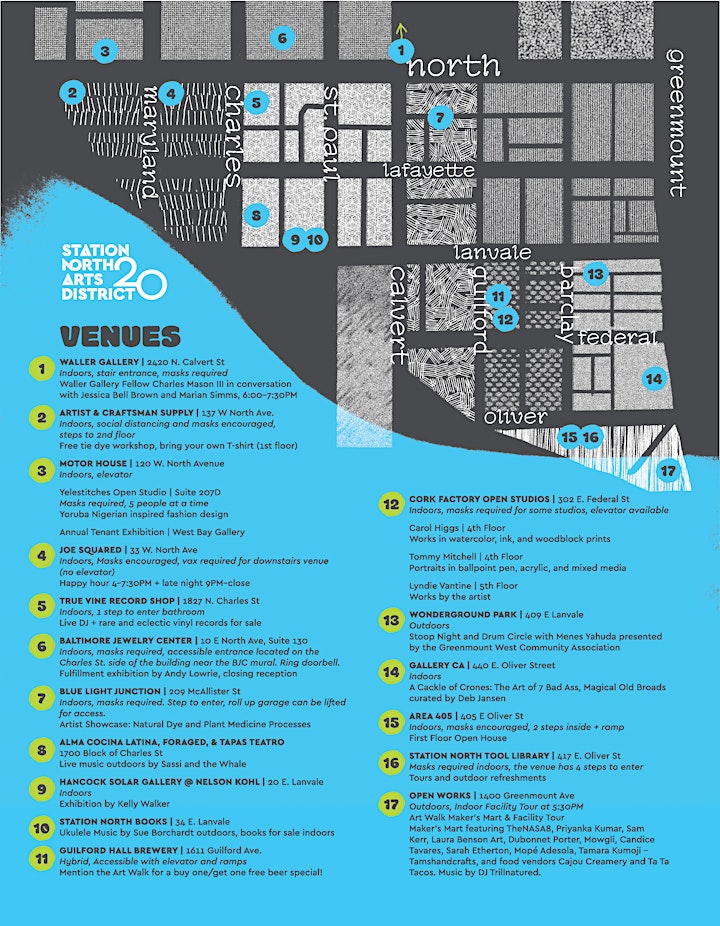 Galleries / Venues
Click here for a PDF version of the map
all events are 5:00 - 8:00PM unless otherwise noted.
Area 405 | 405 E Oliver St
First Floor Open House
Check out the first floor of this historic building dedicated to artist studio space. Area 405 was once home to Albion Brewery and later on several manufacturing companies. The gallery/event space originally launched in 2003 with Stewart Watson at the helm. This year, the building was jointly acquired by Central Baltimore Partnership and Ernst Valery to preserve this rare affordable artist space.
Indoors, masks encouraged. 2 steps inside + ramp. 2 accessible bathrooms inside.
Artist & Craftsman Supply | 137 W North Ave.
Celebrate summer with us and make-your-own tie-dye shirt! BYOT* (bring your own t-shirt) and join us in-store to see just how easy it is to create unique patterns with vibrant colors using Jacquard's Tie Dye Kit!
Indoors, social distancing and masks are encouraged
Baltimore Jewelry Center | 10 E North Ave, Suite 130
Fullfillment Exhibition by Andy Lowrie
Closing Reception for Fulfillment an exhibition by BJC Teaching Fellow, Andy Lowrie, featuring surround sound by Baltimore -based composer Jason Charney.
Indoors, masks required. Entrance located on the Charles St. side of the building near the BJC mural. Ring doorbell. Accessible but no automatic doors.
Blue Light Junction | 209 McAllister St
Experience an artist showcase of the processes around natural dyes and plant medicine including dyeing, painting and salves at Blue Light Junction, Baltimore's natural dye studio, color lab, and garden.
Masks required indoors, social distancing encouraged. There is a step up to enter the studio. We have a roll up garage that can be lifted and an inclined slope that can be used to support greater accessibility needs.
The Cork Factory | 302 E. Federal St
Open Studios, elevator available
~ Carol Higgs Open Studio | 4th Floor
Works include watercolor, ink drawings, wood block prints and a North Ave collage print.
Indoor, masks required, elevator available.
~ Tommy Mitchell Open Studio | 4th Floor
Working in portraiture, Tommy employs ballpoint pen to create realism, juxtaposed with acrylic paint and mixed media to compliment the detail in his subjects. The subjects depict emotions of longing, solidarity and reflection as they serve as icons in the works. Mitchell references fashion photography, along with religious elements to achieve an empowering representation of women of color in an attempt to complicate the notions of ideal beauty.
Indoor, masks encouraged
~Lyndie Vantine Open Studio | 5th Floor
I am constantly aware of the physically undulating landscape and nature around me, a sort of cadence. My work interprets those sensations through creation of 2½-dimensional or 3-dimensional paintings, built with canvas, organic substructure shapes and branches.
Indoors, masks preferred but not required. Six people maximum at a time in the studio.
Gallery CA | 440 E. Oliver Street
A Cackle of Crones: The Art of 7 Bad Ass, Magical Old Broads curated by Deb Jansen
We are at a stage in our lives where we have found our voice. We claim our power. We use both of those for good. We have done it all and really don't care what you think. Like the ancients before us we are fearless and fearsome. We stand up for women of all generations. We are creative. We are magic. We are far from done. For years I had the honor and privilege of being surrounded by these strong women at the Torpedo Factory Art Center in Alexandria, VA. This exhibit is an opportunity for me to bring the band back together.
Indoors
Hancock Solar Gallery @ Nelson Kohl | 20 E. Lanvale
Now thru October 1, 2022 - Kelly Walker, American born, self taught artist uses a wide range of materials, making intricately layered work referencing graffiti, landscape and color fields. For more information and to schedule appointments contact www.nelsonkohl.com or www.kellywalkerfineart.com
Indoors, fully accessible
Motor House | 120 W. North Avenue
Yelestitches Open Studio - Suite 207D
Yelestitches is the beautiful creation of Abisola Omoyele (Yele) Adelusi. But who is Yele? Well, she is an award winning Nigerian-born designer living in Baltimore, MD with a passion for all things fashion!
Indoors, masks required, 5 people at a time, accessible by elevator
Annual Tenant Exhibition - West Bay Gallery
Fully accessible, 18+unless accompanied by an adult
Open Works | 1400 Greenmount Ave
Art Walk Maker's Mart & Facility Tour
Pick up an Art Walk map and browse the NEW Maker Mart featuring Baltimore-based artists and makers, many of whom live/work in Greenmount West: TheNASA8, Priyanka Kumar, Sam Kerr, Laura Benson Art, Dubonnet Porter, Mowgli, Candice Tavares, Sarah Etherton, Mopé Adesola, and Tamara Kumoji - Tamshandcrafts.
Open Works will host an indoor facility tour at 5:30PM - meet at the front of the building.
~ Food and Drink by Ta Ta Tacos & Cajou Creamery
~ Music by DJ Trillnatured
Outdoors
Station North Books | 34 E. Lanvale
Ukulele Music by Sue Borchardt
Peruse a treasure trove of older books: Baltimore and Marylandia, art, architecture, signed, literature, film, history, and fine bindings. You never know what you'll find!
Indoor/Outdoor
Station North Tool Library | 417 E. Oliver St
Get an in-depth tour of the Station North Tool Library and public workshops from one of their dedicated Librarians! Tours begin in Area 405 and conclude with an outdoor refreshments station for high fives and hangouts. First-time visitors and longtime members of all ages are all welcome.
Indoor/Outdoor, Masks are required indoors and encouraged outdoors, the venue has four steps to enter
True Vine Record Shop | 1827 N. Charles St
Drop in to True Vine for a live DJ set and browse one of the best collections of nontraditional music albums on vinyl. True Vine features a mix of music from rock, alternative, pop, indie, psychedelic, hip-hop, jazz, and so much more.
Indoors, step to enter the bathroom.
Waller Gallery | 2420 N. Calvert St
Waller Gallery Fellow Charles Mason III in conversation with Jessica Bell Brown and Marian Simms 6:00 - 7:30PM
Indoors, stair entrance, masks required
Wonderground Park with Greenmount West Community Association | 409 E Lanvale
Stoop Night and Drum Circle with Menes Yahuda
Stop by the Wonderground and join Greenmount West Community Association for a drum circle with Menes Yahuda and 'stoop visit' featuring a signature complimentary or mocktail. Learn more about the organization and upcoming events in the neighborhood.
Food / Drink
Black Acres Roastery | Open Works, 1400 Greenmount Ave
The artisanal coffee shop at Open Works will be open for extended hours during the Art Walk
Cajou Creamery | Open Works Parking Lot
Baltimore's delicious planted-based ice cream available for sale
Guilford Hall Brewery | 1611 Guilford Ave.
Mention 'Station North Art Walk' for a buy one beer/get one free drink special!
Indoor/Outdoor, handicap accessible with an elevator and ramps.
Joe Squared | 33 W. North Ave
Joe Squared offers fine food, live music in our downstairs event space (see below), and local art hanging on the walls. Happy Hour is from 4 - 7:30PM, and late night happy hour 9 - close!
Indoors, masks encouraged.
Ta Ta Tacos | Open Works Parking Lot
Meat and veggie tacos made in Greenmount West available for sale
Station North Arts District is a proud program of the Central Baltimore Partnership. Special thanks to the Johns Hopkins University, the Maryland State Arts Council, Open Works, the Station North Task Force, our volunteers, and all of our partners for making 2022 Art Walks possible.