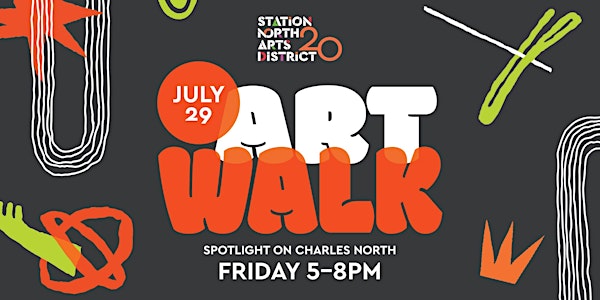 Station North Art Walk: Spotlight on Charles North
An evening of simultaneous exhibits, performances, and special events spotlighting the Charles North neighborhood
When and where
Location
4 W North Ave 4 West North Avenue Baltimore, MD 21201
About this event
Pick up a map at the Ynot Lot and create your own self-guided tour of the Station North Arts District with a special spotlight on the Charles North neighborhood. The event is free, we just ask that you register for a ticket so we can track attendance, and share email updates and specials.This year marks twenty years of Station North, and we're celebrating all summer long on the final Friday of each month. Reserve your spot here for July 29th, featuring 20+ venues, and mark your calendars for our upcoming Art Walks:
Fri, Aug 26th: Spotlight on Greenmount West
Fri, Sept 30th: District-Wide
Follow us @stationnorth on IG/FB for a map, venue highlights, and more!
Station North Arts District is a proud program of the Central Baltimore Partnership. Special thanks to the Johns Hopkins University, the Station North Task Force, and all of our partners for making 2022 Art Walks possible.
JULY 29: SPOTLIGHT ON CHARLES NORTH
all events are 5-8 PM unless otherwise noted
Galleries / Venues
Artist & Craftsman Supply | 137 W North Ave.
Artist & Craftsman Supply presents a free gel plate printing workshop. Speedball Gel plates are ideal for making rich monotype prints without a press, paired with Akua ink. These plates also make printmaking at home easy and less toxic. All materials will be provided to experiment with lifting color and incorporating stencils. Bring leaves from nature or other flat materials to make your prints unique!
Indoors, social distancing and masks are encouraged
Baltimore Jewelry Center | 10 E North Ave, Suite 130 | Accessible entrance located on the Charles St. side of the building near the BJC mural. Ring doorbell.
Andy Lowrie Fellowship Exhibition 5-8 PM
New in the gallery: view an exhibition of art jewelry made by the Baltimore Jewelry Center's (BJC) three-year teaching fellow, Andy Lowrie. This show is a thoughtful reflection of Lowrie's time as fellow and highlights his growth as both an educator and an artist. Check out the jewelry retail space and learn more about BJC's classes & workshops.
Indoors, masks required
Currency Studio | 16 W North Ave
Experience 0520 Concrete Project, a retail and gallery pop-up concept by Currency Studio and shop the latest Currency branded apparel & objects.
Indoors
Galerie Myrtis | 2224 N. Charles St.
Ronald Jackson Solo Exhibition, meet and greet with the artist
Join Galerie Myrtis for a meet and greet with Ronald Jackson. The gallery is honored to host Jackson's second solo exhibition, where the artist introduces the fictional character, Johnnie Mae King, aka Aunt Johnnie. Jackson, a figurative painter, draws from his vivid and boundless imagination to construct a fantastical world habited Aunt Johnnie. Here, the narrative focuses on a Black woman's uninhibited existence. For Johnnie, it is a life free of social constraints such as racial discrimination and gender politics.
Indoors, gallery includes steps
Gallery CA | 440 E. Oliver Street
A Cackle of Crones: The Art of 7 Bad Ass, Magical Old Broads curated by Deb Jansen
We are at a stage in our lives where we have found our voice. We claim our power. We use both of those for good. We have done it all and really don't care what you think. Like the ancients before us we are fearless and fearsome. We stand up for women of all generations. We are creative. We are magic. We are far from done. For years I had the honor and privilege of being surrounded by these strong women at the Torpedo Factory Art Center in Alexandria, VA. This exhibit is an opportunity for me to bring the band back together.
Indoors
Hancock Solar Gallery @ Nelson Kohl | 20 E. Lanvale
Now thru October 1, 2022 - Kelly Walker, American born, self taught artist uses a wide range of materials, making intricately layered work referencing graffiti, landscape and color fields. For more information and to schedule appointments contact www.nelsonkohl.com or www.kellywalkerfineart.com
Indoors, fully accessible
Hooper House Gallery | 100 E. 23rd St
Girl, Woman, Warrior, Rowan Bathurst's first solo exhibition
"Girl, Woman, Warrior", Rowan Bathurst's first solo exhibition, explores athletes and warriors who discover themselves out of the masculine logic. Surrounded by flora and vegetation, archaeology and deities, women dig and push to bring forth the study of their own. Curated by Maider Errasti, this exhibition features twenty large format paintings spanning three floors of gallery space.
Indoor and outdoor steps, bathrooms available. 50 guests max, masks required, contact tracing
Motor House | 120 W. North Avenue
Gallery Exhibit: Learning to Love as I Do
Showroom Bar: Happy Hour with DJ-SUN, 7-10 PM
Learning to Love As I Do, curated by Alexis "TWZ" Tyson reflects love outside of societal norms. Society imposes a challenge to seek out and construct a nuclear family model - however, the movement towards a progressive paradigm shift in our lives, there is no "normal".
In the Showroom Bar, check out happy hour with DJ-SUN with drink specials and music from 7-10PM.
Fully accessible, 18+unless accompanied by an adult
Schuler School of Fine Art | 7 E. Lafayette
New to Art Walk! Schuler School of Fine Arts offers a tour of the historical house and studio of Hans Schuler, sculptor, and a special exhibition of student and faculty works, as well as light refreshments. The Schuler School teaches drawing, oils, sculpture, and watercolor in the tradition of European masters.
Steps to enter, portable ramp, indoors
Station North Books | 34 E. Lanvale
Peruse a treasure trove of older books: Baltimore and Marylandia, art, architecture, signed, literature, film, history, and fine bindings. You never know what you'll find!
Indoor/Outdoor
Stillpointe Theater | 1915 Maryland Ave.
​Charm City - Photographs of Childhood Treasures exhibition by Johnny Rogers, 5-8 PM
Johnny Rogers kicks off his first exhibition of photography in two decades! Originally planned for July 2020, Johnny initially began photographing his mother's unique collection of '60s era charms as a private gift for her. The large collection had gradually accumulated during her childhood over numerous grocery store trips in her West Baltimore neighborhood. By adulthood, the collection was among very few surviving items from her childhood and deeply cherished by young Johnny. The photo project snowballed into an exhibition and forthcoming book. Along the way a global pandemic hit and while quarantining, Johnny unearthed and documented his own childhood collection of once treasured matchbox cars.
Indoors, vaccination required, masks encouraged
Tightfisted Fashion | 2114 N. Charles St
Sidewalk Fashion Show @ 5:30 PM
Don't miss this sidewalk fashion show and sale at 5:30PM! Enjoy amazing prints, color, style and art. Grab seats and beverages outside of the shop and watch as the runway comes to you! Coming up in August, check out the Vintage Black Expo.
Indoor/Outdoor, mask optional, steps to access indoors.
True Vine Record Shop | 1827 N. Charles St
Drop in to True Vine for a live DJ set and browse one of the best collections of nontraditional music albums on vinyl. True Vine features a mix of music from rock, alternative, pop, indie, psychedelic, hip-hop, jazz, and so much more.
Indoors, step to enter the bathroom.
Waller Gallery | 2420 N. Calvert St
Open Studios feat. Charles Mason III
Attend the debut of Waller's first Open Studios featuring mixed media artist Charles Mason III. Charles has lent his talent for the first Waller Fellowship, gifting the gallery to an artist for three months to explore foundational and new principles within their art practice. Light refreshments will be available.
Charles Mason III (based in Baltimore, MD) received his AA in General Studies from the Community College of Baltimore County, 2010, BFA in Graphic Design from the University of Maryland Baltimore County, 2014, and his Master of Fine Arts in Studio Art from Pennsylvania Academy of the Fine Arts, 2019. He has curated several shows in Baltimore and Philadelphia as well as had solo shows in Baltimore, MD most recently at Goya Contemporary Gallery 2021, and in Philadelphia, PA, at Spillway Collective, 2019. He has work in the permanent collection of the James E. Lewis Museum of Art, Baltimore, MD, the Whitney Museum of American Art Special Collections, and the Hammer Museum Grunwald Center Collection. He is also a recipient of the Maurice Freed Memorial Prize.
Indoors, stair entrance, masks required.
Ynot Lot | 4 W. North Ave
Pick up your Art Walk print map and boogie down to Baltimore Club legendary DJ Ducky Dynamo. Now with ice cream by Lola and Mimi.
Outdoors
Food / Drink
Alma Cocina Latina | 1701 N. Charles
Sangria to go! Dine in for an intimate, Venezuelan culinary experience.
Outdoors, indoor dining
Guilford Hall Brewery | 1611 Guilford Ave.
Mention 'Station North Art Walk' for a buy one beer/get one free drink special!
Indoor/Outdoor, handicap accessible with an elevator and ramps.
Joe Squared | 33 W. North Ave
Joe Squared offers fine food, live music in our downstairs event space (see below), and local art hanging on the walls. Happy Hour is from 4 - 7:30PM, and late night happy hour 9 - close!
Indoors, masks encouraged.
No Land Beyond | 2125 Maryland Ave
Happy Hour 5-7PM, The Spindown, 7-11 PM
Groove on the patio with No Land's outdoor summer music series, The Spindown, featuring live music from some of the hottest DJs and performers in the city! Enjoy a special Art Walk happy hour beforehand with $1 off drafts and pizza, $9 mixed drinks, and free use of the game library with purchase of food or drink. Check out Enjoy Baltimore's first-ever board game bar, game shop, and venue.
Indoor/Outdoor
Tapas Teatro | 1711 N. Charles St
Live music outdoors by jazz manouche duo Sassi and the Whale! Experience seasonal, fresh, international small plates and famed house-made Sangria.
Indoor/Outdoor
Ticketed Shows & Events
Joe Squared | 33 W. North Ave, 9PM $14
Glom, Furrows, Insatiable High, & Fuschia Casual perform downstairs
Indoors, masks encouraged. Downstairs is only accessible via a staircase with a bathroom on that same level.
Proof of vaccination is required to attend the show.
Metro Gallery | 1700 N Charles St, 9PM doors, $5 cover
Disco Tropico
A steamy night of Disco, Cumbia, Italo, Funk, House, Tropicalia, and much more from resident DJs James Nasty, Sweet Spot, and Emily Rabbit. Feat. a tiki inspired cocktail menu by Patrick Martin. Tickets on sale at metrogallery.net.
Indoors, proof of vaccination required
North Ave. Market | 30 W. North Ave, 7PM, $10
Surf Night with Shark Attack
Get ready for rippin' guitar licks and mysterious reverb induced sounds of the deep brought to you by New Orleans-based surf-rock outfit SHARK ATTACK!! Open play on arcade games included in the admission price. Calling all creatures from the depths. Invertebrates, crawlers, bottom feeders and maulers. Don't be late to the feeding frenzy or else you might not get any chum.
Indoors